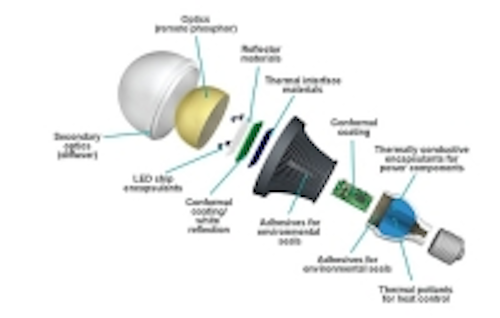 Dow Corning has made a number of materials announcements at Light+Building (L+B) focused on the LED lighting space with materials that can serve as lenses, adhesives, reflectors, and remote-phosphor optics. The company touts the high-temperature advantage of silicone in solid-state lighting (SSL) applications relative to other materials such as acrylic and polycarbonate.
Dow has a long history supplying silicone for packaged LED manufacturing, but more recently has targeted the secondary optics market with its material technology. Moreover, the company is exploring more opportunities in the packaged LED space, especially in the growing mid-power segment where plastic package reliability has been questioned.
In applications such as flexible lenses that can also serve as a gasket to seal an LED light engine, Dow has already found success in the secondary optics market. But many lens applications require a more rigid material. Dow announced the MS-1001 Moldable Silicone at L+B for just such applications.
"The high hardness of MS-1001 Moldable Silicone extends the brand's promise by allowing breakthrough new lighting architectures and concepts that are further enhanced by silicone's proven reliability over the lifetime of a luminaire," said Kaz Maruyama, global strategic marketing director for lighting solutions at Dow Corning. "The driving principle of Dow Corning's growing optical silicones portfolio is to enhance performance, improve reliability, and expand design freedoms while enabling a new, higher-performing generation of LED lamp and luminaires."
The material can be injection molded into far more complex shapes than competitive materials in addition to offering thermal advantages, according to Maruyama. The optics also can be placed into close proximity to LEDs with no concern for degradation in optical performance due to heat.
Remote phosphors
At L+B, Dow also expanded its offering demonstrating new materials that can be utilized in remote-phosphor applications. The company announced the MS-3003 RP Moldable Silicone and demonstrated it in a variety of colors in small accent lighting elements that featured a cylindrical shape. An undisclosed lighting company -- at least for now -- manufactured the products while Dow integrated the phosphor and secondary optic.
Maruyama said the company can support remote-phosphor designs with both flexible and semi-rigid optical elements. He added, "We are specifically developing MS-3003 RP Moldable Silicone to be optimized for pre-mixing with phosphors in order to help LED lighting designers meet these demands. This will enable simpler processing options for lamps and luminaires, and higher-performing and more reliable designs than previously possible."
Coatings and adhesives
Dow also demonstrated new formulations that can be coated onto elements for an SSL lamp or luminaire for specific improvements in performance. One product that is in final stages of development is the CI-2001 White Reflective Coating that can be sprayed onto other elements of a lamp or luminaire. The most common usage might be as a coating on reflectors made of other materials.
We asked Maruyama whether the white coating was being used in the growing array of mid-power, flip-chip packages such as the one launched by Samsung just prior to L+B. Such designs require a reflective coating to be applied around the sides of the LED die to keep blue light from escaping. Maruyama could not comment on specific customer products but said that white silicone formulations were being used in a number of ways in packaged LEDs, including as the encapsulation for traditional mid-power LEDs.
The final Dow announcement at L+B was a new adhesive product. The company said that the new EA-2900 Sealant can fully cure in 10 minutes and can be used in many ways in SSL system designs. The material also carries a UL 94-VI Flammability rating, which expands the range of potential applications.
Clearly, Dow has found fertile ground in the LED and SSL segments with silicone. Indeed, at the Lightfair International conference a year ago, the company received two Lightfair Innovation awards -- recognition more typically bestowed upon lighting companies -- including a Technical Innovation Award.