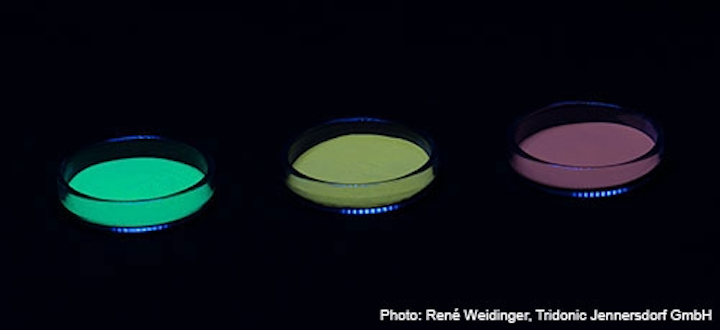 License agreement will add to the short list of manufacturers selling phosphor materials to LED manufacturers mixing blue LEDs and yellow phosphor to yield white emitters.
Merck and Tridonic Jennersdorf GmbH have announced a licensing agreement that will allow Merck to manufacture and sell silicate-based phosphor materials that can generate white light when combined with a blue emitter. LED manufacturers will now have an additional source to consider when evaluating down-converter technologies that enable white LEDs.
Interested in more articles & announcements on LED & SSL materials?

The deal could prove important for the white LED sector. Today, most white LEDs are based on YAG (yttrium aluminum garnet) phosphor materials and Nichia holds the bulk of the intellectual property (IP) in the YAG area. LED manufacturers that want to use the rare-earth YAG technology either have to pay Nichia for the rights or negotiate a cross-license agreement. Other large LED makers have had the IP capital in other areas that enable cross-license deals. But smaller companies must pay or run the risk of infringing Nichia patents. Consider our ongoing coverage of Nichia and Everlight Electronics IP battles.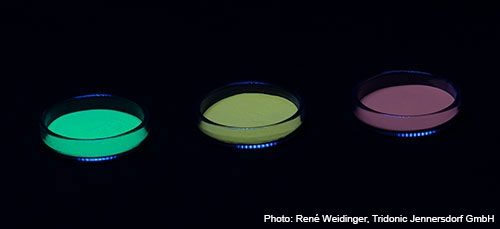 Merck licenses silicate phosphor materials technology from Tridonic for white LEDs
*Image representative of some Tridonic phosphor offerings.
Tridonic is one of the major IP holders in the area of silicate phosphors. Others include Toyoda Gosei, Leuchtstoffwerk Breitungen GmbH, and Litec GbR. Now Merck will be a merchant supplier of the phosphor material, joining a short list of phosphor vendors.
Today, Intematix is the primary independent phosphor manufacture, and the company has evidently been able to build up that product line without infringing Nichia IP. GE Lighting also offers a narrow-band red phosphor that could be vital to higher-quality warm-white light.

Back to Merck, it's unclear how the silicate-based phosphor will stack up compared to rare-earth phosphors in terms of performance and light quality. Merck said that the primary applications for the silicate phosphor would be in LEDs for backlights in cell phones, laptops, and other small displays. The company did not mention general lighting as a possible application.