LED makers: Showa Denko, KoBrite, SemiLEDs, Lumileds
Showa Denko has introduced a 500 mcd green LED chip, SemiLEDs has developed a novel device structure, KoBrite is to open its new factory in China, and Lumileds is transferring more of its production to Malaysia.
Nov 3rd, 2005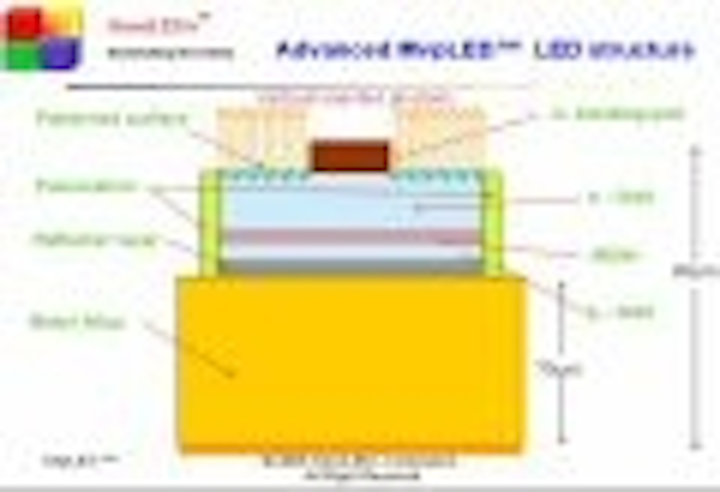 Showa Denko to mass-produce brighter green LED chip
Showa Denko KK will soon begin mass production of a green LED chip that emits light with 50% higher intensity than its existing commercial products, according to the Japanese newspaper Nihon Keizai Shimbun.
The new green LED chip has a brightness of 500 millicandelas and can operate for 40,000-50,000 hours. Showa Denko fabricates the device using a proprietary crystal-growing technology to form a uniform layer of gallium nitrite on a sapphire substrate at a high temperature above 1,100 °C.
Showa Denko's existing green LEDs are less bright than its red and blue LEDs, which causes problems when the company attempts to market RGB products used in backlights of LCD televisions. With the availability of a green LED just as bright as the red and blue ones, the screen of the LCD TV will emit light that is more natural-looking and the images will appear clearer, said the article.
SemiLEDs introduces MvpLEDs with metal alloy substrate
SemiLEDs, a US corporation headquartered in Silicon Valley with LED manufacturing operations in Hsin-chu Science Park, Taiwan, has developed a novel device structure for high-power blue LEDs.
The Metal Vertical Photon LED (MvpLED) has a p-down epitaxial structure mounted on a reflector layer which is attached to a metal alloy substrate. Details of the fabrication process are unavailable due to patents pending.
The MvpLED chip has a total thickness of 80 microns, with the substrate accounting for 75 microns. This thin structure could lead to further miniaturization of personal electronic products. SemiLEDs says that it is targeting the mobile phone, flash light, LCD backlight, and general lighting markets.
The metal alloy substrate provides very high thermal conductivity of 400 W/m.K, allowing high-current operation. The chip has a patterned surface with "photon-injecting nozzle" microstructures to enhance light extraction in the forward direction.
Evaluation samples of MvpLED chips are available for customers and volume production will commence in November, 2005.
Caption: SemiLEDs' MvpLED is a vertical n-Gan up with metal alloy base that provides excellent thermal and electrical conductivity.
KoBrite opens new LED factory in China
KoBrite, the LED manufacturing business set up in Asia by US-based Kopin Corporation and its joint venture partners, is to celebrate the grand opening of its factory in Dongguan, China, next week.
KoBrite was set up earlier this year after Kopin decided it could not produce LEDs economically in the US (see Kopin sets up InGaN joint venture in Asia).
KoBrite produces LED epitaxial wafers in Taiwan and will carry out die fabrication and packaging at the new China facility.
In its recent quarterly results press release, Kopin said that it "plans to make its LED product line cost competitive against global competition."
Lumileds to expand role of Malaysia facility
An article in The Star Online, a Malaysian newspaper website, says that Lumileds is planning to gradually transfer the technology capable of manufacturing high-power Luxeon LEDs to its facility in Penang, Malaysia.
Menko Deroos, executive VP and managing director of Lumileds Lighting (M) Sdn Bhd, told StarBiz that over the next five years, the company would continue its investments in human resource development and technology in Penang, and expanding the R&D work that would allow for mass commercial production of its next generation of LEDs.