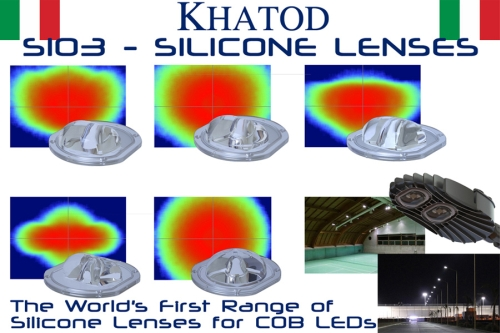 Cinisello B., Milano, Italy – Khatod is very proud for this prestigious nomination as a finalist in the SSL enabling technologies category in the first annual Sapphire Awards announced by LEDs Magazine.
The LEDs Magazine Sapphire Awards program will culminate with the Sapphire Awards Gala Dinner February 25th 2015 in Las Vegas at the Sands Expo & Convention Center Las Vegas during Strategies in Light.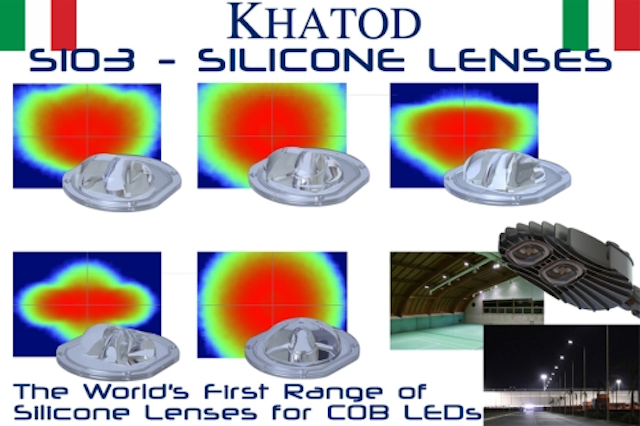 Khatod Optoelectronic is named finalist for inaugural LEDs Magazine Sapphire Awards
"SIO3 Silicone Lenses are the result of Khatod's great capability to work out a totally new project which merges specific optical techniques, cutting-edge manufacturing processes and the use of an excellent material such as the Ultra Clear Silicone - LSR 7000 Series – from Momentive Performance Materials" said Khatod President, Giuseppe Vasta. "The technological content of this application is very high, anything but standard. Beyond severe technical requirements to achieve, the development of these lenses requires a great accuracy at all stages of the project and a strong technical support all along the process."
SIO3 Silicone Lenses perfectly meet the optical efficiency requirements posed by the HB and COB LEDs of latest generation. Preserve and enhance the typical characteristics of silicone, from high transparency to excellent optical efficiency. The excellent stable mechanical properties of silicone at temperatures ranging from –40°C to 150°C and peaks up to 200°C, make these optics micro-crack resistant under the harshest environmental conditions. They also come with an excellent IP Protection Degree and do not require any extra protection such as glass cover or insulating gasket in final applications. Also, their explosion-proof and shock-proof properties make SIO3 safe and reliable in hazardous environments.
"We are impressed with the high optical performances of the lenses and the ease of installation. A couple of lenses are sufficient to make a head pole, and no need to use a glass protection or an IP gasket." said
Mr Vasta "We're expecting they will help reducing significantly maintenance and service expenses in street lighting and outdoor applications . "
Khatod imagined, designed and engineered this project by realizing the optical and mechanical design, the mold fabrication and the development of totally new manufacturing processes.
" We are very proud of this nomination. Being a finalist for LEDs Magazine inaugural Sapphire Awards program is the recognition of Khatod as an innovator in the LED Industry. It is a great honor for Khatod to be part of this event." concluded Mr. Vasta.
About Khatod:
Khatod, a real front-runner in LED lighting solutions, leverages three decades of hands-on experience with lenses for Solid-state Lighting in a wide range of applications and environments. Since its inception in early eighties and unique on the international scene, Khatod has been developing the entire product process 100% in-house, Milano-Italy, a full optical service - from project to object - encompassing all the production processes. Based on the latest in designing, production methods and processes, testing and control, our aim is to deliver the best products and technologies that far surpass the traditional ones. Khatod offers extensive ranges of product: Optical Systems, Reflector Systems, and Optics for SSL, HB, COB LEDs applications, custom optics, components. Please visit www.khatod.com .
Contact:
Khatod Optoelectronic
+39-02-66013-695
E-mail:
khatod@khatod.com
Web site:
www.khatod.com
Submit new products, case studies/projects, and other press releases at http://www.ledsmagazine.com/content/leds/en/addcontent.html and http://www.ledsmagazine.com/content/leds/en/iif/add.html.