Electrolube's new polyurethane resins enable LED luminaire manufacturers to achieve diffused lighting effects
Mar 2nd, 2015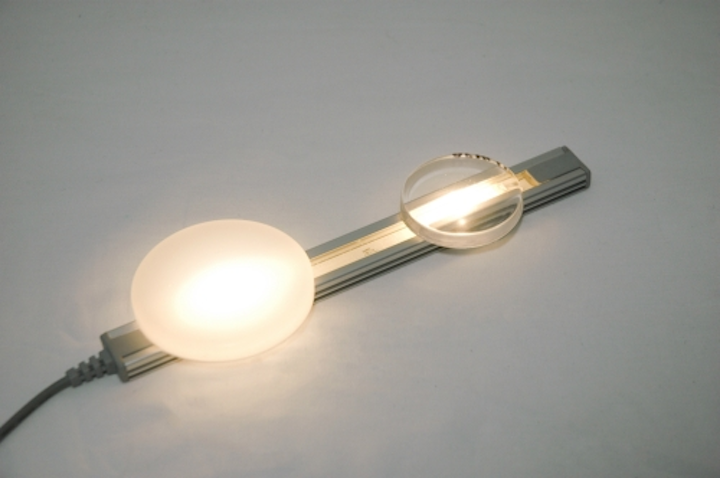 Electro-chemicals specialist Electrolube has launched two new protective and decorative polyurethane resins that will be of particular interest to LED lighting manufacturers.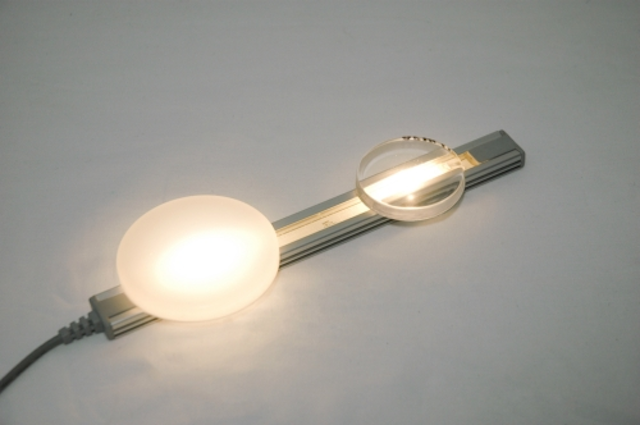 Electrolube's new polyurethane resins enable LED luminaire manufacturers to achieve diffused lighting effects
The first of these - UR5634 - is a two-part, semi-rigid, optically clear polyurethane resin that achieves a water-white transparency, ideal for LED potting applications. This RoHS-2 compliant, low-hazard, isophorone diisocyanate-free material is weather resistant, as well as good resistance to acids and alkalis. It is also strongly resistant to yellowing when exposed to UV light – of particular benefit to LED luminaires and light fixings exposed to direct sunlight.
Another two-part, semi-rigid polyurethane resin - UR5635 - will also be shown. Similar to UR5634, however, this produces a 'hazy/cloudy' finish that is ideal for creating a warm, diffused lighting effect when used as a potting agent for LED installations. Instead of incurring additional costs for plastic light diffusing mouldings, manufacturers of LED luminaires can make use of UR5635's properties to achieve the same effect, while also providing maximum protection for the LED elements.

UR5635 is an extremely durable, RoHS-2 compliant, low viscosity system, which can be used for a wide variety of applications. Also free from isophorone diisocyanate, the low hazard material has a 1:1 volume mix ratio to facilitate processing and provides high resistance to weather, UV, acids, alkalis, water and mould growth, making it suitable for a wide range of environments.

As an ISO 14001 qualified manufacturer of specialist chemical products supplying the world's leading manufacturers of electronic, industrial and domestic devices, Electrolube is a trusted provider of high performance chemical solutions, formulated with the utmost responsibility to the environment and operator.

About Electrolube
Electrolube, a division of H.K. Wentworth Limited, is a leading manufacturer of specialist chemicals for electronics, automotive and industrial manufacturing. Core product groups include conformal coatings, contact lubricants, thermal management materials, cleaning solutions, encapsulation resins and maintenance and service aids.

The extensive range of electro-chemicals at Electrolube enables the company to offer a 'complete solution' to leading manufacturers of electronic, industrial and domestic devices, at all levels of the production process. Through collaboration and research, the company is continually developing new and environmentally friendly products for customers around the world and their commitment to developing 'greener' products has been endorsed by the ISO 14001 standard for the highly efficient Environmental Management System in place at the company.

Electrolube is represented in over 55 countries with an established network of subsidiaries and distributors. By offering genuine security of scale and a reliable supply chain, the company is able to deliver a truly tailored service.
Contact:

Electrolube (A division of HK Wentworth Ltd)
+44-(0)1530-419600
E-mail:

Web:

www.electrolube.com

Locate more encapsulant & dispenser vendors in the LEDs Magazine Suppliers Directory

Submit new products, case studies/projects, and other press releases at http://www.ledsmagazine.com/content/leds/en/addcontent.html and http://www.ledsmagazine.com/content/leds/en/iif/add.html.

More from Electrolube:

Electrolube's silicone resin protects LED lighting and preserves its aesthetics
Electrolube improves operator safety with isocyanate-free resin for electronics assembly