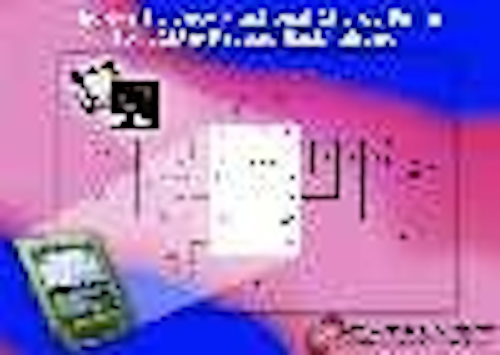 Catalyst Semiconductor has expanded its family of solid-state illumination products with a new high efficiency white LED driver. The CAT3604 regulated charge pump is designed to deliver uniform, flicker-free backlighting for LCD displays and keypads.
Optimized for use with lithium ion systems, the CAT3604 maximizes power transfer by achieving very high efficiencies of up to 93%. Each output channel is current regulated to provide precise matching of up to 4 LEDs, guaranteeing even brightness control across the panel.
Soft start, combined with a unique fractional charge pump topology ensures stable output voltage over the life of the battery by automatically switching between 1x LDO mode and 1.5x boost mode. Digital inputs provide the user with full control of each LED channel for dimming, or system shutdown, where the device draws less than 1uA. A 1 MHz fixed frequency control scheme enables the use of small external capacitors.
The combination of the CAT3604's high efficiency, low noise, and space saving 4mm x 4mm thin QFN package make it the ideal white LED driver for cell phones, smart phones, PDAs, digital cameras, and portable MP3 players.
"Stable, efficient backlighting is critical to optimize the performance of today's portable LCD panels. The CAT3604 white LED driver leverages our expertise in mobile imaging system power management, to supply flicker-free regulation with maximum power transfer," said Jamie White, Senior Technical Marketing Manager.
CAT3604 applications

Color LCD and Keypad Backlighting
Cell Phones and Smart Phones
PDAs and Handheld Computers
Digital Cameras and Camcorders
Portable MP3 and CD Players
Handheld Games
Portable Meters
Product features

1x/1.5x Fractional Charge Pump Switches to Maximize Efficiency over the Battery?s Life
Inductor-less Design Minimizes EMI Interference
Low Input Ripple and Noise
Low Shutdown Current: <1microAmp
Drives up to 4 Parallel LEDs with 30mA per Channel
Excellent LED Channel Matching: < +/- 3%
Built-in PWM Brightness Control Circuitry Provides Easy LED Dimming
Optimized for use with Lithium Ion Battery Systems
Price and green package availability
The CAT3604 is available in a space-saving 4mm x 4mm 16-lead thin QFN package with a maximum height of 0.8mm; price in 1,000 piece quantities is $1.68. The CAT3604 is available in environment friendly "green" packages that are halogen and lead free. Samples are available now; production quantities will be available in September, 2004.
The CAT3604EVAL1 Evaluation Board and Application Note (AN20) are available to facilitate designs.