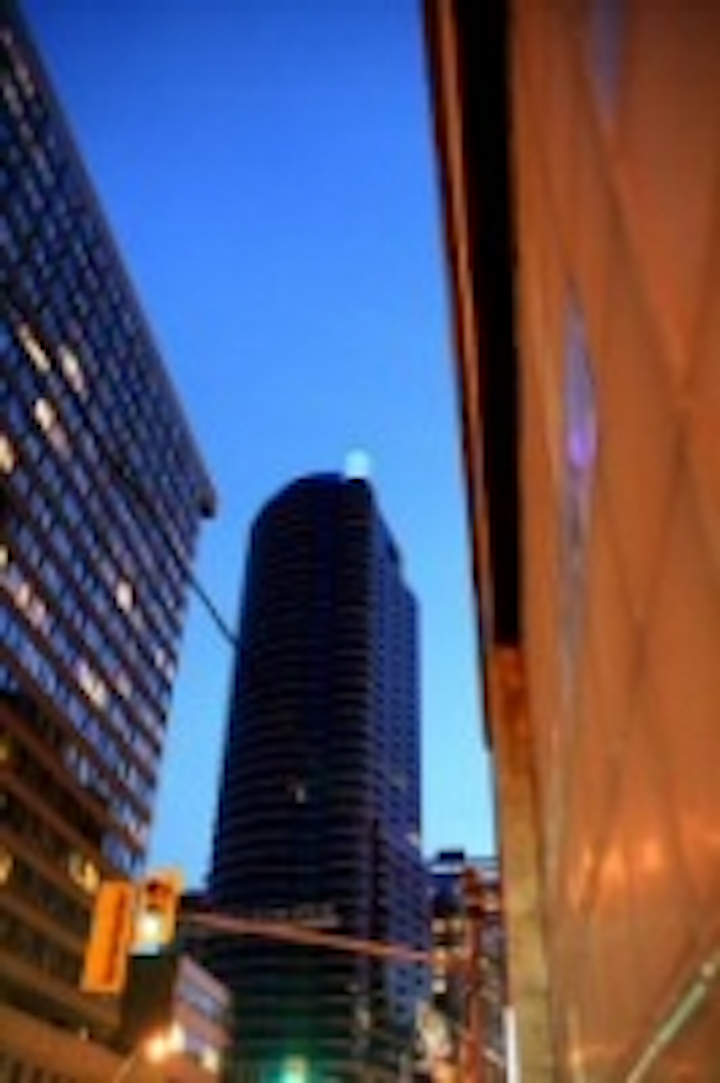 Not to be outdone by the CN Tower, a color-changing LED lighting system has been installed on top of The Met, a condo in downtown Toronto. The building is located at 21 Carlton Street, across from Maple Leaf Gardens.
"The Harbinger" project, designed by artist Adrian Gollner, responds to changing wind speeds by varying the color of LEDs. RGB high-brightness LED panels from MC Lights provide a unique expression of Gollner's design.
Power Vector's IRIS LED Driver Dimmer was utilized by MC Lights for driving, dimming, and color changing of the LED fixtures. MC Lights chose Power Vector for their 3-in-1 solution that included power isolation, DMX 512A interface, and programmable current drivers. The IRIS units were daisy chained together and mounted inside MC Lights' unique rack enclosure system.
The Harbinger uses a wind anemometer to detect wind speed, and converts the measurement to a DMX signal. The LEDs change color as the wind picks up, starting from a pale green at low speeds and building to red during blustery conditions. The lights are on from dusk until dawn, and are controlled by software and a timer.
Lazar Petrov of Power Vector says that local residents expressed delight on June 14 when the light show was revealed. "Power Vector and MC Lights look forward to working on many more projects in the future," he said.
Power Vector - provided the LED Driver Dimmer
MC Lights - prepared the lighting
Adrian Gollner - artist responsible for design of the Harbinger