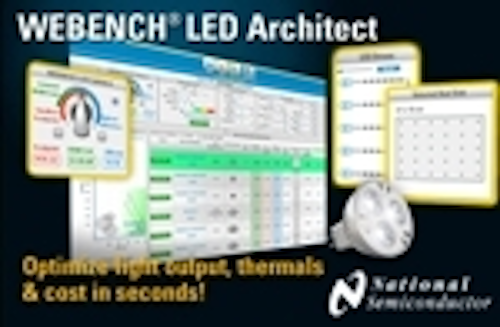 Computer-aided-engineering tools have long boosted the productivity of electrical engineers designing circuits, and now engineers working on SSL luminaires can use the National Semiconductor Webench LED Architect to jumpstart projects. The tool allows engineers to quickly evaluate LEDs, LED drivers, heat sinks, and passive components for SSL designs with up to 100,000 lumens in light output.
The Webench tool provides engineers with immediate comparison data in key areas such as power consumption, lighting performance, and costs. "We are enabling creative designers to compare a hundred different topologies for a lighting system in a few minutes," said Phil Gibson, vice president of Technical Sales Tools at National Semiconductor. "WEBENCH LED Architect frees their imagination, so they can deliver brilliant lighting designs at the lowest possible cost."
National Semiconductor has long offered engineers working on power supply and sensor applications help via Webench tools. Now the LED-centric tools can allow SSL designers to balance factors such as drive current, light output, efficacy, and heat dissipation in a real-time interactive fashion.
Webench LED Architect allows engineers to compare a broad range of components. The tool can analyze 350 different LEDs from 12 manufactures. The software includes 30 heat sink options. 35 LED drivers, and 21,000 passive components that can be mixed and matched in SSL designs.
Once an engineer creates a SSL design optimized to the application requirements, the Webench tools can generate a complete project report including schematics, a bill of materials, and performance characteristics. The tool also provides electrical simulation capabilities.
Like all of National's Webench products, the LED tool is free for engineers to use. The company has also developed a video guided tour to help design teams get started with the tool.