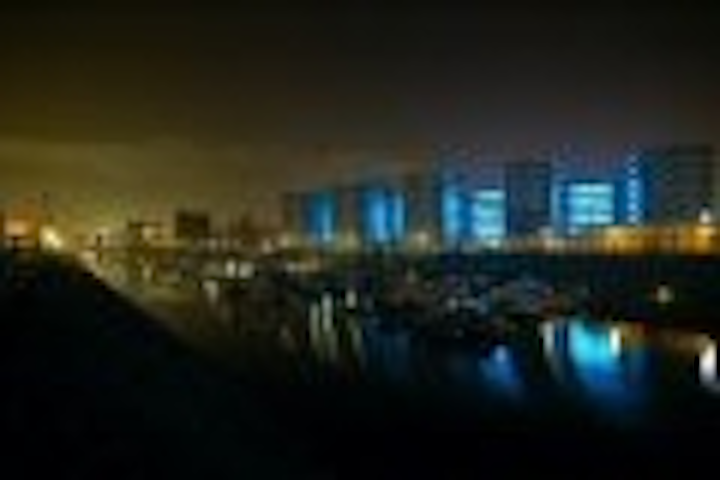 Dialight plc, a UK-based company focusing on applied LED technology, has acquired 100% of the shares of Lumidrives Ltd for £2.45m in cash and £550k in Dialight shares (approx $5.3 million in total).
Based in the UK, Lumidrives is one of the leading suppliers of solid-state lighting fixtures and components to the European architectural lighting market (see Five Boats project, below).
From its facility in Knaresborough, UK, Lumidrives will now be responsible for Dialight's growth in the European solid-state lighting market.
Over the last four years, Lumidrives has grown considerably, with annual revenues of over £3 million and gross assets of over £1 million.
Dialight's Chief Executive Roy Burton explained to LEDs Magazine the reasons for acquiring Lumidrives. "They have a nice produce portfolio, they have a good customer base and they have a great management team in Gordon Routledge and Alison Ambler," he said. "They have done an outstanding job in the last 4 years to make Lumidrives a significant force in solid-state lighting in Europe."
Burton says that Dialight will allow the successful Lumidrives operation to continue as before, without trying to absorb and integrate the company into Dialight. "Lumidrives will continue pretty much unchanged," says Burton. "They will have access to all Dialight's capabilities and will be able to leverage whatever they need to penetrate the European solid-state lighting market."
Burton lists numerous capabilities: "We buy significant amounts of high-power LEDs, we have very significant engineering resource in the US, Germany and Newmarket (UK), we have test capabilities, we have an IP portfolio that they can draw on, we have low-cost manufacturing in Mexico if they decide that's what they want to do, and we have relationships in countries and with customers that may be of use to Lumidrives."
Burton says that the future direction of Lumidrives will be decided by its management team, but they will continue in the architectural lighting business and in their lighting components business – which includes drivers, optics, and light engines – as well as moving into the industrial lighting arena.
"The intent at the moment is to keep the Lumidrives brand and move forward with Dialight Lumidrives as the company name," adds Burton.
In September 2005, Dialight changed its name from Roxboro Group plc to reflect the company's new focus on LED technology and solid-state lighting (see Roxboro becomes Dialight, focuses on LED-based products). Almost all Dialight's revenue now comes from LED-related activities. "All of our investment and all of our growth is now in the LED business," says Burton.
Although based in the UK, Dialight has a strong presence in North America, with offices in New Jersey and a manufacturing operation in Mexico, and also operates a design center in Germany.
Dialight operates in two principal segments;
Components using low-brightness LEDs for status indication in electronic equipment
Signals/Illumination utilizing the latest high-brightness LED technology for traffic and rail signals, obstruction lighting and industrial and architectural lighting. The Lumidrives operation fits into this segment.
Lumidrives highlights Five Boats project
Lumidrives recently supplied color-changing LED fixtures and LED drivers for the Five Boats building complex in inner harbour of Duisburg, Germany.
Designed by British architect Nicholas Grimshaw, Five Boats is a complex of five buildings, each with six floors, in the shape of boats. Intended for use as offices and restaurants, the buildings are interior-lit with dramatic color-changing LEDs.
Working through German distributor Hauber and Graf, Lumidrives supplied bespoke LED modules and DMX colour drivers, while German-based lighting specialist Spectral developed the unique lighting concept and carried out the installation.