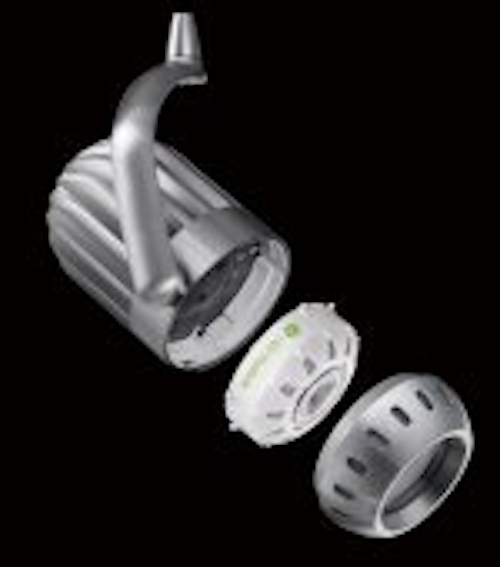 GE has introduced an LED module that mates to the housing of a lighting fixture using a simple clockwise twist, which provides the necessary thermal, electrical and mechanical connectivity.
GE purchased the next-generation LED module technology from Journée Lighting, Inc, a California-based LED fixture designer and manufacturer.
The new, fully-dimmable GE-brand LED module will debut in Journée's Azara™ and Pentas™ track light luminaires in early 2010. In addition, GE says it is making the module available as a component for various LED luminaire manufacturers.
GE says that the small, puck-shaped LED module gives lighting designers and end-users the ability to easily upgrade LED lighting as technology advances. This addresses the inflexibility of most current LED luminaires, in which the LED light source is an integral part of the fixture.
Also, where luminaires contain replaceable LED modules, replacement is not easily achieved because the modules usually require mechanical fasteners to couple the LED package to a heat sink, and a plug to make the electrical connection. The GE/Journée approach provides the necessary thermal and electrical connections with a simple twist of the module into its socket.
"It is as easy as changing a light bulb," says Steven Briggs, VP of marketing and global product management with GE Consumer & Industrial's LED business, Lumination, LLC. "Leading lighting designers and architects are on the record with concerns about integrated LED fixture upgradeability and serviceability. Some won't specify an integrated LED fixture. This is GE's answer. It's future-proof and market-ready."
"In the hands of GE, we believe this consumer-friendly modular LED technology will rapidly accelerate the wide-spread adoption of LED lighting as a preferred light source across the world," says Clayton Alexander, CEO of Journée Lighting.
In the US and Europe, GE is already presenting the new module to luminaire manufacturers, distributors, retailers and the lighting design community. GE says its module allows fixture makers to remain current with the latest LED performance. "Our fixture customers want to focus their efforts on total system performance," adds Briggs.
Another advantage of an easily-replaceable module is that it contains critical components such as the LED driver circuitry and chip, meaning that component failure doesn't require the costly replacement of the entire fixture.
"Early customer feedback has been a combination of relief and excitement," notes Andy Davies, senior LED product manager for GE's operation in Europe. "GE customers around the world appreciate that we've knocked down the hurdle of inflexibility that's inherent with integrated LED luminaires."
Luminaires can support a variety of different LED modules with varying color temperatures, beam angles and light levels. An added level of lighting design flexibility is enabled with the LED module's wattage-adjust switch (see "Module-rear" image) that gives end-users three different light level/wattage options.
GE describes itself as one of the world's largest LED systems companies. Its expansive installed base of white LED systems in the United States includes Walmart's refrigerated display-case lighting installation, the world's biggest white-LEDs-replacing-fluorescent lighting retrofit in a retail display setting. Globally, GE has sold over 600,000 LED refrigerated display case lights, over 6 million LED traffic signals and over 20 million linear feet of Tetra® LED lighting systems for use in signage and architectural applications. Over 50 percent of GE's lighting research is devoted to solid state lighting, covering LEDs and OLEDs.