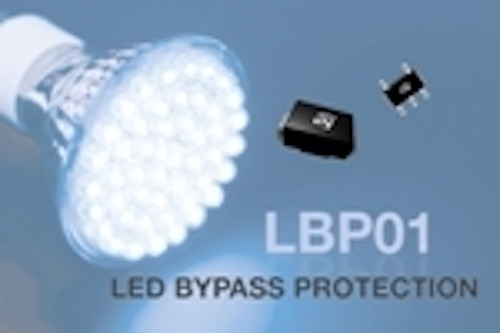 STMicroelectronics (ST) announced the LBP01 fault-management chip that bypasses failed LEDs in a string for mission-critical lighting applications including street lights, safety-oriented signage, and vehicle lighting. Meanwhile, specifically for the auto market, Infineon introduced the TLD73xxEK LINLED driver IC family designed to enable multicolor ambient lighting in a vehicle interior.
LED bypass IC
The ST LED bypass IC is designed to work in products with multiple strings of LEDs where each string includes several LEDs. In such a design, one LED can fail in an open-circuit manner, and can result in the entire string not working. The bypass ICs protects against such failure modes by providing a secondary path for current flow to the string.
The LBP01 also integrates a surge protector in the bypass IC. That capability can prevent failures from occurring in the first place. Both the bypass and protection functions can be required in applications where reliability of the lighting is of paramount importance.
ST says that the LBP01 is more cost effective than competitive bypass ICs because the IC is designed so that one bypass IC is used with two LEDs whereas other bypass ICs must be used on a one-for-one basis with LEDs. In 1000 piece quantities, the IC is in the $0.20 range.
The bypass IC can handle string currents to 1A and has a leakage current of only 100 nA. The surge protector meets the IEC 61000-4-2 and IEC 6100-4-5 standards.
Color ambient light
The Infineon LINLED driver IC combines both the driver functionality, and a Local Interconnect Network (LIN) interface that is a serial network that's widely used in the auto industry to link various cabin systems. LIN can carry commands to the Infineon driver IC for settings such as color and light level. Meanwhile, the driver IC integrates a three-channel current source designed to drive RGB LEDs.
The LINLED drivers include local memory as well that can store 16 predefined colors. And the IC handles the required blending and dimming with independent control on each channel. Infineon sees the color ambient light as a differentiating feature for auto makers.
"LEDs are replacing traditional bulbs," said Andreas Doll, vice president and general manager of body power automotive at Infineon Technologies. "Driving this transition, Infineon offers automotive-optimized LED products to enable flicker-free ambient lighting and help car manufactures to produce differentiated products."
There are four versions of the LINLED driver IC in the TLD73xxEK family that vary by current output, ranging from 48 mA to 2A. The drivers can be used globally and the LIN implementation meets the LIN 2.1 and SAE J2602 industry standards.