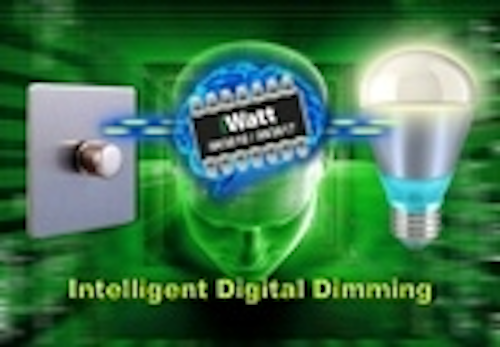 IWatt has introduced two new dimmable solid-state lighting (SSL) driver ICs, the 12W iW3616 and 25W iW3617, that are based on the company's digital-state machine approach to adapting to leading- and trailing-edge, phase-cut dimmers. The company says that the new LED driver ICs can reduce the overall driver bill of materials (BOM) by 10-20% relative to their prior offering while delivering power factor greater than 0.95 and total harmonic distortion (THD) under 10%.
The new driver ICs primarily target retrofit-lamp applications although they will also find usage in some SSL fixtures. The products were designed to meet the 85% or greater driver efficiency requirement that's prevalent in the SSL lamp segment.
IWatt has been on a very public campaign in the dimming area asserting that its products eliminate any LED flicker problems associated with dimming. The new designs can dim from 1% to 100% with +/-5% current regulation.
Dimmer compatibility
Scott Brown, iWatt vice president of marketing, said that the ICs are compatible with a broad array of dimmers with the company having tested the ICs with more than 100 commercially available products including triac-based products and electronic dimmers that produce a phase-cut signal. Brown said that the electronic dimmers are especially difficult. Such leading-edge dimmers don't cleanly cut the signal at the beginning of the each half sine wave of the AC input. Instead, the voltage begins to rise and then the dimmer cuts the signal for a period of time based on the set dim level. IWatt has accounted for such dimmers in its digital state machines that control dimming functionality.
The iWatt designs are two-stage converters with the first stage handling power factor correction (PFC) and the second stage the constant current supply. The PFC stage removes any source of flicker attributable to the AC line.
The promised BOM savings come in the area of the required discrete components. The new ICs can use lower-cost bipolar junction transistors (BJTs) on the output rather than field effect transistors (FETs). The new driver ICs can also use smaller, lower-cost electrolytic capacitors, and simpler protection and EMI filtering circuits
Brown said the BOM savings amount to around $0.09 and that seems like a relatively small amount. But about the retrofit lamp makers, Brown said "Once cent is significant for these guys and twenty cents is huge."