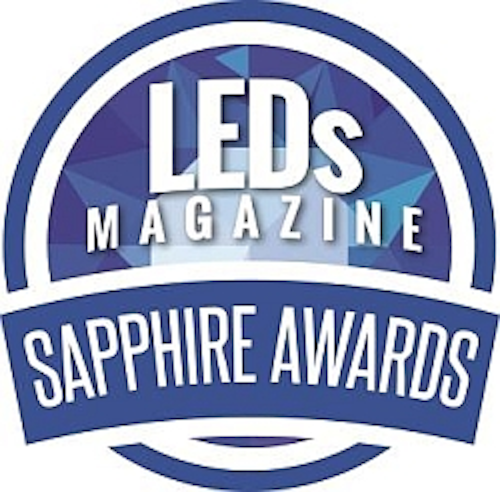 LEDs Magazine has announced the LEDs Magazine Sapphire Awards program that will kick off this summer and culminate in an awards ceremony held in conjunction with Strategies in Light 2015, scheduled for Feb. 24-26, 2015 in Las Vegas, NV. The new program will focus on the enabling technologies such as LEDs, drivers, optics, test and development tools, and more that facilitate the solid-state lighting (SSL) revolution. Moreover, the program will recognize the LEDs Magazine Innovator of the Year -- an award that will be bestowed upon an individual or engineering team that demonstrate exceptional innovation, creativity, and insight in LED-focused product or technology developments.
Get the latest Sapphire Awards program and submission process details
While there are numerous awards program active in the LED lighting industry, most are specifically focused on end lighting products. The LEDs Magazine program will recognize end products but will focus more heavily on the enabling technologies and products that make compelling SSL products possible. "The true technology stars often go unrecognized in our society," said LEDs Magazine editor Maury Wright. "We will seek to identify the true innovations and innovators that are driving the LED industry forward on an annual basis."
LEDs Magazine has been at the forefront of the transition to LED-based lighting and has served as the leading conduit of information for developers working with LEDs in innovative applications. Moreover, the magazine is part of a larger organization that includes the Strategies Unlimited research organization, and events such as Strategies in Light and The LED Show. Indeed, all of these component businesses of PennWell Corp.'s LEDs and Lighting Group are committed to comprehensive coverage and facilitation of the LED technology segment.
"We have the leading publications, trade shows, and research organization in the world of LEDs," said Christine Shaw, publisher of LEDs Magazine and senior vice president/group publisher at PennWell. "We take great responsibility in helping the LED industry to move forward and in particularly the LED-based general lighting market to grow, and the LEDs Magazine Sapphire Awards will provide the LED technology sector with a highly-visible stage for our stars."
LEDs Magazine will be announcing further details of the new awards program later this summer, including the process by which companies can nominate entrants and how the judging process will proceed. Watch our website, e-mail newsletters, and magazine for more details. If you would like to submit your name and contact information so that we can directly send you further details on the LEDs Magazine Sapphire Awards as they become available, click this link to submit your contact data: www.ledsmagazine.com/sapphire.