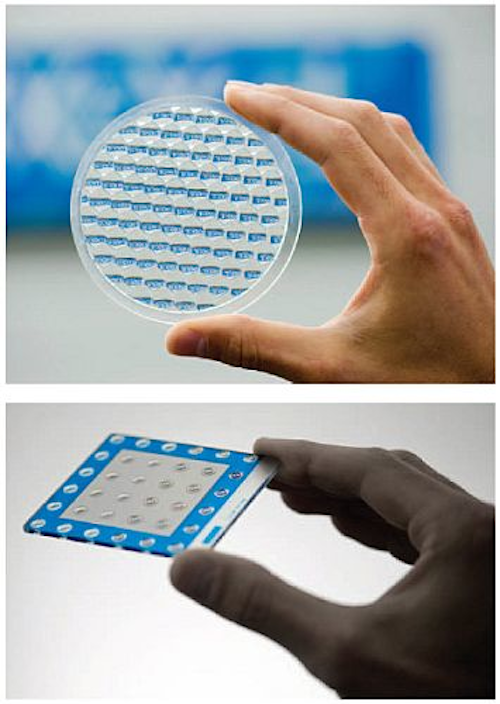 LUXeXcel Group announced new venture funding from Munich Venture Partners, ChrysalixSET, and Filsa Capital that will allow the 3D printing specialist to expands its ability to serve the LED lighting and optics market segments. LED-driver IC manufacturer Dialog has reported record revenue while LED maker SemiLEDs reported narrower losses. Cree will announce financials next week and this week has entered the high-bay market segment with a new LED fixture.
LUXeXcel venture funding
LUXeXcel is a startup company focused on additive manufacturing of lenses and other optical components for solid-state lighting (SSL) and other applications using a 3D printing technology that the company calls Printoptical. We've covered the company recently including the exhibit at a LED-centric tradeshow, and in a recent feature article on optics.
The company is focused on delivering prototypes or samples of optics to high-volume components for use in an SSL product. The company described the latest funding as a growth round. LUXeXcel did not specify the amount but indicated in total that the venture backers were investing "several million Euros.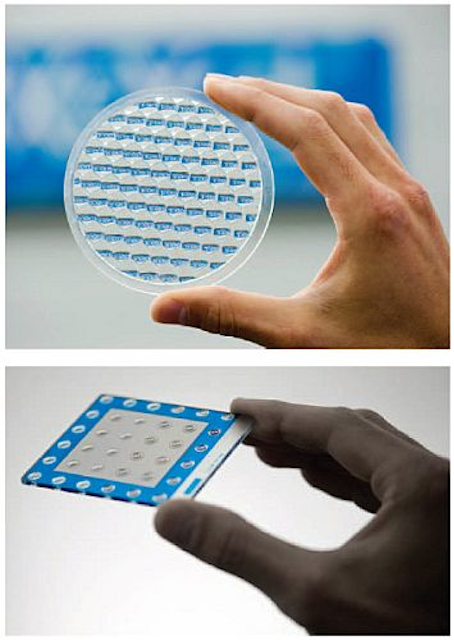 Printed optics by LUXeXcel
"We are excited to announce this completion," said Richard van de Vrie, founder and chairman of LUXeXceL. "This cash injection secures our growth and corporate development, increasing the capabilities that we offer to optical designers and LED lighting manufacturers. Our new partner Munich Ventures Partner is one of Germany's largest Clean-Tech Investors with a very valuable network that will help us opening new doors. I am pleased that Filsa Capital is investing in the company and making its management experience available. The additional capital injection of Chrysalix SET enables us to execute our business plan properly."
Financials
Meanwhile, LED manufacturer SemiLEDs announced financial results for its first quarter of fiscal 2014 that ended Nov. 30, 2014. The company reported $3.4 million in revenue compared to $6.2 million in the same quarter the prior year. But the results were reviewed somewhat positively because the troubled LED maker reduced the net loss from $0.32 per diluted share to $0.23.
"We are encouraged by the progress we have made in the most recent quarter," said Trung Doan, chairman, president, and CEO. "While we are still in the early stages of executing on our strategy, the sequential improvement in gross margin demonstrates the initial impact of our efforts."
The company also recently announced a major LED lighting project at the THC Alpha hotel in Moscow, Russia. The project includes tunable dynamic lighting on the façade and was accomplished with partner Twenty First Light.
Dialog Semiconductor also announced financial results reporting on its fourth quarter of 2013 and full year. The company specializes in power semiconductors including driver ICs for LED-based lighting.
The company said it enjoyed record quarterly revenue of $352 million. The company said full-year revenue will be $910 million, up 18% over the prior year. The company did not specifically address its position in the driver IC segment.
Cree news
Cree is poised to announce its latest quarterly results in a webcast scheduled for January 21. Meanwhile, the company's LED lighting business unit has entered the high-bay market segment for the first time with its CXB High Bay LED. The company said that in one-for-one retrofits of metal halide high-bay fixtures, building owners can realize payback in three years with the new product.
The fixtures use an array of the company's CXA chip-on-board (COB) LEDs. The 230W luminaire delivers 23,000 lm and therefore efficacy of 100 lm/W. Cree said that it delivers more lumens per dollar than any other high-bay fixture on the market. We have a more detailed story on the CXA fixture over on our Illumination in Focus website.