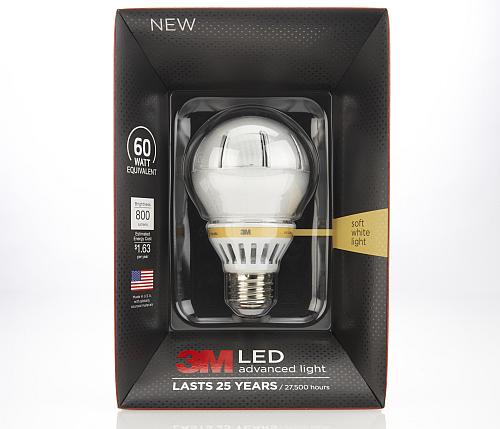 3M and MSi have announced an extension of the duo's partnership in developing LED-based directional retrofit lamps including PAR, BR, and MR16 products. Epistar said it has reached a cross-licensing agreement with Philips after the two had previously contested intellectual property (IP) issues in court. The US Federal Trade Commission (FTC) has won a court order against Lights of America. And GE lighting will partner with Krislite on solid-state lighting (SSL) projects in Myanmar.
3M invests in MSi
Materials stalwart 3M (NYSE: MMM) has invested an unspecified sum in LED lighting specialist MSi. The two companies were first tied together publicly at Lightfair International in 2013, when an announcement from driver IC maker Marvell (Nasdaq: MRVL) revealed that its IC had been included in directional lamps such as LED PAR30 bulbs that were designed and manufactured by MSi for sale under the 3M brand. Prior to that announcement 3M had apparently designed an A-lamp on its own using an innovative light guide -- a design that won favorable reviews.

The latest investment will apparently expand the relationship as 3M seeks to penetrate the SSL sector with numerous materials. "3M's Light Management platform enables the company to manipulate light in different ways, and we are committed to developing high-quality LED lights," said Gabi Sabongi, vice president of 3M Corporate Ventures. "Solid-state lighting technology has the potential to reduce US lighting energy usage by nearly one half and contribute significantly to the nation's climate change solutions. MSI's technology is a great fit with 3M and takes our business relationship to the next level in a way that complements both companies."
MSi has found success in particular with PAR, BR, and MR16 lamps and the relationship with 3M could certainly raise the company's standing in the sector. "The relationship between MSi and 3M is already strong," said MSi president John Burke. "This investment allows us to further share ideas and innovations in LED. With 3M's range of technologies and expertise in optical science, we are very excited about the future and new ways to serve customers."
Epistar announces Philips license
In the IP arena, Epistar has announced a cross-licensing agreement with Philips although the latter has not acknowledged the latest agreement. The two have battled in court in the past and in 2009 Philips announced that it had granted Epistar a license to use some Philips LED manufacturing IP. A true cross-licensing agreement would signify that Epistar has been able to develop a considerable IP portfolio, moving the Taiwan-based manufacturer on more equal footing with the leaders in the packaged LED business.
The Epistar agreement announcement was brief and specifically stated that no more details beyond a brief statement will be disclosed. "With the agreement, Epistar can focus on developing new products and technologies to speed up the pace of innovation," said MJ Jou, Epistar president. "Furthermore, we believe IP remains important to the LED industry, and this cross-license demonstrates how leading companies appreciate the value of intangible assets."
FTC imposes judgment
Moving to court actions, the FTC's action against Lights of America has led to the US District Court for the Central District of California ordering the company to pay more than $21 million for misleading consumers. The FTC had first sued Lights of America in 2010. In October of last year, the FTC said that it had prevailed in the court action.

The new court order permanently prohibits the Lights of America principals from misrepresenting facts about LED lighting products. The FTC will presumably collect the money and offer refunds to impacted consumers. The new order places compliance and record-keeping constraints on the defendants.
GE allies with Krislite
Moving to southeast Asia and a new alliance, GE Lighting has announced that it will cooperate with Krislite in Myanmar. Krislite will be able to supply local projects with LED and other lighting products from the GE portfolio.
The agreement will be critical to Myanmar improving lighting conditions to expand its economy while leveraging energy efficiency. "GE Lighting has been a leader and trusted advisor for lighting solutions worldwide," said U Myint Swe, Chief Minister of the Yangon Region Government. "They are bringing into Myanmar more than a century of lighting legacy and innovations with a promise to share their experiences in lighting technologies and system with Myanmar and her people. Krislite has been operating in Myanmar for more than 20 years. They have a very strong reputation, are highly respected, and understand Myanmar very well. I'm sure the collaboration of these two experts will produce a fruitful result for Myanmar and become a core stimulant that helps drive the development of our country."