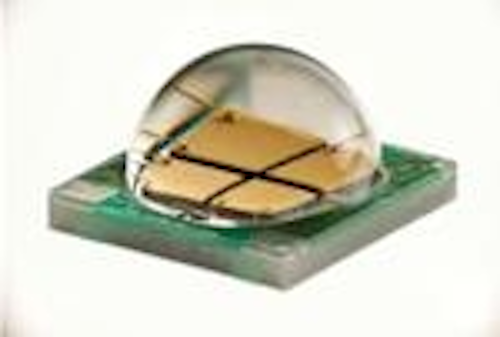 Cree made several solid-state-lighting (SSL)-centric announcements in the past few days with new module, array, and component LED-based products. The CX2011 array delivers 4000 lm for high-output omnidirectional lamps and directional downlights, while the XLamp XM-L targets 25W replacement lamps. The LMH6 module targets commercial lighting specifically in the European and Asian markets, operating from a 230V input.
With the CX2011 array, Cree seeks to greatly simplify SSL product designs. The array features screw mounts that simplify the lamp or luminaire manufacturing process eliminating the need for reflow soldering. The array delivers 4000 lm at 1A drive current and 85°C operating temperature. The 5000K color array uses Cree's EasyWhite color-mixing technology and is available in 2- or 4-step MacAdam ellipse bins.
Gama Illuminer president Jason Lee is clearly a proponent of the new array design saying, "The CXA2011 LED has been incredibly easy to work with, enabling us to create very high-performance products." That ease of use was Cree's goal. Cree senior director of marketing for LED components Mike Watson said, "Combining fast and flexible system design with ease-of-manufacturing, the CXA2011 LED array helps customers quickly create a broad range of LED-based designs."
Cree asserts that EasyWhite products offer the industry's tightest LED-to-LED color consistency, and the new product brings that consistency to an array designed specifically for general-illumination applications. About the array, Gama Illuminer's Lee said, "It gave us a plug-and-play solution with the right combination of brightness, efficacy and color consistency with real-world 85°C specifications. Creating a design with CXA2011 was simple and manufacturing will be underway in record time."
XLamp for 25W replacement lamps
While the CX2011 array targets high-brightness applications, the new 4W XLamp XM-L LED brings EasyWhite technology to small retrofit lamps such as 25W replacements. Cree is targeting replacements for products such as 20-25W halogen MR, PAR, and B10 lamps.
The XM-L is also in reality an array of four emitters, although it is packaged as an LED component. The EasyWhite technology is based on mixing the light for sorted emitters in a programmatic way to achieve consistent light output on a component-to-component basis.
Delivering 340 lm at 85°C and a warm-white 3000K color temperature, the new LED affords the color consistency of incandescent bulbs according to Cree. Watson said XM-L EasyWhite LEDs give customers the best of both worlds: the color consistency of an EasyWhite array in the compact size of a discrete component."
Module for Europe and Asia
In the modular space, Cree has added a product that targets low- and high-bay applications specifically for the European and Asian markets. The LMH6 SSL module operates directly from the 230V line output common in those regions and also includes EasyWhite technology.
The module is rated for 50,000 hours of life and can deliver 2000 lm at 74 lm/W or 2900 lm at 78 lm/W. Cree offers the module in a choice of 3000K or 4000K color temperatures, both with a CRI of 90.
The modular approach simplifies luminaire designs because the module includes an integrated driver, optics, and thermal-management features. Moreover the driver in the LMH6 module integrates DALI dimming capability.
"We are enabling our customers to address the 150mm and 200mm downlight market with beautiful, energy-efficient lighting offering the highest quality and efficacy available in the industry," said Scott Schwab, product line manager for LED modules at Cree. "Cree continues to innovate and expand our customers' options with our LED module family, building on the success of our LMR2 and LMR4 LED modules."