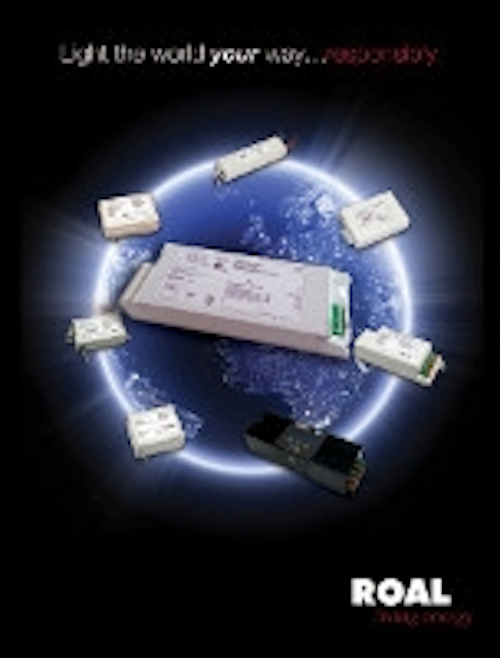 Roal Electronics has announced the Ozone 150W LED driver series and will demonstrate the technology for the first time at Strategies in Light Europe scheduled for Nov 19–21 in Munich, Germany. The new series will enable solid-state lighting (SSL) product developers to deliver luminaires with integrated adaptive control capabilities and with support for a broad input voltage range.
The new 150W products are single-channel, constant-current drivers intended for outdoor lighting and high-output indoor applications such as high-bay lighting. The drivers can operate from 120V, 230V, and 277V inputs, have a power factor greater than 0.9, and feature total harmonic distortion less than 20%.
Still, it's the adaptive-control features that truly stand out in the case of the Ozone family. Roal offers support for DALI (digital addressable lighting interface) for persistent network-based control, along with support for 0–10V and PWM (pulse-width modulation) diming.
Roal also includes intelligence in the driver that can support programmatic controls without a persistent interconnect present. The company offers a programming tool and software that simplifies configuration of the driver to set dim levels based on the time of day and other scenarios.
Ultimately, the family will include models that range in output current from 200 mA to 1.5A. The family includes multiple input and output protection features including 6-kV surge protection. The electrical efficiency of the driver is in the 90% range.