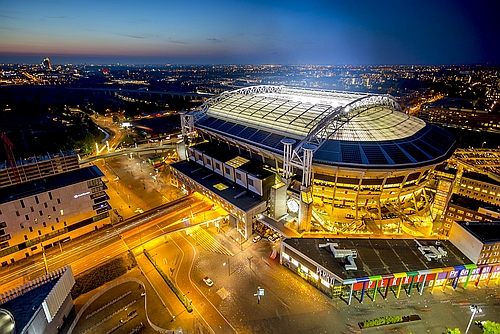 Our LED business news covers Current, powered by GE adding six more ecosystem partners in its intelligent LED lighting initiative, while Nualight sells the Lumotech LED driver line to Fulham; and Philips Lighting signs a deal to light the playing surface at the Amsterdam Arena.
In today's LED business roundup, Current, powered by GE has announced that Celect, RetailNext, VideoMining, Motionloft, Soofa, and Comlight are its newest smart LED-based lighting ecosystem partners with each of the ventures planning to integrate network-centric software or hardware with Current solid-state lighting (SSL) products and networks as well as the Predix analytics platform. Nualight has announced it will sell LED-driver-centric assets of its Lumotech business to Fulham Co., Inc. Philips Lighting has announced that it signed an agreement to light the pitch (playing field) and install dynamic color spot lighting at the Amsterdam Arena.
Interested in articles & announcements on LED business?
Current ecosystem
The Current announcement follows a number of similar partnership announcements that broke back in the timeframe of the LightFair International event. The company had acquired Daintree Networks. Subsequently, the company announced a long list of smaller ecosystem partners. And then Current announced a partnership with Honeywell in the Internet of Things (IoT) space.
Now Current has added more startup ventures to the ecosystem, including several retail-oriented technologies. Celect is a spinout from the MIT (Massachusetts Institute of Technology) Computer Science and Artificial Intelligence Lab and has a predictive analytics package that enables retailers to optimally match inventory to customer demand, thereby increasing margins. RetailNext is focused on optimizing shopper experience. VideoMining offers in-store behavior analytics that operate on actual shopper behavior. And Motionloft can monitor and analyze pedestrian traffic in retail or municipal applications.
The other two new partners are hardware focused. Soofa offers solar-powered benches to municipalities that can be used to charge mobile devices and companion solar signage intended to deliver context-specific messages. Comlight, meanwhile, is Europe-centric and offers adaptive control systems based on radar sensors to detect pedestrian and automotive traffic in outdoor SSL applications.
Current has clearly determined that the IoT revolution can deliver new value to its customers far faster than the company could develop new offerings organically. "We're able to help customers use core infrastructure to not only optimize energy use but serve as the aggregator for digital interactions that drive value, even as needs change over time," says John Gordon, chief digital officer at Current. "Customers will be able to pick and choose the capabilities they want in their solution to solve for unique challenges and bring their own app partners and developers to innovate solutions against Current's Intelligent LEDs and Predix."
Nualight and Fulham
Moving to an LED business deal that crosses the UK and US borders, Ireland-based Nualight will divest the LED drivers business of its California business Lumotech with California-based Fulham becoming the new home. Nualight had acquired Lumotech in 2011 and operated the business that specialized in drivers and controls.
The LED drivers business, however, was never a key cog in Nualight's core competency centered on refrigerated display cases for grocery applications. The company also offers SSL products for industrial applications and other specialty lighting. And going forward, Nualight will focus on those markets while Fulham can leverage the Lumotech assets to advance its move toward offering smart lighting capabilities.
"We are delighted to have found an ideal partner in Fulham who already has a strong focus towards intelligent lighting components and can now draw upon the technological expertise of Lumotech as the industry continues to innovate," said Peter Mazalon, Nualight CEO. "Nualight will help support the transition process and work towards a smooth handover for our customers. As Nualight, we continue to make strategic changes, in which our clear focus is to further develop our core LED lighting business in our specialist areas." Fulham, meanwhile, will also gain the European distribution channels established by Lumotech.
Philips Lighting and soccer
Moving on, newly-independent Philips Lighting will add another European soccer venue to its portfolio of sports-venue SSL projects. Late in 2015, the company announced it had delivered LED lighting at the Eindhoven, the Netherlands soccer stadium. Previously, Philips had supplied playing field lighting for the Chelsea stadium in the UK. Now the company will also install LED lighting at the main soccer and concert venue in Amsterdam.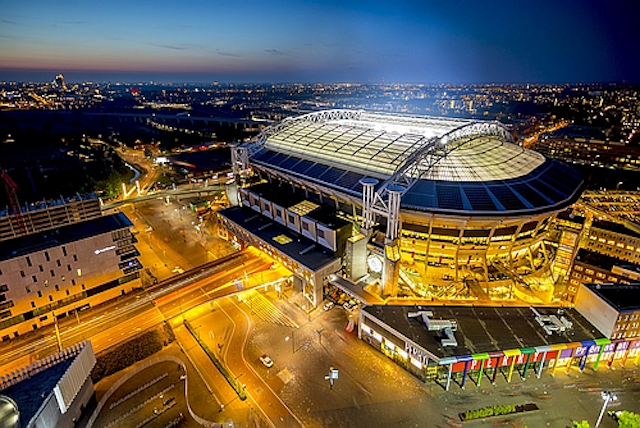 LED business news: Current expands SSL ecosystem, Nualight and Fulham, Philips
"The combination of our ArenaVision LED pitch lighting system and movable color spots creates a tremendous show effect," said Frank van der Vloed, general manager of Philips Lighting Benelux. "With this new combination of lighting systems, we are contributing to the further development of Amsterdam Arena. We are proud of this collaboration and will jointly create a global showcase of enhanced experience, sustainability, and flexibility of the overall lighting system that paves the way for a new standard for pitch lighting."
Henk Markerink, CEO of Amsterdam Arena, added, "Philips Lighting has been involved in the development of our stadium lighting from the beginning and from now on we welcome Philips Lighting as an active partner in our innovation center. We are delighted to continue our close collaboration in the years to come. First, the stadium lighting will be replaced by LEDs and over the next few years, in the run-up to Euro 2020, we will be working on even more innovative lighting projects to create the best experience for our fans with lighting."
LED lighting is increasingly the choice of top professional sports teams for playing-field lighting. Our just-released June issue includes a feature article on LED lighting at Major League Baseball stadiums in the US.