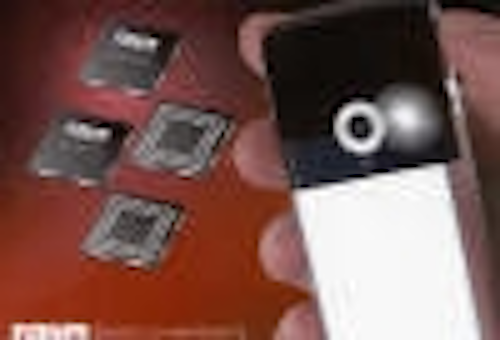 Rainbow LED driver combines multiple LED management with camera flash facility
A new IC from Rohm is the first integrated LED driver to combine the ability to drive red, green, blue and white LED outputs with a mode that provides high brightness 'flash' LED output.
Rohm's BH6048KN rainbow LED driver is a single-chip solution for managing multiple LEDs in mobile phone applications. In addition, the built-in flash mode allows designers to use LEDs to provide flash illumination for pictures taken with the mobile phone camera.
The new BH6048KN IC incorporates a high-efficiency, high current output PWM DC/DC converter and a three-channel current driver that supports red, green, blue, and white LEDs. Current settings for LED illumination functions can be configured to between 1.25 mA and 23.0 mA in increments of approximately 1.4 mA. For flash driver output, current settings can be set between 75 mA and 150 mA in 25 mA steps.
Typical supply voltage for the new device is specified as 3.0 - 4.5V. A two-wire serial I2C interface supports FAST mode and facilitates connection to a host controller.
Supplied in a compact QFN 28-pin package, the BH6048KN has dimensions of just 5.2 x 5.2 x 0.8 mm. For applications where saving board space is the overriding design criteria, a BGA version of the device (known as the BH6048GU) with a footprint of only 3.0mm2 requires only 30% of the board space of the 28-pin QFN BH6048KN.
Integrated serial driver IC delivers uniform brightness for white LED backlights in portable applications
Rohm has expanded its family of integrated LED driver ICs with a new low-power device that offers a space-efficient and reduced component count solution for driving up to four white LEDs in a serial configuration.
The new BD6157GLS provides variable, four-step brightness control and is ideal for mobile phones, PDAs, and other portable and battery-powered applications that use white LEDs for LCD or keypad backlighting. Serial driver configurations are becoming increasingly popular in these applications as they make it easier to ensure that multiple LEDs illuminate with the same levels of brightness.
Supplied in a compact FLGA12V3 package, the BD6157GLS minimizes the need for additional components by integrating key drive and control functionality including a step-up DC/DC converter and a 30V switching transistor. Overvoltage and overcurrent protection are also built into the IC.
Rohm's BD6157GLS operates with a typical supply voltage of between 2.8V and 5.5V and power dissipation down to 170mW. Package dimensions are just 3.0 x 3.0 mm, and operating temperature range is rated at -30°C to 85°C.
Miniature white LED driver IC simplifies design of mobile phones with full-color backlights
Rohm has launched a miniature IC that will simplify the design of mobile phones requiring full color backlights by delivering the increased voltages and driving functionality demanded by white LEDs.
Rohm's BD6155FVM white LED driver IC combines an integrated boost charge pump with fixed current LED driver circuitry to minimize the need for discrete driver and step-up circuitry. The device, which operates from voltages down to 2.9V, can be used to step up mobile phone battery voltages to deliver an output of up to 5.6V.
Supplied in a compact 8-pin MSOP package, the BD6155FVM has dimensions of just 2.8 x 2.8 x 0.9 mm and has a typical power dissipation of 350 mW. Operating temperature is rated at -25 to 75°C.