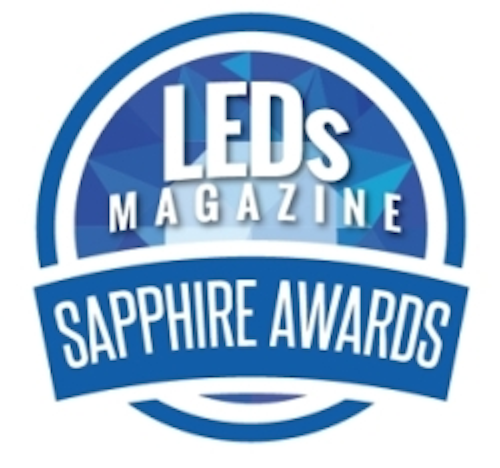 MAURY WRIGHT reports on the 2015 LEDs Magazine Sapphire Awards program, with competition across 13 categories featuring the best in solid-state lighting technology ranging from the enabling technologies used by product developers to the finished products that serve the broad general lighting application space.


LEDs Magazine recently announced the finalists in its inaugural 2015 Sapphire Awards program for both enabling technologies and lighting products in the solid-state lighting (SSL) sector. The recognized products were selected by panel of judges representing a broad cross-section of the LED component and lighting industries.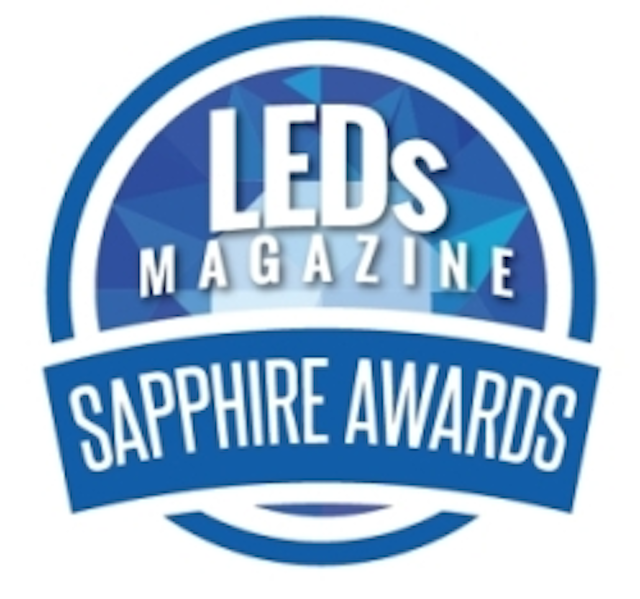 LEDs to fixtures nab finalist positions in LEDs Magazine Sapphire Awards

Winners will be announced at a Gala to be held February 25, 2015 in Las Vegas, NV in conjunction with the Strategies in Light and The LED Show co-located events. Entries to the Sapphire program were accepted throughout the fall of 2014. The first-year program received well in excess of 100 entries. The judges (see below) selected three to four finalists in each of 13 categories. Ultimately, each entrant will receive a score of one to five Sapphires for their entry, with the top scorers among the finalists receiving Sapphire Awards at the Gala.

The Gala will be a can't-miss event during Strategies in Light week with exciting entertainment booked for the event that will be held in the Sands Expo & Convention Center. The festivities will culminate with a celebration of the Sapphire winners. The finalists in each category are identified in the following sections. The final category, Illumineer of the Year, will recognize a person or team of people for development of an especially innovative LED-centric or SSL product during the course of the year.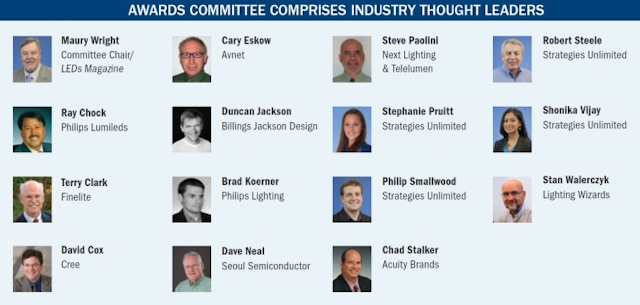 Sapphire Awards Program
Packaged LEDs and OLED panels

Philips Lighting, Lumiblade Brite FL300 OLED panel
Philips Lumileds, Luxeon COB LED with CrispWhite technology
Cree, Cree Xlamp High-Density LEDs


Modular SSL light engines

Osram Sylvania, PrevaLED Cube AC LED module
LED Engin, LuxiTune generation 3.0 dimmable light engine
Seoul Semiconductor, Acrich 2 AC-LED module

LED drivers

Osram Sylvania, Optotronic linear programmable drivers
eldoLED/Acuity Brands, SOLOdrive 360 drivers
LumaStream, Trinity 12 DMX LED driver and control system

ICs and electronic components
Infineon Technologies, ILD6150 step-down driver IC
Maxim Integrated Circuits, MAX16840 LED driver IC with MOSFET
Texas Instruments, AC-LED Floating Switch Architecture/TPS92411

SSL enabling technologies
Cambridge Nanotherm, Nanotherm LC LED substrate
Khatod Optoelectronic, SIO3 silicone lens for COB LEDs
Rubicon Technology, Large-diameter patterned sapphire substrates

SSL tools and test
Mentor Graphics, T3Ster, TeraLED, and FloEFD simulation tools
United Power Research Technology, UPRtek advanced MK350S meter
Chroma Systems Solutions, Chroma 5102 LED lamp test system

SSL lamp design

Soraa, AR111 LED lamp with SNAP
Soraa, PAR30 LED lamp
Green Creative, BR30 Cloud LED lamp

Indoor SSL luminaire design
Eaton's Cooper Lighting, Neo-Ray Index pendant luminaire
Eaton's Cooper Lighting, Halo SLD Surface LED downlights
Finelite, Series 11 LED Micro Profile cove
Litecontrol/Hubbell Lighting, Litecontrol Liteweave linear indirect/direct

Industrial SSL luminaire design
ALLED Lighting Systems, RAYdiant high-bay luminaire
Eaton's Cooper Lighting, Metalux SkyBar high-bay luminaire
Horner Lighting Group, 2-Tube Remote Phosphor LED linear

Outdoor SSL luminaire design
Eaton's Cooper Lighting, McGraw-Edison TopTier LED parking garage luminaire
Kim Lighting/Hubbell Lighting, Lightvault 8 Bluetooth in-grade luminaire
Sportsliter Solutions/Hubbell Lighting, ArenaLED luminaire

Specialty SSL luminaire design
Once Innovations, AgriShift JLL
Shat-R-Shield, LED Vapor Tight LED luminaire
Tempo Industries, Tempo T-Bar House Lighting system

Smart SSL technology

Cree, SmartCast technology
DimOnOff, Litenode wireless control system
Arborlight, LightWell 16 SSL daylight emulator
Philips Color Kinetics, SkyRibbon IntelliHue Linear Direct Powercore

Illumineer of the Year
Eric Senders, Bob Zona, Rene Helbing, Mushfeque Manzur, and Catherine Othick, Philips Lumileds Luxeon COB LEDs with CrispWhite technology
Michael Forbis, Jon Mapel, Rob Ellis, Max Shtein, and P.C. Ku, LightWell 16 SSL daylight emulator
Bernard Tetu, DimOnOff Litenode Wireless Control system