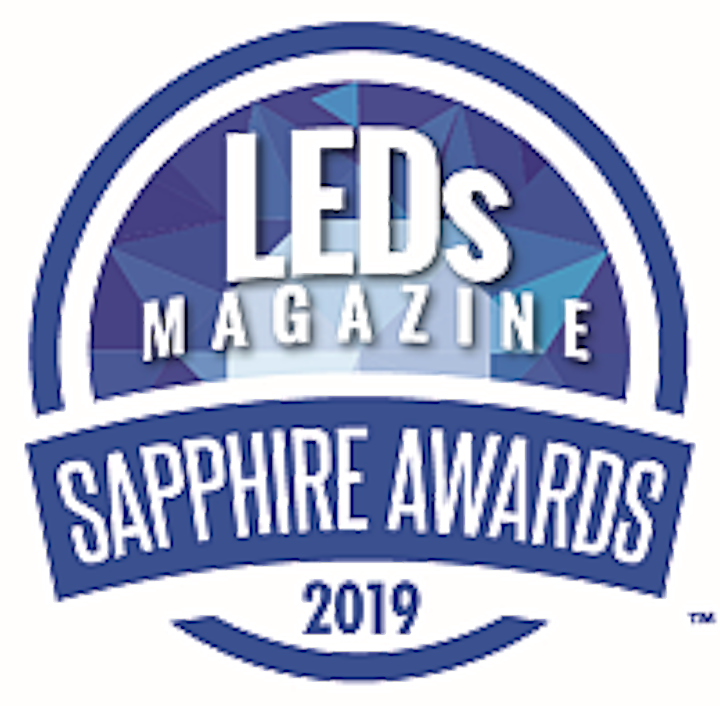 Amid the clinking of champagne flutes poured by an aerialist and the clatter of serving dishes, the buzz of anticipation arose at the fifth annual Sapphire Awards Gala, hosted by LEDs Magazine on Feb. 28, 2019 during the week of Strategies in Light. Chief editor Maury Wright and publisher June Griffin greeted the gathering full of industry executives, lighting leadership, and expert advisors from the Strategies in Light conference team, as well as new colleagues from across the solid-state lighting (SSL) supply chain.
As in years past, the evening's events included what one might call "an entertainment reel," this year offering a retrospective of the past five years' Sapphire Awards in addition to pictorial inspirations behind the winning innovations over the life of the awards program. A passion for technology and creative application of highly complex electronics, components, and materials has given birth to a number of outstanding products. We have stated more than once that recognizing the full extent of the LED and SSL supply chain's capabilities has been lacking in the industry and it is important to acknowledge the innovators who continue to bring advances and improvements to the market.
Indeed, although business and economic shifts over many months now have captured much of our attention — themes emerged during the 2019 Sapphire Awards evaluation process that illustrate the continuing improvement in light output and experience with LEDs, overcoming early shortcomings of SSL products.
Ease of installation, upgradeability, improved light quality, flexible beam distribution options, and glare-reduction tactics are repeated throughout the winning product categories, as our readers will soon find. SSL industry insiders also confirmed these thoughts. Sapphire Awards judge Aaron Smith, vice president of technology and R&D at Finelite Inc., said, "Judging the Sapphire Awards is exciting, and it is a reminder that there is no shortage of innovation in lighting. All of the entries strived to add value to the customer experience including innovating the ease of use, energy savings, services, and aesthetics of each product."
Judge Clifton Stanley Lemon of Clifton Lemon Associates commented, "To me, the submissions indicated a general trend towards refinement and focus on important practical details. Rather than blinding (pun intended) new innovation, we need lighting products that are easy to understand, specify, install, and operate."
Lemon added, "But we overestimate how quickly innovation can happen to lighting and to the underlying electrical infrastructure that lighting depends upon," and stated that he feels the industry must find a balance between older, more familiar form factors designed for incandescent and fluorescent sources and forms driven by the key advantages of SSL: directionality, compact size, and great flexibility.
These perspectives emphasize that the SSL community must continue to contemplate the full range of features LED-based light can afford, and blend high technology, connectivity, and scientific discovery to reach new levels of invention.
After close-up magician PiP and the dynamic LED percussionist group Drumbots warmed up the crowd, the clamor quieted down as guests prepared to discover which finalists would walk away with their sparkling Sapphire Awards trophies. Bookmark Sapphire Awards for future program updates, and read on to learn what steps brought the winning Illumineer and products to the podium.
Illumineer of the Year
As we've indicated in all of our Sapphire Awards coverage, the Illumineer of the Year honor is bestowed upon an individual or team who has developed innovative technology that enables high-quality lighting products while lowering operational and/or product costs. The technology may not yet be evident in commercially available products but would need to demonstrate commercial viability and value under our judges' criteria. However, one thing changed for 2019: We opened up an industry poll on the LEDs Magazine website, naming the three Illumineer finalists and allowing our audience to play an active role in the selection of this year's winner.
Given that the LensVector liquid-crystal lens technology won a Sapphire Award for the SSL Enabling Technologies category in 2018, it seems timely that chief technology officer Tigran V. Galstian, PhD, was selected as this year's Illumineer. Galstian, who is also a professor of engineering physics at Université Laval (Québec, Canada), founded LensVector to commercialize tunable imaging lenses for mobile-device cameras, and then found new ways to apply such adaptable lens technology to spatial tuning in SSL products. The potential for spatial tuning to mimic the qualities of daylight shifts has captured attention in the lighting industry as it can enhance the artificial light experience in the built environment.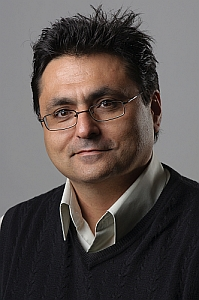 Illumineer of the Year Tigran Galstian.
The beam-shaping lens made its mark at LightFair International 2017 in an LED downlight exhibited by Intense Lighting. An electrical field is used to change the orientation of liquid-crystal molecules, which dramatically expands the beam-distribution capabilities of the luminaire. In 2018, LensVector and controls specialist Casambi partnered to demonstrate Bluetooth-enabled control of the dynamic beam-shaping optics, and another lighting OEM, Targetti, exhibited a downlight at Light+Building that showed just how variable lens adjustments could be, which might eliminate the need for field-replaceable optics.
Packaged LEDs and OLEDs
Efficacy has often vied with color quality when it comes to LED performance. Typically, LEDs with higher color rendering index (CRI) and warmer correlated color temperature (CCT) together reach lower efficacy than cooler-CCT and lower-CRI offerings. Now Cree has laid down the gauntlet with its XLamp eTone chip-on-board (COB) LEDs with 90 CRI that can achieve efficacy levels comparable to competitive 80-CRI products. Cree has reported that the eTone family is capable of delivering up to 155 lm/W at 3000K CCT and 85°C. And the COB LEDs have demonstrated 17% greater efficacy compared to existing 90-CRI LEDs without reducing color quality. But the company has not sacrificed value for OEMs in its quest for color fidelity: The eTone lineup shares a similar footprint to existing offerings to enable a drop-in replacement in SSL luminaire designs.

Cree XLamp eTone COB LEDs.
Modular LED Light Engines
LED light engines are intended to offer flexibility in design, and the VarioLED Flex Venus 3D True Color takes that feature to the literal level, with its bendable form factor. Manufacturer LED Linear has launched the light engine in a format that can be bent in, well, three dimensions to follow the line of architectural surfaces. The modular light source utilizes an IP67-rated polyurethane-based encapsulation material that avoids color shift while providing uniform light emission at up to 85 lm/W efficacy. The electronics are assembled on an innovative circuit board design that survives all the flexing to enable its use in all manner of architectural installations. With a CRI up to 95 and CCTs ranging from 2200–5000K, the linear light engine is particularly suited to façade lighting.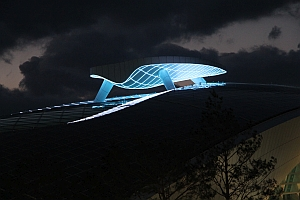 LED Linear VarioLED Flex VENUS 3D True Color.
ICs and Electronic Components for SSL
Initially launching its first NanoDriver product nearly two years ago, Seoul Semiconductor penetrated the market for compact hybrid modules that integrate one or more integrated circuits (ICs) with other discrete electronic components in a very small form factor that allows the NanoDriver to be assembled on a PCB or in a light engine with surface-mount device (SMD) technology. The newest addition to the NanoDriver line features a compact 0.53×0.53×0.05-in. profile and offers a low-part-count device for SSL designs as it requires few external components. The driver IC delivers AC phase-cut or analog dimming while achieving Title 24 flicker compliance due to low ripple current — a desirable characteristic in a small package engineered for use in downlight, spotlight, tracklight, and wall- or flush-mount fixture designs. Seoul has also utilized the NanoDriver in its own LED module offerings.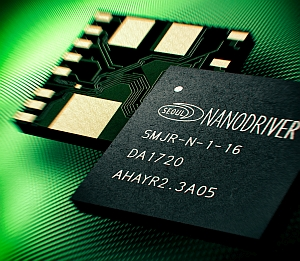 Seoul Semiconductor NanoDriver.
LED Drivers
As we move toward more acceptance and adoption of advanced connected lighting, we see more examples of connectivity and control products, alongside networking technologies, being applied to specific needs and application scenarios. Fulham's Sapphire-winning EliteControl PoE 2-Channel LED driver leverages the constant power source of a wired Ethernet network and provides constant-current output to the LEDs. When equipped with a Bluetooth dongle from the company, the driver can become a Bluetooth Mesh network node. High-bandwidth sensors, devices such as IP cameras, and LED luminaires can be accommodated via the Ethernet network to provide a full-featured building management system that is remotely manageable via the Internet.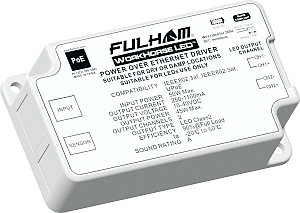 Fulham EliteControl PoE 2-Channel LED Driver.
SSL Enabling Technologies
As we have observed previously in our coverage, LEDs may bear a large load in terms of the quality of light produced, but enabling technologies such as lenses and optics certainly can make an impact on the end result in any SSL product. Optical materials that cannot withstand continuous heat generation and exposure in harsh environments will reduce light output and potentially change the light color quality. A winner for its SIO3 silicone lens in the inaugural 2015 Sapphire Awards as well as a prior finalist in 2016 and 2017, Khatod Optoelectronic has engineered its Nactus 6x2 SIL silicone optic with an ultraclear silicone rubber material that features a high refractive index as well as resistance to UV degradation that can cause yellowing, chemicals, and microcracks that can typically develop in harsh conditions such as outdoor lighting applications. The range of temperature resistance from –40°C to +150°C, with peaks up to 200°C, and three beam-distribution options also make the optical modules suited to outdoor area and street lighting.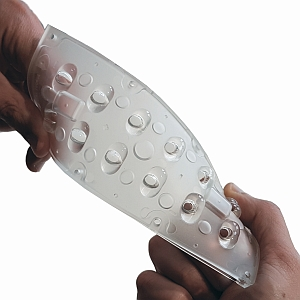 Khatod Optoelectronic Nactus 6x2 SIL Silicone Optic.
Tools and Tests in SSL Design
A three-time finalist in the Sapphire Awards program, United Power Research Technology continues to improve the features in its portable spectrometer offerings. The winning test tool, the MK350S Premium spectrometer, provides additional value as a quantum PAR meter and oscilloscope in the field and is remotely controlled via smartphone app. The handheld spectrometer allows lighting designers to achieve color performance expectations by incorporating functions for CCT, CRI, color fidelity, and color saturation to IES TM30-15 recommendations. Glare can also be evaluated with the device, and it includes test capabilities to evaluate blue-light hazards in line with IEC62778 and IEC62741 recommendations, as well as flicker testing in accordance with IEEE Std 1789-2015. With its test turnaround time of approximately 3 seconds and its extensive database of test functions, the MK250S Premium spectrometer enables users to fulfill lighting designs with comfort, functionality, and safety in mind.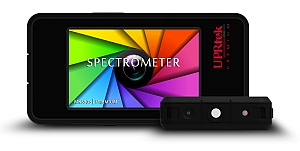 United Power Research Technology MK350S Premium Spectrometer.
Emergency SSL Luminaires, Modules, and Drivers
Emergency lighting poses unique challenges, often relying on traditional batteries that need to be maintained or replaced, and the need to meet regulatory requirements that are much different than general illumination in building code. We have considered emergency lighting components and luminaires in the Sapphire Awards — in fact, a winning LED driver product in 2018 was designed for emergency lighting systems — but this marks the first emergence of a distinct category. (Learn more about emergency lighting system concepts in our feature from this issue.) IoT and controls specialist Igor has developed its PoE emergency lighting driver to serve as a network node in an emergency lighting system. The lighting node or driver can be pre-installed in LED fixtures or can serve in retrofitting existing line-voltage LED luminaires. The driver configuration with the full Igor lighting system solution allows programmed modes to meet UL 924 requirements for emergency lighting, such as on time, run time, and light levels while also providing an intelligent hub for network data. Each driver has four independent channels that can control up to four separate fixed-white output luminaires or up to two tunable-white luminaires with a full range of dimming from 1%–100% in 1% increments.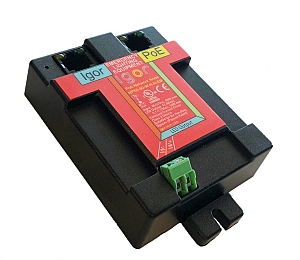 Igor PoE Emergency Lighting Driver.
Smart and Connected SSL Enabling Technologies
Enlighted founder and CTO Tanuj Mohan was honored as the 2018 Illumineer of the Year for his dedication to developing smart, sensor-based solutions to reduce energy consumption and achieve other sustainability and efficiency objectives in the built environment. As Mohan noted in his interview with chief editor Maury Wright, "[T]he thinking was not for occupancy-based lighting only but to understand the building environment and, more importantly, what the occupants are doing." And so the 5th generation smart sensor was born. The long-term collection and analysis of building usage data enabled Enlighted to draw new conclusions on how best to address the needs of commercial real estate properties. The need for flexibility to enable an upgrade path over time became apparent. Automatic remote software upgrades allow building managers and property owners to upgrade to advanced IoT features as needed — features such as daylight groups for daylight harvesting, and an astronomical clock for complex lighting schedules, made possible by expanded memory and a 32-bit Arm processor.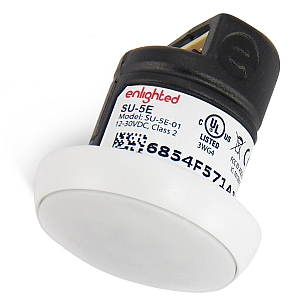 Enlighted 5th Generation Smart Sensor.
Smart and Connected SSL Systems
Having won a Sapphire Award last year for its smart LED driver, Osram Digital Systems was acquainted with the need for full-featured connected lighting components and systems. This year, the group has earned recognition for the latest version of its networked lighting management system, Encelium Extend. Polaris 3D light management software enables dashboard monitoring and operation of luminaires, sensors, and other controls. The web-accessible system relays building data for energy management, space utilization, asset tracking, space booking, and retail indoor positioning applications, while delivering tunable SSL capabilities to support health and wellbeing as well as occupant lighting preference. Encelium Extend can incorporate both wired and wireless connectivity, can upload data for cloud-based storage, offers real-time analytics, and meets building energy codes such as ASHRAE 90.1-2016, IECC, and California Title 24.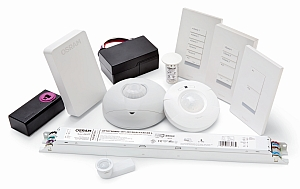 Osram Digital Systems Encelium Extend.
SSL Lamp Design
Every year after the close of the Sapphire Awards submissions, the materials received can reflect the need to restructure the categories slightly. Product sectors such as LED lamps have become quite saturated, in which case the judges become even more critical. They tend to turn their attention to more unique lamp design characteristics. Keystone Technologies is no stranger to linear lighting challenges; its dimmable DirectDrive T8 lamp was a 2018 Sapphire finalist. The company's winning Sign Hero 360˚ LED sign tube offers a valuable upgrade to existing linear sign tubes, with swiveling end caps that offer an adjustable light beam. The tube simplifies field installation for new or retrofit scenarios without requiring an external driver or ballast while utilizing existing sockets. Each LED chip is covered with an optical lens that ensures consistent light distribution and eliminates hot spots. The lineup offers tubes ranging from 18 to 120 in. long for a variety of sign needs.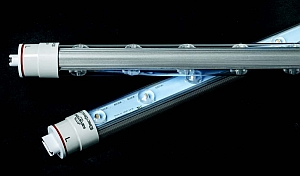 Keystone Technologies Sign Hero 360˚ LED Sign Tube.
Indoor Flex SSL for Coves, Cabinets, and Cases
The HyperFlex 2835 LED strip lighting from Environmental Lights enables tight turns on flat surfaces, allowing designers to alter lighting run directions without having to cut and reconnect strips multiple times. CurrentControl ICs prevent noticeable voltage drop. The fully dimmable LED strips are available in multiple CCTs from 2400–6500K with 90+ CRI. The 10m length with 60 LEDs per meter ensures that many contoured cove lighting challenges can be met, along with creative solutions for retail displays, backlighting, or sign lettering illumination.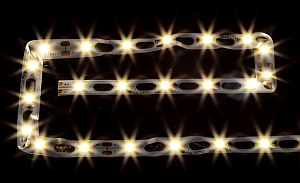 Environmental Lights HyperFlex 2835 LED Strip Light.
Indoor Decorative Pendant SSL Luminaire Design
There is no law that says SSL can't be both aesthetically appealing and fully functional in a way that only properly integrated LEDs and components can achieve. In the case of Nulite's Sero LED linear pendant luminaire, several novel things are happening: A see-through aperture creates a sense of visual interest while the open optical system that leverages a specialized reflector design shields the light source to reduce glare and deliver both direct and indirect lighting with excellent uniformity. In fact, the LED pendant luminaire meets the WELL Building standard for glare reduction at the highest light level. The product development team upped the ante with toolless mechanical and electrical connections, using torsion latches for longer runs of luminaire to luminaire connection. A range of CCT options at 80 or 90 CRI are available, as is a tunable-white option powered by eldoLED's DualDrive LED driver and DALI or DMX controls from other manufacturers.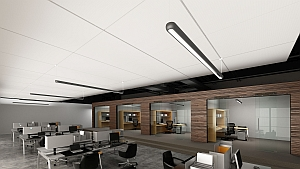 Nulite Lighting Sero.
Indoor Troffer, Track, and Downlight SSL Luminaire Design
A previous Sapphire Award winner for its original Sculpt Accent luminaires, Axis Lighting has shown that fine-tuning color quality is a priority. Its Sculpt Mikrolite LED downlight fixture uses patent-pending mixing chamber optics in both color tuning and single-CCT models, and the choice of 2700–4000K-CCT versions achieves consistent color within a 3-Step MacAdam ellipse. Each linear foot of the downlight contains eight 1.5-in. square cells comprising four LEDs to deliver 11 lm/ft with efficacy above 102 lm/W. The luminaire also comes in several mounting options for optimal application flexibility.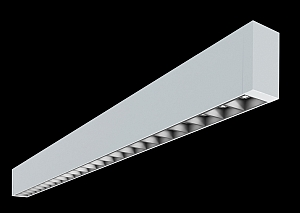 Axis Lighting Sculpt Mikrolite.
Outdoor Landscape and Architectural SSL Design
Outdoor lighting poses particular challenges, such as resistance to water, temperature, and vibrational changes. Lumenpulse has addressed concerns for inground lighting with its Lumenbeam Inground recessed LED luminaire. The IP68-rated LED projector is well-protected with a corrosion-resistant optical chamber, an IK10-rated glass lens, and an optional harsh-environment housing. Tilt and rotation adjustment capabilities accessible post-installation mean that multiple beam angles can be achieved without opening the housing and exposing the electronics. Plug-and-play connectors simplify installation.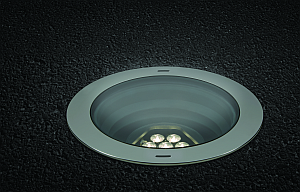 Lumenpulse Lumenbeam Inground LED luminaire.
Outdoor Street and Area SSL Luminaire Design
Sports outlets have been busy both building out new billion-dollar venues and sprucing up the existing ones, as we've reported in notable soccer stadium projects across the Atlantic and in American baseball venues and football arenas. LED sports lighting projects are a rather large investment. Hubbell Outdoor Lighting's Intercept sports luminaire reinforces the call heard by outdoor lighting experts at the last IES Street and Area Lighting Conference to reduce light pollution and increase visual comfort. Recessed optics are placed inside a low-glare shield, reducing the candela/m2 outside of the beam by 92% while affecting lumen output by less than 10%. The modular LED approach enables customizable and scalable light output, and multiple NEMA distribution, CCT, and CRI options address all manner of field and stadium applications. Both wired and wireless controls add to the flexibility of the LED luminaires.
Hubbell Outdoor Lighting Intercept LED luminaire.
Industrial SSL Luminaire Design
They may not be elegant in appearance, but high bays are abundant in industrial environments, and LED replacements can offer more sophisticated features than their conventional counterparts. Hubbell's Columbia Lighting delivers added functionality with its Peloton high bay, which has been certified to UL 924 emergency lighting requirements so it offers not only 8000–60,000-lm output across the lineup but support for emergency egress operation. The high bay also provides 1000–4000-lm uplight to eliminate the "cave effect" often seen in high-ceiling applications. Wide and narrow beam distributions, additional lens options, sensor-based intelligence, wireless mesh networking capability, and a robust operating temperature range combine to bring industrial facilities into the smart-building management era. Standard efficacy is 150 lm/W with a high-efficacy, DLC-qualified option at 170 lm/W.
Columbia Lighting/Hubbell Lighting Peloton High Performance High Bay.
Specialty SSL Design
Interactive video and lighting displays on building façades and other architectural features have made an impact on city skylines all around the world. Indeed, we have marveled at the ability of LED pixel modules and other specialty SSL products to bring beautiful, multicolored effects to skyscrapers, commercial buildings, and educational institutions, to name a few. Each RGB-LED pixel in the Shockwave V-Stick products from Saco technologies produces 16-bit video sampling for smooth dimming with 65,536 shades per color (red, green, and blue). The UV-stabilized polycarbonate material, outdoor-rated silicone electronics potting compound, and stainless-steel hardware are assembled into a sturdy linear module with a self-aligning quick-connection method.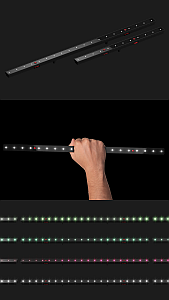 Saco Technologies Shockwave V-Stick S and S2 LED video modules.
Horticultural Lighting
One of the questions that arises with horticultural lighting is whether one-for-one replacement is possible when swapping out high-pressure sodium (HPS) fixtures for LED models. More LED units may be required when their output does not match the amount of photosynthetically active radiation (PAR) their HPS counterparts can deliver to plants. Plessey's Hyperion LED luminaires present multiple advantages for top-lighting in indoor farming: tailored wavelengths optimized for crop needs; up to 1800 μmol/s and 1000 μmol/s PAR output options (equivalent to 1000W and 600W HPS fixtures); and the ability to be mounted onto existing trellises, which reduces installation costs and minimizes shading that would decrease available light to plants. Indeed, Plessey has trialed its LED horticultural lighting solutions in combination with HPS at Dutch growers of various flowering and fruit crops, demonstrating crop yield increases of up to 30%.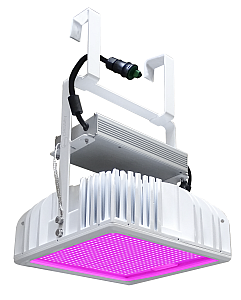 Plessey Semiconductors Ltd. Hyperion LED Grow Light.
Lighting for Health and Wellbeing
The burgeoning application of light to human health and wellbeing is all across our content these days. The work has been traversing research to reality in a fairly rapid manner. Circadian response and appropriate metrics are just one area of significant study, as presented at our most recent Lighting for Health and Wellbeing conference. BIOS Lighting has developed an LED-based modular technology that can alternate between high and low circadian stimulation. The BIOS Bio-Dimming technology in the light engine can add or subtract wavelengths that stimulate the photopigment melanopsin that affects the body's non-visual response to light. The addition of far-red spectrum further supports a positive response by the human biological system, while also enabling cyanosis detection, a bluish tint to the skin that can lead to diagnosis of serious medical conditions.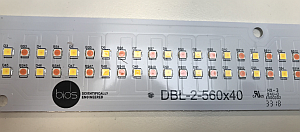 BIOS Lighting BIOS Bio-dimming.