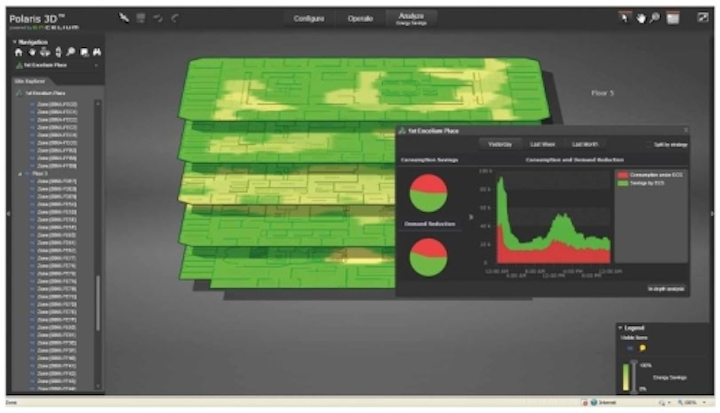 With New Features and Improvements Including Tunable White Support, Polaris 3D Makes Commissioning and Lighting Management Even Easier

North American lighting leader OSRAM SYLVANIA has released the latest version of its flagship ENCELIUM® lighting management software – Polaris 3D®. ENCELIUM by OSRAM is a scalable lighting control system that enables owners to elevate the cost effectiveness and occupant experience of their lighting spaces with just a click of the mouse. Developed in North America and accessible anytime, anywhere via an Internet connection, the Polaris 3D software is the core element of the ENCELIUM system that facilitates the commissioning, usage and data analysis of the lighting installation. The 3D color gradient visualization shows how efficient an installation is and immediately reports the savings achieved. Now, the new Polaris 3D 3.5.1 software is even easier to use and offers additional flexibility for buildings to comply with local building codes, offer a comfortable work environment for employees, reduce their lighting energy consumption by as much as 75 percent, and qualify for several points toward LEED certification.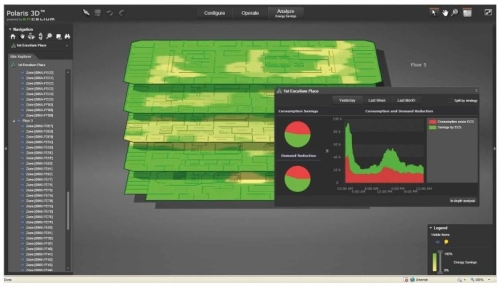 "The new Polaris 3D software makes it easier than ever before to take advantage of advanced lighting controls throughout a building," said Ross Eberlin, product marketing manager, OSRAM SYLVANIA. "These new functions were added to make the commissioning process and day-to-day management of the system simpler, and take advantage of the latest research regarding circadian rhythm and office productivity."
New features and improvements include the following:
• Polaris 3D now allows the configuration of a dual ballast equipped fixture with Cool White and Warm White lamps for Automatic Tuning of White Light. By manipulating the level of the ballasts controlling the Cool White and Warm White lamps in the same fixture, the color temperature of the light can change according to the current time of the day, providing the most suitable environment for an employee at that moment.
• Automatic Association of Zones and Schedules decreases commissioning time.
• A Pop-up Warning Wizard lists issues to be resolved prior to configuring a system, making it easier to view and settle them.
• Some buildings, such as hotels, use a temporary partition wall to split a room into two areas for different functions or meetings. When the temporary partition wall is placed across the room creating two zone, Polaris 3D now can Automatically Replicate Zones for Spaces with Partition Walls so commands are automatically replicated to both zones, or they can be treated as unique spaces.
• New Comfort Property Settings allow facility managers to set parameters for reduced lighting levels during non-peak hours of the day to still save energy, without sacrificing employee comfort. Lighting levels can be set at a reduced level when a space is not in use, but if an employee enters the semi-illuminated area, it can be set to increase around an employee as they travel, providing more comfort for the individual.
• Users can configure lighting by Simultaneous Occupancy and Time Schedules within one zone. If a scheduled event has passed, occupancy sensing will become active.
• Previously, if the lights were shut off for a presentation in a board room, the HVAC system might think the room was not in use and shut off the air conditioning. Now with the new Assign Occupancy Sensing by Zone & Occupancy Behavior feature, Polaris 3D can instruct the HVAC system to remain on based on true occupancy sensor status, despite the HVAC system seeing that the fixture is off.
• Users can now Lock or Disable System Inputs Based on Triggers, such as a contact closure, schedule or zone status. These overrides can be used in situations such as a school lockdown where the principal needs to ensure lights remain on during an emergency situation.
• Real Time Visible Status Notifications are now available, including fire alarm and emergency backup power
• Occupancy sensors with Built-in Push Buttons can be enabled through Polaris 3D.
About OSRAM SYLVANIA
OSRAM SYLVANIA is part of OSRAM Americas, a group of OSRAM companies located in North and South America. As a leader in lighting solutions and services, specializing in innovative design and energy saving technology, the company sells products for homes, businesses and vehicles under the brand names OSRAM, Traxon, ENCELIUM and SYLVANIA. The company's portfolio covers the entire value chain of components, ranging from lamps, control units and optical semiconductors such as light-emitting diodes (LED) to luminaires, light management systems and lighting solutions. The OSRAM SYLVANIA and OSRAM Americas regional headquarters is located in Danvers, Massachusetts. For more information, visit www.osram-americas.com or follow us on Facebook and Twitter.
OSRAM is a registered trademark of OSRAM GmbH.
ENCELIUM, Polaris 3D and SYLVANIA are registered trademarks of OSRAM SYLVANIA Inc.
All other trademarks are those of their respective owners.
Contact:
Glen Gracia - OSRAM SYLVANIA
+1-978-750-2763