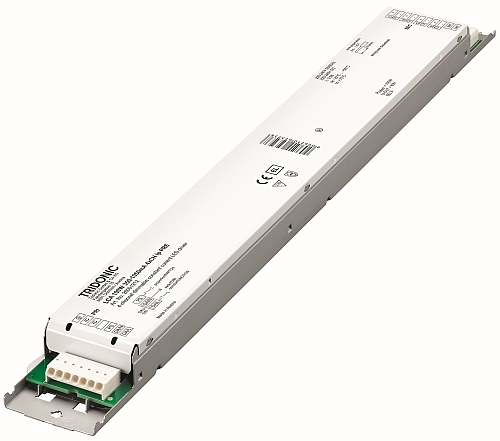 Tridonic adds IoT-Ready Alliance support in new LED driver, and a new dual-channel model, while Universal Lighting Technologies adds power for IoT sensors and controllers.
Heading toward the LightFair International event May 8–10 in Chicago, IL, a number of LED driver manufacturers have made news — including integration of features that support sensor-enabled connected lighting as a backbone for the Internet of Things (IoT). Tridonic and Enlighted have continued to push the IoT-Ready Alliance encouraging solid-state lighting (SSL) manufacturers to future proof their products, and Tridonic has added such support in a new driver. Tridonic also has a new multi-channel driver for direct/indirect luminaires. Universal Lighting Technologies has announced a new driver that in addition to powering an LED light engine can also power sensors and electronics that are integrated into smart luminaires.
IoT-Ready
It was at LFI 2017 when a group of companies announced the formation of the IoT-Ready Alliance led primarily by Enlighted and Tridonic. Enlighted CEO Joe Costello has been very proactive in arguing that the industry needs to prepare for an IoT future or accept that the industry might set back the smart building movement by a decade. He made that point repeatedly during a keynote presentation at Strategies in Light 2017.
Because some specifiers and facility managers simply can't afford to install smart luminaires today, the IoT Ready Alliance is seeking to develop standards that will enable luminaires to be upgraded in the field with sensors and connectivity. And Tridonic's IoT-Ready Driver is compliant with draft specifications under development by the alliance.
Tridonic said it will demonstrate the driver at LFI, working with the company's own net4more connectivity platform announced last year. And the company will also demo the driver working with Enlighted's system, and said the capability is present to support any protocol/network including ZigBee and Bluetooth Mesh.
Ultimately, the alliance needs support for its specifications throughout the subsystems that comprise a luminaire, although the driver is a critical place to start. "Building on this first product introduction, we will be evolving our existing sensors to the IoT-Ready standard," said Enlighted's Costello. "This announcement represents the first of many significant contributions from the IoT-Ready Alliance that will enable new technologies and speed the adoption of LED lighting and building control networks in the US."
Dual-channel driver
Tridonic, meanwhile, will also demonstrate a new two-channel LED driver at LFI. The DT6 driver family is pitched as two drivers in one housing, and is designed primarily for use in linear fixtures that deliver both indirect light upward for reflection from the ceiling and direct light down to the task surface. Such direct/indirect fixtures need different light levels from the separate LED channels.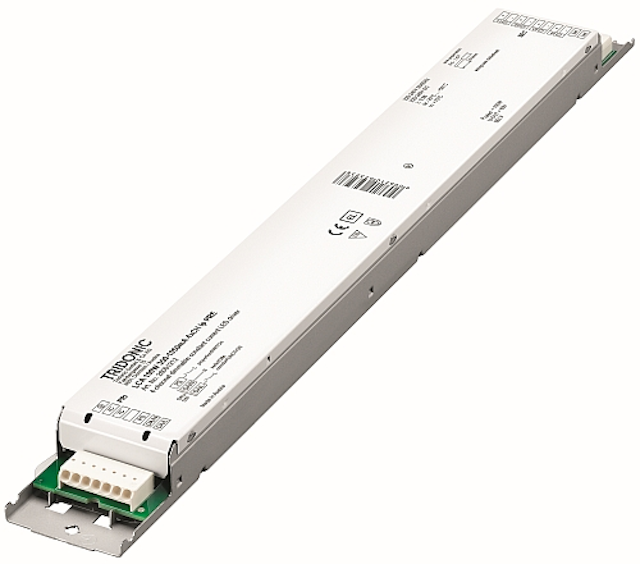 LED driver news: Tridonic and Universal Lighting Technologies support IoT functionality in luminaires
Tridonic is pitching a two-in-one LED driver — two channels, that is — that can power linear and tunable luminaires.
The DT6 integrates separate controls for each channel though a DALI (digital addressable lighting interface) connection. Indeed, the implementation is compliant with the new DALI-2 specification. The driver is part of the Premium SELV product line and Tridonic said it can also be deployed in white-point tunable LED luminaires.
Power for intelligence
Back to the IoT, adding sensors, connectivity, and controls in a luminaire means powering those electronics in addition to supplying power to light the LEDs. Many smart luminaires on the market use small secondary power supplies for the controls. But that approach adds cost, and is somewhat counterintuitive given that luminaires already include a power-conversion subsystem in the form of a driver.
It's not a simple matter to use a driver to both power LEDs and IoT functionality. The LED light engine typically needs constant current whereas the control circuity needs a constant voltage supply.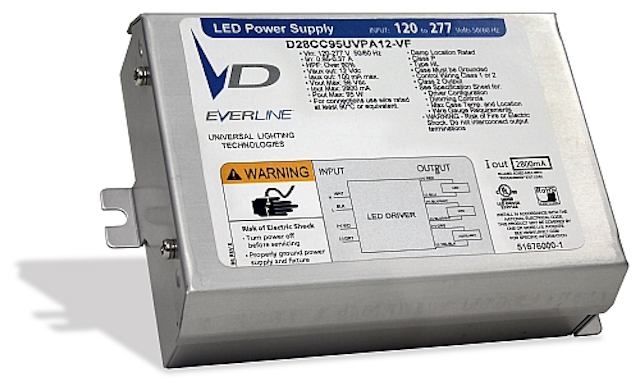 Universal Lighting Technologies boosts power for outdoor and industrial luminaires with its new Everline PA LED driver.
In the Everline PA LED drivers, Universal Lighting Technologies developed an auxiliary 12V or 24V DC output to power the IoT functionality. The family includes models for outdoor and industrial applications with output power ranging to 95W for the LED light engine. Moreover, the drivers can accept 0–10V input for control.
"Universal has always focused extensively on providing our customers with the right driver for the right application, which is why we developed a family of programmable drivers with auxiliary output power for outdoor and industrial luminaires," said Kevin Boyce, director of product management at Universal Lighting Technologies. "PA drivers have been engineered to support the emerging Internet of Things transformation by providing power directly to sensors and reducing the number of components inside luminaires."