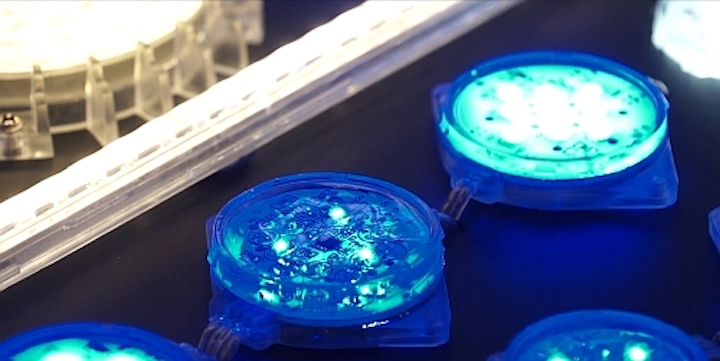 In no uncertain terms, the LED has been labeled a "disruptive" technology by many researchers and industry representatives. Indeed, it is and has been the overarching theme of the Strategies in Light (SIL) conference program and associated events since the first SIL conference in 2000. The lighting industry has been steadily marching beyond the LED component to the capabilities of digitally-controllable solid-state lighting (SSL), which can now be connected to other devices and to networks and the broader Internet — in what we know as the Internet of Things (IoT). Players in the SSL market are thinking outside of the light source and looking toward a disruptive service and business model, and to enabling emerging applications. There is no better way to illustrate the themes of the three 2018 Strategies in Light conference tracks than to begin with the words of conference advisory board members.
"We go beyond lumens per watt to how can we make people feel better, more productive at work, heal faster, learn better… Those are the things about changing the spectral content of light that can do things that go beyond just allowing you to work in the space." — Ken Czech, VP product design & innovation, Focal Point
Track 1, "Emerging applications that will accelerate market growth," has been carefully designed to address the points put forth by Czech. As he noted, the track will feature presentations on lighting for health and wellbeing (also known as human-centric lighting), which has advanced past the point of debating whether or not light can and does influence the human condition. Does it? Absolutely. How does it do that and how can we benefit from positive impacts? Those questions are still under investigation and we are learning more all the time. Researchers plunging into this area of study have spoken at this year's inaugural Lighting for Health and Wellbeing Conference and despite the compelling evidence they presented, we have not yet exhausted our collective knowledge on this subject and it will continue to be a driving force of investigation, innovation, and commercialization in the SSL industry.
Strategies in Light, co-located with The LED Show and Lightspace California, will deliver a full spectrum of illuminating industry speakers, workshops, and exhibits. Visit the event website and find additional details in the pre-conference brochure.
Of course, health and wellbeing are not the only applications of light under discussion at Strategies in Light. A new wave of strategies and developments in embedded architectural lighting, horticultural lighting, and outdoor lighting will also be presented. In fact, in our first Strategies in Light 2018 conference exclusive, we noted that the outdoor lighting panel will be a particular highlight in the program due to the controversies that have emerged over time — disagreements about proper CCT outdoors, visibility versus safety, the amount of lumen output, beam distribution and fixture placement, potential impacts on the ecosystem, and many other topics that have been covered by LEDs Magazine.
ON AIR: Watch a video that focuses on Track 1 here.

"Sometimes an indicator of where you were is a good indicator of where you're going." — Jamey Butteris, VP of engineering, Americas, Zumtobel
It should come as no surprise after reading the quote above that Track 2, "Advanced technologies to address new market realities," is intended to reveal technology developments that will change the face of lighting. Our colleagues concur that to keep the SSL industry on target to achieve growth, manufacturers must remain committed to delivering new technology features and component designs that will serve emerging markets, as well as continuing to evolve the technologies for use in established markets such as automotive electronics, which has seen decent growth in the past year. The presenters in Track 2 will explain the latest techniques to achieve color quality objectives, manage thermal effects for improved reliability, and increase efficiency.
ON AIR: Watch a video that addresses Track 2 here.

"I think what people are going to be able to appreciate from where this show is going is looking at the new features of lighting systems that are coming, focusing on the quality of light — but focusing on it in new valued-added services. And it's going to require major changes in how we design light, how we use light, and how we collect the information from reflected light to provide these services." — Bob Karlicek, director, LESA
Clearly, we are leading in to Track 3, "Connected lighting at the center of IoT." This portion of the conference seeks to establish answers to the question, "What's the role of lighting in IoT?" Because there is little doubt that the IoT is going to guide the roadmap of SSL development. And not only lighting fixtures, but smart sensors, data collection points, software-driven controls, wired versus wireless connectivity, will circulate throughout the conversation. Security and reliability are areas of concern — and that is assuming the industry will at some point come to an agreement on appropriate protocols, where and when they should be utilized, and how to leverage all of the information that is collected via smart lighting networks to deliver smart buildings and on to smart cities. Speakers will seek to clarify why the world needs connected lighting and smart networks of devices, buildings, and municipal services. Bolstering the value proposition of smart lighting technologies and leaving no equivocation about their entrenchment in the IoT will ensure the health and future growth of the LED and lighting industry.
IoT is the future of lighting — and the earliest, most innovative players in the market will determine how lighting will mesh with the world of IoT and how will it thrive in a new role.
ON AIR: Watch a video that connects the dots on Track 3 here.
*Updated Nov. 30, 2017 at 2:46pm for further track definition.