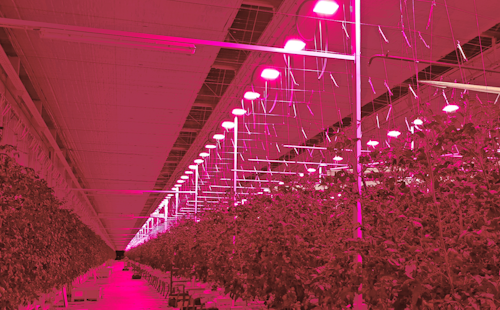 Tunable LED lights are gaining acclaim for providing just the right spectra to suit the varying wavelength preferences of different indoor crops. But isn't there a downside in that LEDs give off less heat than conventional, non-tunable grow lights? After all, heat can be an asset in a greenhouse, especially in winter months.
That is exactly the question that Belgium's Tomato Masters asked as it decided to build a 5.4-hectare indoor tomato farm in Deinze, and to light it entirely with 7000 pinkish-tuned Hyperion brand LED fittings provided by Britain's Plessey Semiconductors, rather than with high-pressure sodium (HPS) lights that growers have customarily used.
Concerned that indoor temperatures would not be high enough in the winter time with the physically cooler LED lights, Tomato Masters took the precaution of adding heat pipes near the top of what would be 2–3m-high plants (roughly 6.5–10 ft), to assure that this vital photosynthetically active region of the plant would have enough heat.
Most of the greenhouse and lights went into operation last October. With a winter behind it, Tomato Masters has delivered a verdict: The farm did not have to turn on the heat pipes. They turned out to be unnecessary, according to head grower Tom Vlaemynck.
That's not say they didn't have to address the heat issue. Vlaemynck explained that the company was able to retain enough heat throughout Belgium's cold winter by rethinking how it deploys two different screens that are standard props at greenhouses, typically used not only for heat retention but also as sunshades in the hot months, and as guards against light pollution.
"By using those screens in a slightly different way than normal, they were able to keep enough heat in the greenhouse in the winter period, so the plants didn't require the extra heat from the heating pipes," Plessey director of grow lights Jonathan Barton told LEDs Magazine.
Tomato Masters is currently in the process of bringing the heat pipes down to a lower level, running alongside other heat pipes already situated there to help ripen tomatoes.
"They've invested in the pipes, so they might as well use them," said Barton.
Now that it's summer, the greenhouse operators won't really use the lights, which typically supplement the plants' main light source, the sun.
But come the darker time of the year, the lights will go back on for as long as 18 hours a day, set to a combination of red, far-red, blue, and white, which looks pink to the eye. It's a light recipe that Barton noted is ideal for tomatoes.
Tomato Masters has installed about 80% of the 7000 lights, with the remainder set to go in starting in September, at a total price of somewhere over €3 million ($3.39 million). At 5.4 hectares, the Tomato Masters site is believed to be one of the largest indoor tomato farms using LED grow lights.
Plymouth, England-based Plessey, better known for LED chip designs, has been in the horticultural luminaire business since 2016, through a licensing agreement with another British company, PhytoLux.
MARK HALPER is a contributing editor for LEDs Magazine, and an energy, technology, and business journalist (markhalper@aol.com).