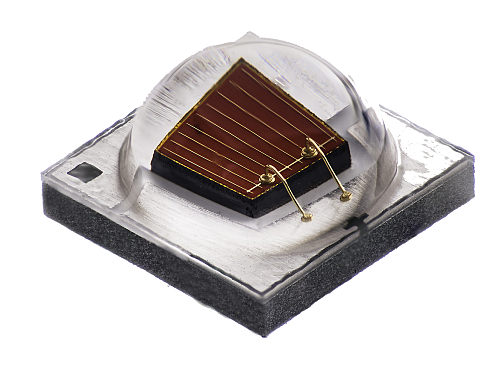 Upgraded performance in photo-red and far-red LEDs will enable manufacturers of horticultural SSL to deliver greater energy to plants, while Seoul Semiconductor scored an IP win over Everlight and Vishay has new UV LEDs for disinfection.
Cree has announced new photo-red and far-red XLamp XP-E2 LEDs that the company says deliver 68% better performance than competitive monochromatic LEDs in those bands. Seoul Semiconductor has revealed that it settled an intellectual property (IP) court action in Japan with a distributor agreeing to stop selling infringing LEDs in the market. In the ultraviolet (UV) space, Vishay Intertechnology has new LEDs intended for the solid-state lighting (SSL) disinfection application.
Horticultural red LEDs
The presence of energy in the region above standard red, including into the near-infrared (IR) region, is increasingly being recognized by researchers as important to plant development and growth. For some details on that topic, see our recently-published coverage from our Horticultural Lighting Conference last October. For example, far-red energy aligns with the phytochrome absorption peak in plants and can accelerate flowering and improve leaf expansion.
The importance of the red energy has led Cree and others to add LEDs above the standard monochromatic red supplied to applications such as emergency vehicles. Cree added a photo-red LED at 660 nm to its XLamp portfolio back in the summer of 2016. The company brought that technology to the XP-E LED line later in 2016 and launched far-red LEDs at 730 nm.
Now, as Cree has done in many of its product lines, the company is boosting performance with a second-generation product in the exact same footprint as the original product — thus the number 2 at the end of the product model number XP-E2. Cree expects customers to drop the new components into existing luminaires and get a 57% improvement in far-red energy and a 21% improvement in photo-red energy relative to the prior Cree offerings.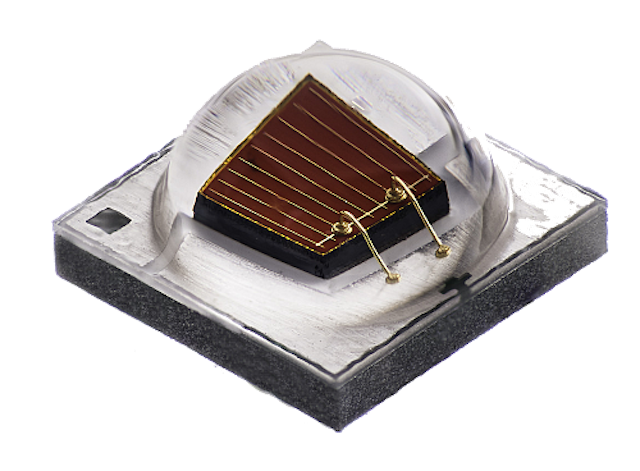 Packaged LED news: Cree adds horticultural emitters; Seoul, Plessey, and Vishay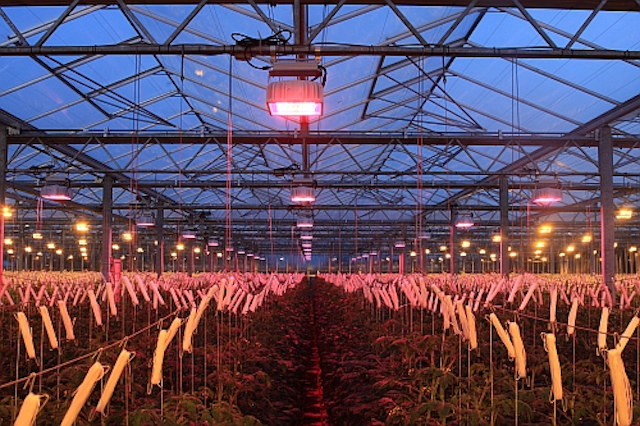 Photo-red and far-red packaged LEDs in the newly expanded XLamp lineup from Cree (shown at top) are helping horticultural lighting developers such as Plessey to provide one-for-one replacement of high-pressure sodium grow lights with LED fixtures such as the Hyperion luminaire (shown at bottom in a tomato-growing operation).
One customer making the switch is Plessey Semiconductors, which is an LED manufacturer but does not make monochromatic red LEDs. "Lettuce and tomato farmers in the UK, the Netherlands, and Belgium are choosing our Hyperion grow lights, powered by Cree's horticulture LEDs, as the primary light source for their large indoor, state-of-the-art growing facilities," said Jonathan Barton, director of grow lighting at Plessey Semiconductors. "Our customers like that the Hyperion lights replace 1000W sodium lights one-for-one with up to 40% energy savings that are enabled by Cree LEDs. We are pleased that Cree is delivering this efficiency upgrade in a form that's easily integrated, so that we can quickly improve our product's performance."
The new Cree LEDs will be on display beginning Wednesday at the Strategies in Light 2019 conference and exhibition. The Plessey Hyperion luminaire, meanwhile, is a finalist in the LEDs Magazine Sapphire Awards program. The Sapphire Awards Gala will take place Thursday, Feb. 28 at the Mandalay Bay Convention Center in Las Vegas.
IP issues
Moving to the courts, Seoul Semiconductor has clashed with Everlight Electronics over multiple issues. Back in the spring of 2017, Seoul took the at-the-time unusual step of suing a distributor who also happen to sell Seoul LEDs. Seoul targeted Mouser Electronics for offering Everlight LEDs that Seoul said infringed its IP.
About one year back, Seoul took the Everlight battle waged through Mouser to a Tokyo court. Now Mouser has agreed to no longer offer the LEDs said to infringe Seoul's patents in Japan. And Seoul has agreed to withdraw the lawsuit.
UV-C LEDs for disinfection
The huge potential of the disinfection and purification applications are drawing great interest among LED manufacturers. But it remains a challenge for manufacturers to deliver reliable and high-power LEDs in the UV-C (100–280-nm) band that can destroy pathogens immediately. Crystal IS, for example, released research last year documenting the ability of UV-C LEDs to eliminate the pathogen that causes Legionnaires' Disease from flowing water.
Now Vishay has new LEDs that it says can replace mercury lamps in sanitation, sterilization, and purification applications. The VLMU35CM packaged LEDs emit just at the top of the UV-C range with components spanning 270–290 nm. And the company said the components will deliver reliability and long life because the mid-power emitters are packaged on a ceramic substrate. Moreover, the design features a quartz primary optic that can eliminate the need for a secondary lens in a product.