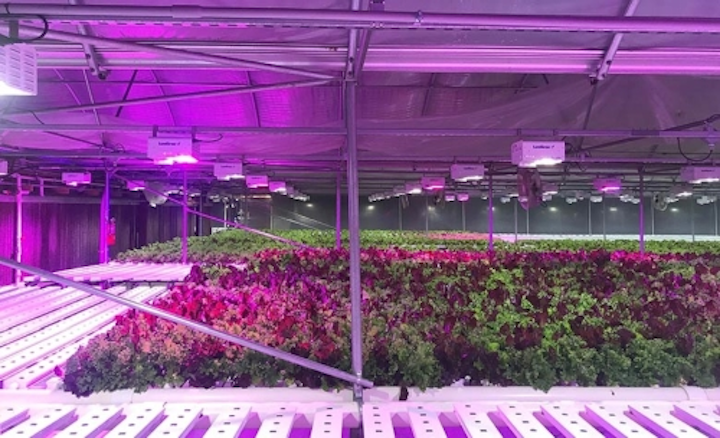 US lettuce grower with a caring social mission has installed LumiGrow SSL enabling full production of leafy greens during cold Ohio winters.
LEDs continue to thrive in horticultural lighting applications as a new lettuce-growing installation attests. LumiGrow has announced that the Lettuce Work Foundation in New Albany, OH has installed Pro 325e fixtures in its lettuce greenhouses that both provide fresh produce to local consumers year-round and aid young adults with autism in entering the workforce. The solid-state lighting (SSL) has enabled better yield during the cold and short days of winter.
Interested in articles & announcements on horticultural lighting?
The Lettuce Work Foundation began commercial growing operations in 2014 with a controlled environment agriculture (CEA) or greenhouse facility. The grower always sought to supply customers, including Kroger and Giant Eagle, with leafy greens for spring salad mixes year-round. But even in the CEA environment, yield suffered in the winter with crop cycles stretching from five weeks to ten, and some weeks transpiring with nothing to harvest.
We will cover CEA, vertical farming, horticultural lighting recipes, and many other topics at our 2018 Horticultural Lighting Conferences. The Horticultural Lighting Conference Europe is slated for May 14–15 in the Netherlands. The Horticultural Lighting Conference US is scheduled for October 9–10 in Portland, OR.
The winter slowdown was doubly troubling for the grower because the business had been created with the goal of providing opportunity to help young adults living with autism. Winter meant less work and fewer opportunities to help the youngsters transition from high school into the workforce. Short days, cloudy skies, and cold, snowy conditions reduced yield and increased mold and mildew in the crop.
Lettuce Work owners Doug and Julie Sharp and greenhouse manager Brent Langenkamp contemplated installation of lighting but found the evaluation of systems and technologies a daunting challenge. But LumiGrow took a proactive role in helping the operation plan an SSL installation, whereas other suppliers had expected the grower to know what they needed and how to install supplemental horticultural lighting.
Indeed, LumiGrow lighting specialist Ashley Veach created a custom plan for Lettuce Work based on the configuration of the operation's four hydroponic bays. "She helped us figure out how many lights we needed as well as the optimal layout for our custom facility, unlike the other companies that asked us how many units we wanted," said Doug Sharp.
The results through the first winter of operation with supplemental lighting have exceed the expectations of the Lettuce Work team. "Even though we're only currently using 75% of the space in the greenhouse, we're outperforming last winter," said Sharp. "This January alone, our revenue was nearly 80% higher than it was that month last year. It's been phenomenal. The color is definitely better, too."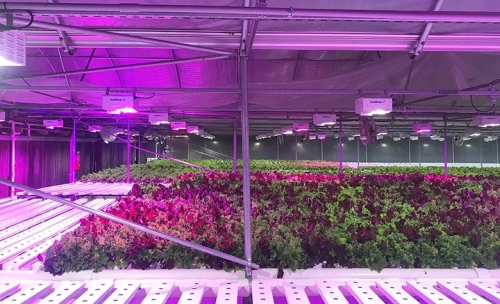 LumiGrow supplies LED horticultural lighting fixtures to Lettuce Work foundation greenhouses
The Lettuce Work Foundation has installed LumiGrow LED-based horticultural lighting, improving year-round produce yields while providing employment for young adults living with autism.
The results are being felt by the customer as well. Sharp said, "We don't have to scale back the quantities we deliver in store. We had to ration cases last year. If you skip a store a week or two, you may not get back in there. We haven't had to deal with that at all. Now, if someone wants extra, we can provide that. It's really stable. It reduces the risk of us losing a customer because we can provide the same quantities we deliver in the summer."
Of course, any installation of horticultural lighting comes with both an upfront investment and with the recurring cost of powering the lighting. And with LED-based fixtures, the upfront investment is significantly higher compared to legacy lighting — although the energy efficiency of SSL pays back that upfront premium over time.
Lettuce Work was able to get a state grant to cover part of the purchase of 195 Pro 325e fixtures. Moreover, the Columbus Foundation and Autism Speaks also provided funding to help benefit the student workers.
The choice of LED horticultural lighting proved critical in recurring costs. An electrical contractor had warned the Sharps that electrical costs might reach $1500 per month. But over the initial winter, the bills were typically in the $450 range. And that allowed the greenhouses to be lit for 13-hour growing days.
Of course, there are many methodologies to grow lettuce and other leafy greens indoors. We covered a project from Texas where a grocery store is growing its own greens and herbs just outside the back door using vertical farming in a recycled shipping container. And large-scale vertical farms are filling warehouses with layered crops. The greenhouse approach, however, allows you to turn off the lights in the summer.
Industry experts will deliver more details on horticultural lighting recipe research and system design topics at our upcoming Horticultural Lighting Conferences. To get insight into the content of our conferences, you can peruse the feature articles we published on the presentations at the US conferences in each of the last two years. The 2016 conference featured Robert Colangelo of Green Sense Farms and Cary Mitchell of Purdue University. The 2017 conference featured Steven Newman of Colorado State University and Tessa Pocock of the Center for Lighting Enabled Systems and Applications (LESA) at Rensselaer Polytechnic Institute.