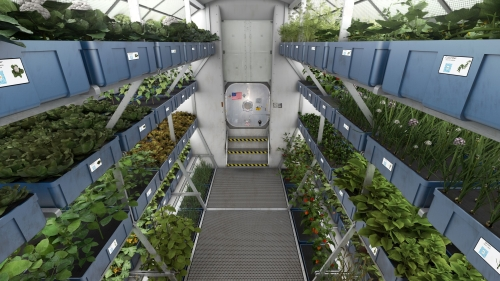 Phosphor-converted white, monochromatic color, and ultraviolet LEDs are combined in a horticultural SSL fixture that one day will enable astronauts to more efficiently harvest fresh produce.
Osram has announced that it is supporting an LED horticultural lighting project at the NASA (National Aeronautics and Space Administration) Kennedy Space Center in Florida. The space agency is testing a multichannel solid-state lighting (SSL) design that combines phosphor-converted white LEDs, monochromatic red and blue LEDs, and ultraviolet (UV) LEDs. The research into horticultural lighting is intended to enable crews to more quickly grow produce in the future during space travel or aboard the International Space Station (ISS).
Topics on horticultural lighting performance, test, metrics, and case studies will be discussed in depth at our fall Horticultural Lighting Conference. Join us October 9–10 in Portland, OR.
Interested in articles & announcements on LED horticultural lighting?
The intelligent system that NASA is testing is a customized version of Osram's Phytofy RL system that consists of connected fixtures with the aforementioned LED mix and software that Osram has developed to control light recipes and generate irradiance maps for researchers. Osram did not reveal exactly how many LED channels are integrated into the fixtures it supplied to NASA. But at LightFair International (LFI), the company made a joint presentation with Michigan State University researcher Erik Runkle and discussed a seven-channel system that Runkle is testing including a UV channel, two white channels, and multiple red and blue channels.
As we have written previously, the red and blue monochromatic channels match the photosynthesis absorption peaks of many plants. The white LEDs offer energy in the green and yellow region and allow workers to see the plants clearly. The smart controls can vary the intensity of the various channels based on cultivar and/or growth cycle. The researchers will use the intelligence to pursue light recipes that minimize crop cycles and maximize yield.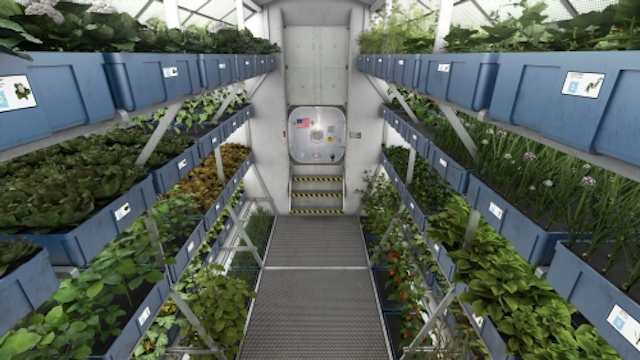 NASA utilizes Osram LED horticultural lighting to tune recipes for plants in space
New horticultural lighting technology from Osram is used in a multichannel system for NASA ground research to provide fresh produce for space crews. (Photo credit: NASA.)
There are two reasons you might want a UV channel in such a fixture. As was covered during a talk at our Horticultural Lighting Conference 2016, UV can eliminate plant pathogens such as mold. And at our 2017 conference, we learned that UV can also be used to change the appearance or flavor profile of a plant by stressing the plant.
Osram noted several important features of the horticultural lighting system NASA is using in its research. The fixtures use Osconiq P2226 LEDs. The company announced the Osconiq portfolio in 2017 mixing mid- and high-power LED attributes. For the horticultural application, Osram said the packaged LEDs are resistant to corrosion and can reliably withstand what can be a harsh environment in growth chambers.
The compact footprint of the Osconiq LEDs, meanwhile, allows for tight packing of the components and more LEDs per fixture. The result is higher PPF (photosynthetic photon flux) or more of the energy plants need to grow.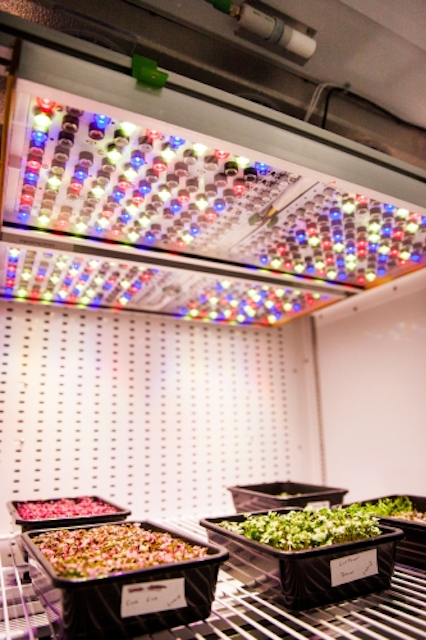 Osram's Phytofy RL smart lighting software is combined with connected horticultural lighting to support NASA's Food Production. (Photo credit: Osram.)
The intelligence inherent in the Phytofy RL system is also crucial in a research scenario where scientists need to study different light recipes. And the Osram implementation can allow the scientists to get precise irradiance maps instantly without having to take measurements in the growth chamber. The lessons learned will first be transferred to the Advanced Plant Habitat aboard the ISS.
"Osram is developing smart, innovative lighting technologies that can improve food production in a variety of environments, even unique environments like space," said Steve Graves, strategic program manager of urban and digital farming at Osram Innovation. "Many of the world's coolest and most beneficial inventions have come from scientists at NASA over the past several decades, and to play a role in empowering further innovation through the use of our technologies is an honor. We are excited about the possibilities Phytofy RL will bring to a wide variety of horticulture applications, and our teams are excited to continue learning and refining its setup before ultimately bringing this exclusive solution to market within the next year."