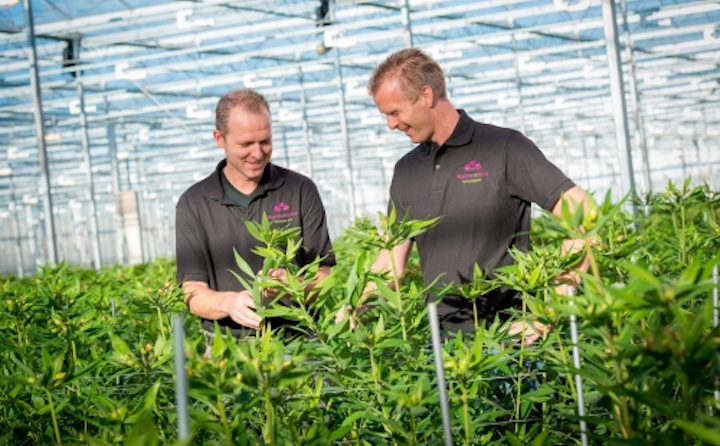 Alstroemeria grower Together2Grow has trialed an SSL system as a supplement to high-pressure sodium lighting in greenhouses and realized a 20% yield increase.
Plessey has announced the results of a horticultural LED lighting trial at Alstroemeria grower Together2Grow located in Poeldijk, South Holland, the Netherlands. The grower worked with Plessey to test LED lighting as a supplement to high-pressure sodium (HPS) lighting in a portion of its greenhouse dedicated to the Virginia variety of Alstroemeria. After seven weeks of supplemental solid-state lighting (SSL) usage, the grower noted an increase in yield that has since been documented as a 20% improvement.
Interested in articles & announcements on horticultural lighting technology and applications?
Alstroemeria, also called Peruvian Lily, Lily of the Incas, or Parrot Lily, is native to South America yet has become a popular flower around the globe. We covered the start of the Together2Grow trial back in the spring when Plessey announced several horticultural lighting trials including one focused on tomatoes. In each case, the tests are being focused on SSL as a supplemental energy source for the plants.
The control area of the trial relied just on the existing HPS lighting that delivered photosynthetic photon flux density (PPFD) of 70 μmoles/m2/sec. For more information on metrics such as PPFD, see our previous horticultural lighting feature on the topic. The SSL trial area used Plessey Attis 7 fixtures alongside each 1000W HPS fixture. The supplemental lighting increased PPFD to 130 μmoles/m2/sec.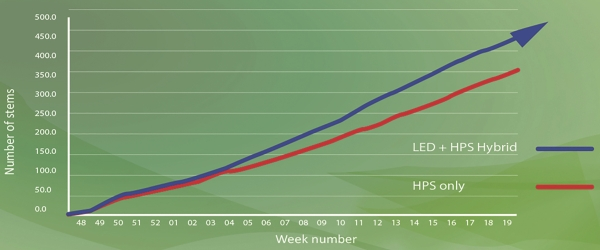 The graph shows the cumulative number of Peruvian Lily (Alstroemeria) stems harvested per square meter, comparing results with high-pressure sodium (HPS) and LED-based horticultural lighting.
The result of the trial has been both more flowers and fuller flowers under the SSL. "I am very pleased with the results so far," said Bernard Zuidgeest, co-owner of Together2Grow. "The crop under LED was looking a lot fuller and healthier and the quality of the flowers was better. By adding no extra radiation heat, but more light, the plants still remained the right plant temperature. We will now trial more varieties with Plessey and plan to convert our greenhouses to hybrid lighting."
In addition to the aforementioned 20% increase in yield, the lilies grown under the LED-based horticultural lighting averaged 2 grams more per stem. The LED lighting system utilized combines far-red, hyper-red, and blue LEDs. Plessey said the LED fixtures are 40% more efficient than the HPS lighting.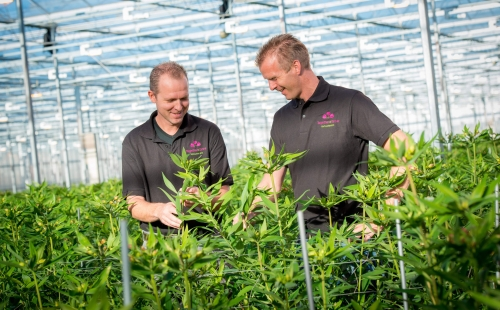 Together2Grow operators have noted a 20% increase in lily yields under supplemental LED horticultural lighting
Together2Grow operators have noted a 20% increase in lily yields under supplemental LED horticultural lighting.
And speaking of horticultural lighting, our one-day immersive Horticultural Lighting Conference will take place in one week in Denver on Oct. 17. There are only a few seats left.
Read last week's blog to learn more about the conference and find additional resources on horticultural SSL technology and applications. You can also stay informed by signing up for our horticultural lighting and other vertical e-newsletters here.