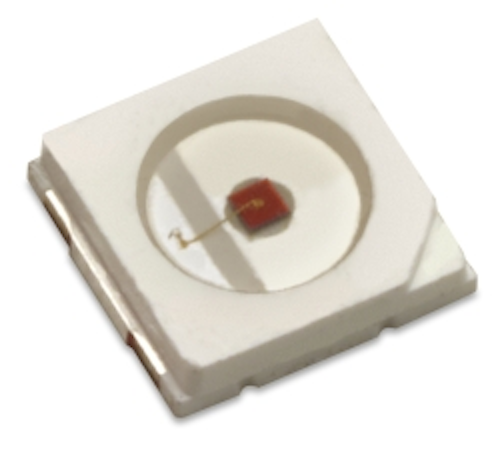 COB LEDs in varying sizes deliver purple spectra for directional fixtures designed for horticultural applications while new far- and deep-red spectra in mid-power LED packages add to the flexibility of the SunPlus line.
Lumileds has announced an expansion of the Luxeon SunPlus family of horticultural lighting LEDs that first came to market one year back. The company has added chip-on-board (COB) LEDs in the portfolio that extend the type of fixtures that can be enabled to high-output directional products. Moreover, Lumileds has added deep- and far-red LEDs to the SunPlus 35 product line.
Interested in articles & announcements on horticultural lighting technology & applications?
The SunPlus launch last year marked the first time any LED company had announced such a broad portfolio of LEDs, all targeting the horticultural lighting sector. The 3.5×3.5-mm SunPlus 35 LEDs are targeted at lower-power applications such as vertical farms where the LEDs are located relatively close to the cultivars such as lettuce and other greens. We termed those products mid-power LEDs in our original article because they are offered in what appear to be typical mid-power packages. Lumileds has since said that the company doesn't classify the products that way, and we have an interview coming in our next issue that further clarifies its position. The SunPlus 20 LEDs are offered in a smaller 2×2-mm footprint, but appear to be based on high-power LED technology and packages.
| | |
| --- | --- |
| | |
| Lumileds has extended its SunPlus portfolio of LEDs for horticultural lighting product development with COB LEDs (top left), deep red (top right), and far-red (bottom right) models that will provide targeted spectra for customizing lighting to specific cultivars in indoor farming environments. | |

The additions to the SunPlus 35 line will offer lighting manufacturers more flexibility in developing fixtures that are typically linear in nature for layered applications such as vertical farms. The deep-red products deliver energy in the 650–670-nm band while the far-red products deliver energy in the 720–740-nm. Both of those spectra are known to deliver specific benefits in horticultural applications, as we discussed in a feature article last year.
A revolution is happening in horticulture. It's a seismic shift that will change fundamentally how we grow plants — and it's all down to lighting. The next Horticulture Lighting Conference will take place in Denver, CO on Tuesday, October 17, 2017. To find out more information and to register to attend please click here.
"These essential red wavelengths are combined with blue to give the exact spectra needed for each crop," said Jennifer Holland, product line director of the SunPlus portfolio. "Our Horticulture Lighting Calculator is especially helpful in this context because lighting manufacturers can experiment with LED ratios and spectral power distributions before building the fixtures." For more information on that calculator, see the news article we published at the time of the calculator announcement.
Meanwhile, the new COB products borrow a novel feature from some of the other members of the SunPlus 35 line. At the original announcement, Lumileds described purple LEDs that are produced using blue emitters and red phosphor that can cover the spectra that is known to maximize chlorophyll absorption in plants.
The new SunPlus CoB line consist of LEDs that emit the same mixes of red and blue spectra. Lumileds will offer the LEDs in three sizes with 15-, 19-, and 32-mm light-emitting surface (LES) diameters. Lighting manufacturers can use the same complementary products such as optics, holders, and drivers that have been proven with Lumileds COB products for general illumination.
The COB LED products will most likely be leveraged in directional fixtures with reflector-based designs that mimic the high-intensity discharge (HID) fixtures used in greenhouse applications for cultivars such as cannabis and tomatoes. "The chip-on-board approach allows us to maximize PPF [photosynthetic photon flux] to as high as 350 µmol/s from a single source," said Holland.
The SunPlus portfolio has already won recognition in the industry. The initial products garnered one of our Sapphire Awards at our Gala in Anaheim held in conjunction with Strategies in Light.
The SunPlus portfolio will be on display at our upcoming Horticultural Lighting Conference that will take place Oct. 17 in Denver. Make plans to attend if you need an immersive learning opportunity where the latest thinking on horticultural lighting science will be presented by experts in the field.