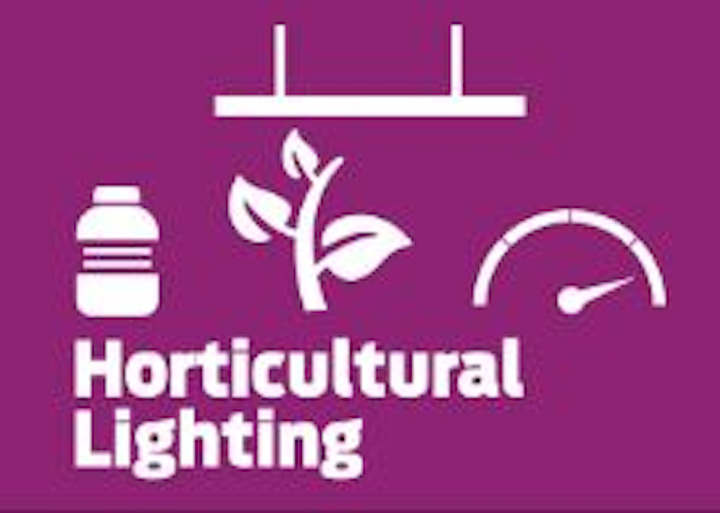 Lighting and grower professionals now have an online resource for all topics related to the research, technology, and implementation of horticultural lighting.
Released in tandem with the debut of its Horticultural Lighting Conference in Chicago, LEDs Magazine has announced its horticultural lighting microsite, sponsored by OSRAM Opto Semiconductors and supported by LEDs Magazine technical content.
Interested in more articles & announcements on horticultural lighting?

Bridging the spectrum between lighting manufacturers and growers, LEDsMagazine.com/Horticulture is the premier resource for all things horticultural lighting, including case studies, videos, press releases, and articles from LEDs Magazine and OSRAM Opto Semiconductors detailing roles and applications of LEDs in horticulture.
"The new horticulture lighting microsite is a platform that both manufacturers and growers can utilize to learn more about the exciting industry of horticultural lighting. With our sponsor OSRAM Opto Semiconductors, we were able to seed the site with in-depth information through products, case studies, and videos, all while creating a space where growers and manufacturers can contribute as the industry continues to grow," said Ms. Christine Shaw, Senior Vice President of PennWell's LED & Lighting Network.
Editor-in-chief of LEDs Magazine Maury Wright has witnessed the growth of the industry first hand. "Horticultural lighting is one of the most exciting emerging applications for the LED sector. Our new microsite promises to serve up the latest in enabling technologies and lighting products for the application along with the latest thinking on topics such as light recipes and details on successful projects around the globe," he said.
The soft opening of the microsite was announced at the opening plenary of the Horticultural Lighting Conference at The Palmer House Hotel in Chicago on October 12, 2016 to a sold out room of over 250 industry manufacturers and growers.
"While the global market for horticultural LED lighting products in 2015 was approximately $600M, we are forecasting that the market will have a CAGR over 50% through 2021. This potential growth makes LED lighting for horticultural applications one of the most exciting sectors in the lighting market today," said Philip Smallwood, Director of Research for Strategies Unlimited market research firm.
About the PennWell LED & Lighting Network
The PennWell LED & Lighting Network serves the global lighting industry with a comprehensive series of publications, events and research capabilities covering every aspect of lighting. From the manufacturer to the end user, the PennWell LED & Lighting Network's mission is to bridge the spectrum of light with the highest level of excellence in editorial, technical content and business development opportunities, providing 360-views of the global market. United together, the PennWell LED & Lighting Network's resources drive innovation and inspire solutions in LEDs and lighting by connecting the technology with the applications of the future. For additional information about LEDs Magazine, visit www.ledsmagazine.com.
About PennWell Corporation
PennWell Corporation is a privately held and highly diversified business-to-business media and information company that provides quality content and integrated marketing solutions for the following industries: Oil and gas, electric power generation and delivery, hydropower, renewable energy, water and wastewater treatment, waste management, electronics, semiconductor manufacturing, optoelectronics, fiber-optics, aerospace and avionics, LEDs and lighting, fire and emergency services, public safety, and dental. PennWell publishes over 130 print and online magazines and newsletters, conducts 60 conferences and exhibitions on six continents, and has an extensive offering of books, maps, websites, research and database services. In addition to PennWell's headquarters in Tulsa, Oklahoma, the Company has major offices in Nashua, New Hampshire; London, England; Houston, Texas; San Diego and Mountain View, California; Fairlawn, New Jersey; Moscow, Russia; and Hong Kong, China. For additional information about PennWell Corporation, visit www.pennwell.com.
Contact:
Danielle Blanchette, Marketing Manager - PennWell
+1 603-891-9204
E-mail:
Web site:
www.ledsmagazine.com/horticulture
Locate more horticultural lighting vendors in the LEDs Magazine Suppliers Directory

Submit new products, case studies/projects, and other press releases at http://www.ledsmagazine.com/content/leds/en/addcontent.html.

More from LEDs Magazine:
Horticultural Lighting Conference announces impressive speaker lineup
LEDs Magazine announces third annual Sapphire Awards Gala and judging panel