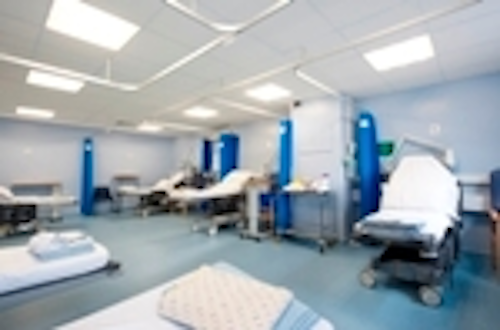 Hospital wards
Manchester, UK-based lighting company MHA Lighting Ltd. has worked with National Health Service (NHS) Trusts in the UK to combat hospital-acquired infection rates by utilizing sealed LED lighting units. MHA Lighting's patented LED technology has been designed as a fully-sealed unit to stop dust, bacteria and deadly superbugs from gathering around warm light fittings. The long LED lifespan, estimated at 60,000 hr, eradicates the needs for routine lamp replacement, which stops harmful bacteria from being distributed into the air.
MHA managing director Tom Harrison said, "Not only is the NHS saving money on operational costs for routine light maintenance, but our LEDs burn 20% of the energy of traditional fluorescents. The Carbon Reduction Commitment on large organizations such as the NHS means for every tonne of carbon saved, hospitals receive GBP12 ($19.50). This money can be directly ploughed back into front-line patient services."
MHA recently completed an installation in North Devon District Hospital in Barnstaple, which is part of the North Devon Healthcare Trust (NDHT). MHA replaced traditional 72W fluorescent lamps with 4000K Tilite 20W and 30W LED units in wards, corridors and reception areas.
Harrison said that MHA uses a reflector system where the LED light is shone sideways and reflected out of the fixture in a uniformly-distributed manner. In this way, he said, the photometric performance of traditional lamps can be achieved while providing the energy and maintenance savings of LED technology.
MHA Lighting also developed a custom dimming solution for NDHT to allow lights to be dimmed down to 5%. It was fundamental for the Trust to create a more pleasant and healing environment where patients and staff are in control of ward lighting levels during sleeping hours, for example.
The Trust reduced its energy usage from 127,910 kWh/yr to 33,044 kWh/yr. With the integration of dimmers, overall carbon-emission reductions have exceeded 75%.
MORE: www.ledsmagazine.com/news/8/9/3
Waste-collection facilities
Waste Connections has installed Xeralux high-bay luminaires in a San Luis Obispo, California waste-collection facility, reducing energy costs by two thirds. Based on Cree XP-G LEDs, the luminaires replaced more than eighty 400W metal-halide (MH) lamps in the company's Cold Canyon Material Recovery Facility. The company is realizing savings of 260-285 kWh per day via the 148W SSL luminaires – equating to a saving of more than $13,000 per year.
Waste Connections noted the energy savings, maintenance savings, and light quality as benefits of the retrofit. "Our previous lighting technology didn't deliver the high-quality light our facility needed," said John Ryan, Facilities Manager at Cold Canyon. "Now, not only do we seem to have more light, but we also have a brighter, whiter light that is very pleasing."
The 50,000-hour rated life of the SSL products equates to virtually no maintenance costs. Counting maintenance and energy savings, Waste Connections expects to achieve payback in less than three years.
"High-bay lighting has always been a challenge for industrial and commercial property owners, due to its high energy consumption and the high lumen-output requirements," said Jay Shuler, Xeralux VP of marketing.
MORE: www.ledsmagazine.com/news/8/9/16
Sports facilities
Swedish companies LEDpower and Deltalux AB have developed an LED luminaire for indoor arenas, which has been installed at the tennis facility at Swan Pond in Uppsala, Sweden. LED lighting is used on the tennis court as well as in parts of the offices, corridors and locker rooms. Electricity consumption is estimated at 40-50% of original levels. Sports arenas traditionally use fluorescent lighting, and when lit for 10 hours per day these have a lifespan of 1-2 years, depending on the brand. The LED stadium lights have a lifespan of more than 10 years. "The luminaire design is based on proven LED technology combined with new optical design in a unique chassis as sports facilities need, with the right lighting for dynamic activities," said Michael Niklasson, CEO, LEDpower. MORE: www.ledsmagazine.com/press/32433
Poultry farms
Poultry farming places specific demands on lighting systems; for example, the lamps should be waterproof, dimmable from maximum to zero, and capable of operating with high levels of dust and in a temperature range from 25-35°C. The Russian company Reserv Ltd. has supplied LED lighting systems and controllers that satisfy these strict requirements to tens of poultry houses in Russia. MORE:
www.ledsmagazine.com/casestudies/32538
High schools
St. Catherine's High School (SCHS), in Racine, Wisconsin, recently replaced 500-watt T4 quartz luminaires with 15 Essentia LED downlights from BetaLED (Racine, WI) in the school's auditorium. According to Mike Kost, director of maintenance for the school, it was inconvenient to access the crawl space to replace burned-out lamps; and the school waited until a number of lamps would burn out before they went through the replacement effort, sacrificing aesthetics and illumination performance. With the LED luminaires, the school expects 15 years of near maintenance-free operation.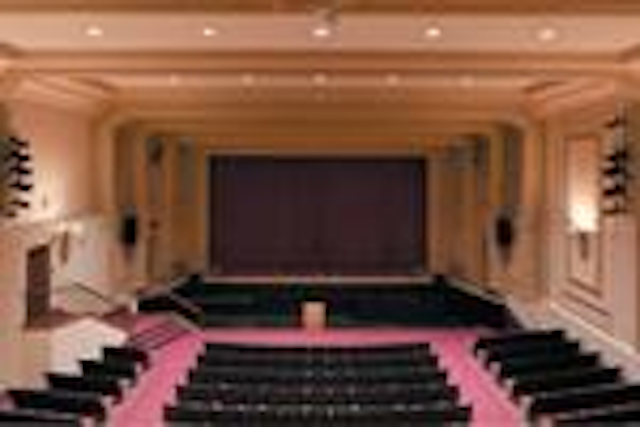 In addition, the high school anticipates an 84% energy saving while optimizing the illumination performance and uniformity of the lighting. Richard Hagopian, drama department head, is delighted with the uniform, bright, clean white light. "When the previous lights got too hot they automatically shut off, which would become a problem during an assembly," said Hagopian. "The new LED luminaires produce far less heat [and] provide a significant improvement in reliability and sustainable illumination performance." MORE:
www.ledsmagazine.com/casestudies/32500
Industrial use
Focus LLC has provided its Kolokol hanging LED light fixtures to SGMK, a Siberia, Russia-based mining, iron and steel company. The LED luminaires, which are used in industrial areas with medium to high ceilings, are manufactured using Nichia 119 series LEDs to provide an output of 7000 lm at 80W power consumption. The luminaire features a minimalistic design and aluminium-alloy casing for suitability in an industrial environment. The IP65 rating guarantees protection of the lamp from damage, and resistance to dust. The installation height is 6 to 20 meters, and built-in drivers allow a high level of electrical protection. The luminaire uses a PG13 plug type for cable diameters of 8-12 mm. The color temperature is 5500K. MORE: www.ledsmagazine.com/casestudies/32389