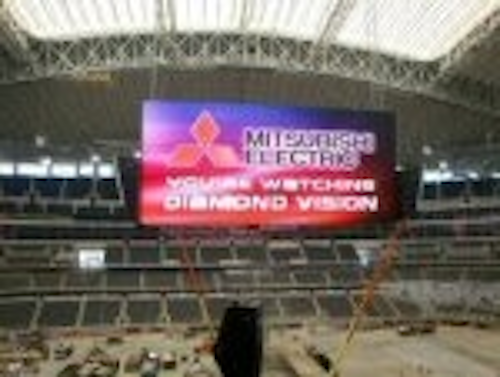 Mitsubishi Electric has claimed the title of world's largest high-definition (HD) LED stadium screen, after its installation was unveiled at the new Dallas Cowboys stadium on May 27 (see press release).
The four-sided, centre-hung structure weighs 544 tonnes and is suspended 27.5m directly over the centre of the playing surface. The $40 million aerial system comprises four Diamond Vision video screens, one facing each sideline and end-zone. The sideline screens stretch from nearly one 20-yard line to the other.
The two main sideline displays measure 22m high by 49m wide (a total of 1078 m2). With a 20-mm pitch, the displays are 2450 pixels wide by 1100 pixels high, sufficient for high-definition video, and each contain a total of 2.695 million LED pixels.
Recently, Mitsubishi Electric announced that it had installed a Diamond Vision screen at the new Yankee Stadium (see press release). The Yankees' 30m x 18m screen is unusual for a stadium installation in that it has an 8mm pixel pitch, so there are over 8.6 million LEDs in the display.
At the Cowboys stadium, the two end-zone displays measure 9m high by 15.5m wide (140 m2). Completing the array of Diamond Vision displays are four, 26 m2 screens on the lower concourse; an upper level fascia (ribbon) display measuring 1.2m high by approximately 610m; and two Dallas Cowboys Ring of Honor displays totaling more than 269 m2.
The new displays will allow fans on any level of the stadium to easily view the action, creating a premium on the value of the upper-level seats. "One of the central design elements of our new stadium is our centre-hung video board. This unique feature will be an iconic symbol of our building for years to come," said Jerry Jones, owner and general manager, Dallas Cowboys Football Club.
LED screen optmization
In related news, Radiant Imaging has introduced a complete set of measurement systems, software, and services for optimizing LED video screen appearance over the complete life of the screen – from manufacturing through deployment in the field. See press release.