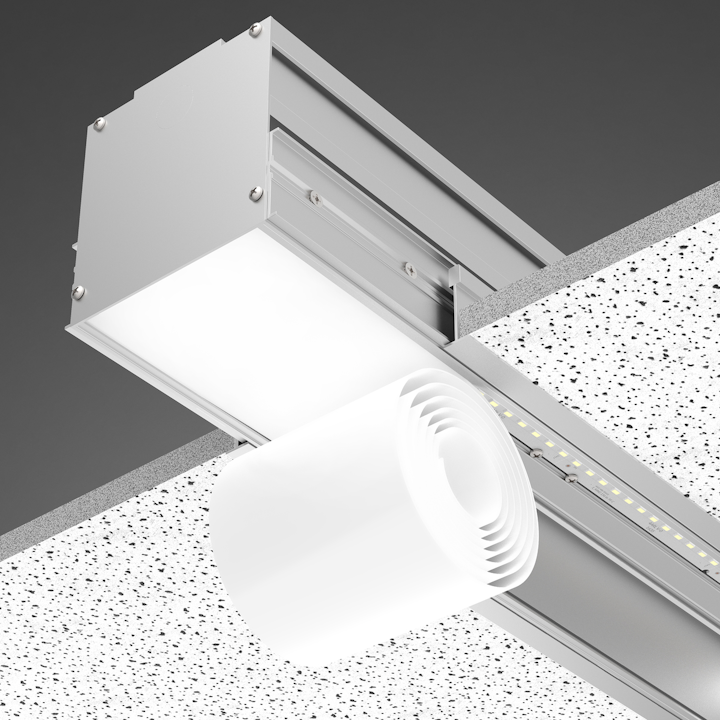 Introducing SuperPlane™ 4 Recessed, the next generation of Lightplane reinvented from the inside out. SuperPlane 4 Recessed is a super slot luminaire offering seamless illumination up to 250 feet, energy-saving performance up to 110 lm/W, a no-glare UGR rating of 10 in typical applications and multiple output options up to 1200 lm/ft all from a 4"-wide lensed form. Featuring proprietary ControlRoll™ Optics that distributes, diffuses and delivers uninterrupted illumination, SuperPlane 4 Recessed delivers ambient direct illumination or asymmetric direct illumination (coming soon) for wall washing. The optically engineered, roll-out/snap-in ControlRoll lens eliminates lens gaps common to traditional, continuous linear runs by providing completely seamless illumination while dynamically controlling output. SuperPlane 4 Recessed also offers CompleteSuite™ Color LED lamping options – 3000K, 3500K or 4000K with CRI of 80+ or 90+, 2700K-5700K Tunable White, color-changing RGB and color-changing RGB+White.
Request More Information
Fill out the form below to request more information about ALW SuperPlane 4 Recessed.
---