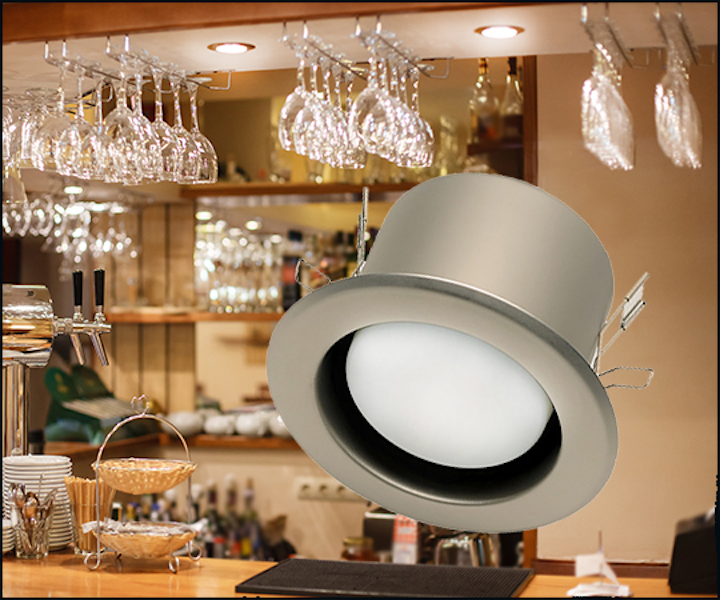 North Carolina – Specialty Lighting introduces its RDF60 recessed downlight LED – a perfect addition when highlighting any space. The 8 watt, energy saving, flanged LED fixture is offered with two standard color lamp temperatures (2700K and 3000K) and six finishes including black (BK), white (WH), antique brass (AB), brushed nickel (BN), polished brass (PB), and polished chrome (PC). Having a cord and plug, it's a simple solution for nearly any downlight application where up to 50 fixtures can be linked for displays, cabinets, furniture, etc. RDF60 LED is dimmable using Specialty Lighting's rotary dimmer, and is UL / cUL listed. A trimless style is also available (RD60 LED).

Electrical rating: 120V, 60Hz
LED integrated technology (non-replaceable lamp)
Power Cord: 18/2 SPT-2 (black) with standard male plug
Construction: steel
Installation methods: adjustable mounting ring, spring clips, or screw holes.
Installation hole diameter 3 3/8″ for the adjustable ring or screw holes;
3 3/4″ for spring clips.
Height: 2 7/8″
Diameter: 3 1/4″
Compatible with Specialty Lighting PH3121 (on/off switch) and PD6113
(full range rotary dimmer)
5 year warranty

RDF60 recessed downlight LED is available with customization for project needs.

Request More Information
Fill out the form below to request more information about RDF60 Recessed Downlight LED.
---