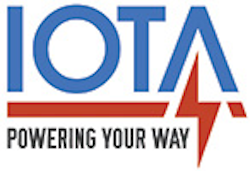 1361 E Wieding Rd
Tucson, AZ 85706
United States
IOTA provides reliable and versatile UL-listed emergency lighting solutions for LED applications. IOTA's ILB-CP true constant power, class 2 output emergency drivers for field or factory installation provide confident emergency egress capability to existing fixtures. IIS Series unit inverters power multiple LED fixtures from a single convenient supply.
Request More Information
Fill out the form below to request more information about IOTA Engineering.
---