LED makers unveil latest advances at L+B
Lighting with white LEDs is now becoming a reality, as manufacturers at the recent Light+Building trade show demonstrated.
May 1st, 2006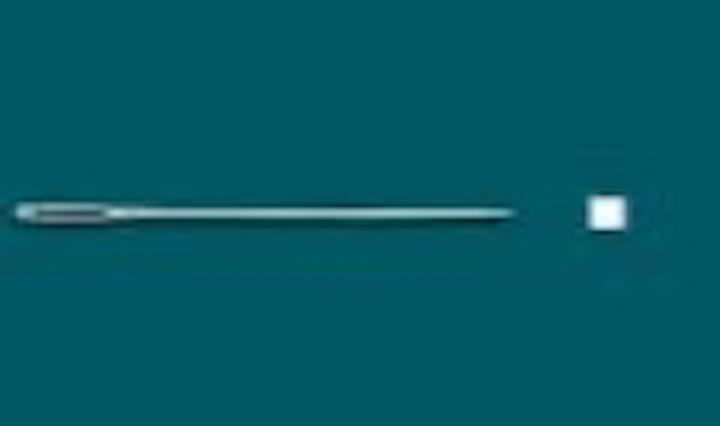 Lexedis Lighting
Lexedis Lighting, the joint venture between Toyoda Gosei and TridonicAtco, aims to distinguish itself through its XED brand, and is no longer using the term "LED" to describe its digital light sources. The products use inorganic packaging and flip-chip mounting and benefit from excellent color stability, thanks to a process which matches the properties of the phosphor layer to the characteristics of each individual chip. Eventually, Lexedis says that it will offer white LEDs at certain fixed color temperatures, without binning.
Lexedis' powerXED is a 3W diode, claimed to be the world's smallest at 6.5 x 6.5 x 5 mm, producing a luminous flux of 60 lm at 700 mA. The color rendering index exceeds 80 and the ceramic packaging has a thermal resistance of 9 °C/W. Two variants with beam characteristics of 40° and 60° are available.
The miniXED (see photo) measures 3.4 x 2.8 x 1.15 mm and generates 35 lm at a current of 500 mA. More information on the powerXED and miniXED can be seen at powerXED and minXED from Lexedis Lighting. In summer, Lexedis plans to launch the nanoXED, a 600-micron chip inside a 2 x 2 mm package which will produce 20 lm in cool white and 15 lm in warm white, with a current of 150 mA.
Lumens Semiconductor Lighting
Lumens Semiconductor Lighting, a Korea-based LED maker, exhibited its C-Core and C-Seed high-power emitters. Both products have four LEDs mounted onto a metal core PCB. The C-Core produces 120 lm in white with a drive current of 350 mA, and has a viewing angle of 120°. The C-Seed, which looks very much like Osram's original Ostar, has a typical intensity of 165 lm at a current of 500 mA.
Lamina Cermics
Lamina showcased its new Atlas LED light engines, which produce more than 100 lm in warm white.
Citizen Electronics
Anticipating temporary blindness among its booth visitors, Citizen Electronics provided sunglasses for those wishing to view its high-power LED products. The company has focused on incorporating multiple, smaller LED chips into its various package designs. Its ORION package (CL-652S series) contains 8 LED chips and emits up to 85 lm with a power consumption of 1.2 W, equivalent to 70 lm/W.
Citizen also has, in development, a series of products (CL-L100 series) made up of linear strips containing 24 LED chips. (These prototypes were first unveiled in summer 2005 – see news item). Each strip produces 245 lm and consumes 3.5 W, also equivalent to 70 lm/W.
Citizen also showed some possible configurations such as the bulb-style arrangement pictured here, which produces 2450 lm. This could be used for automotive forward lighting when placed within a suitable reflector to direct all the light in the forward direction. The company also showed a linear arrangement, suitable for backlighting displays, with LED strips mounted on individual metal substrates and wired together, as well as an area lighting prototype.
Cree
Sunglasses were definitely required on the Cree booth, which was lit by multiple high-brightness white XLamp LEDs. These previously-announced devices yield 57 lm at a drive current of 350 mA, with an efficacy of 47 lm/W (see White XLamp news, Feb 2006). The improved XLamp packages have a reduced thermal resistance of 8°C/watt and an expanded color temperature range of 2700 to 10,000K.
Mark McClear, Cree director of marketing for lighting LEDs, told LEDs Magazine that the improved performance of Cree's XLamps has crossed a threshold where they are now appropriate for a number of lighting applications, for example street lighting. "It's now possible to use fewer LEDs, reducing the cost," says McClear. "As with traffic signals, the reduced maintenance costs associated with LED solutions provide a big advantage over other light sources."
In the slightly longer term, low-bay/high-bay lighting, for example in parking garages or warehouses, is also likely to emerge as an important application, driven mainly by reduced power consumption.
Seoul Semiconductor
Seoul Semiconductor's booth claimed to show the "world's brightest white LED" and the "most efficient single-die power LED package in the world". In support of these claims, Seoul said it would introduce by the end of 2006 a white LED producing 98 lm at 350 mA with 84 lm/W efficacy, as well as a warm-white device producing 67 lm at 57 lm/W.
Before then, in May 2006, Seoul plans to introduce cool and warm white LEDs producing 65 lm and 52 lm, respectively. The LED package has been redesigned to achieve these figures, but Seoul engineers were unable to reveal details.
TridonicAtco
Tridonic introduced its second-generation EOS LED modules, using chip-on-board technology to add 1, 4, 9 or 12 chips per module. New K700 converters with different power ratings are capable of driving the LEDs at up to 700 mA, producing up to 70 lm per chip.
The P216 module, measuring 30 x 30 mm, with 12 daylight white high-power LEDs, provides 480 lm at 350 mA and 840 lm at 700 mA, with power consumption of 14.4 W and 28.6 W, respectively, and efficicacy of 33 lm/W and 29 lm/W. See Tridonic COB-based LED light sources offer high efficacy for more details.
Nichia
Nichia revealed that it will introduce two new one-watt packages later in 2006, developed following consultation with potential companies. A dome-type LED (NJSW075) has an output of 45 lm (38 lm/W) at 350 mA, and is suitable for point-source applications such as spot lighting or where a collimated beam is required. The maximum junction temperature of this device is 130°C and the thermal resistance is 11°C.
Another package (NS6x083), suitable for area lighting, has an output of 65 lm (60 lm/W) at 300 mA. The maximum junction temperature is 120°C and the thermal resistance is 10°C. The warm white version of this package will produce 60 lm (56 lm/W) at 4600-3800 K, 56 lm (52 lm/W) at 3800-3175 K and 52 lm (48 lm/W) at 3175-2500 K.
These devices add to range already including the 0.5 W Rigel, which produces 20 lm (38 lm/W) at 150 mA in cool white and 15 lm (30 lm/W) at 150 mA in warm white.
Philips Lumileds
On the Lumileds stand, many customers got their first view of the Luxeon K2 device, announced earlier this year
Lumileds releases Luxeon K2 high-power LEDs
. A poster emphasized that the way to compare LEDs is not just to look at datasheet numbers but to evaluate performance in real systems.
While Luxeon devices are single-chip high-power packages, Philips announced that it has developed a product in which four chips (red, green, blue, amber) are mounted together onto a board. The "Intuos Multi-die" technology is designed to provide much more effective color mixing, providing a homogenous spot effect without color shadowing. For more details, see Philips Intuos multi-die LED technology improves color mixing
Osram Opto Semiconductors
Featuring at the Osram booth were Ostar and Golden Dragon LEds for lighting, previously announced by the company (see Gleaming white: Osram presents Ostar Lighting and Golden Dragon for more details). The six-chip Ostar Lighting provides 420 lm (28 lm/W) with a lens and 300 lm (20 lm/W) without a lens, in each case at an operating current of 700 mA.
Meanwhile, the smaller Golden Dragon, a single-die power LED package, has a typical luminous efficacy of 40 lm/W in the daylight white color (5600K), 36 lm/W in neutral white (4200K) and 32 lm/W in warm white (3250K), in each case with an operating current of 350 mA. If operated at a maximum operating current of 500 mA, the luminous flux values are 64 lm for daylight white, 58 lm for neutral white and 47 lm for warm white.