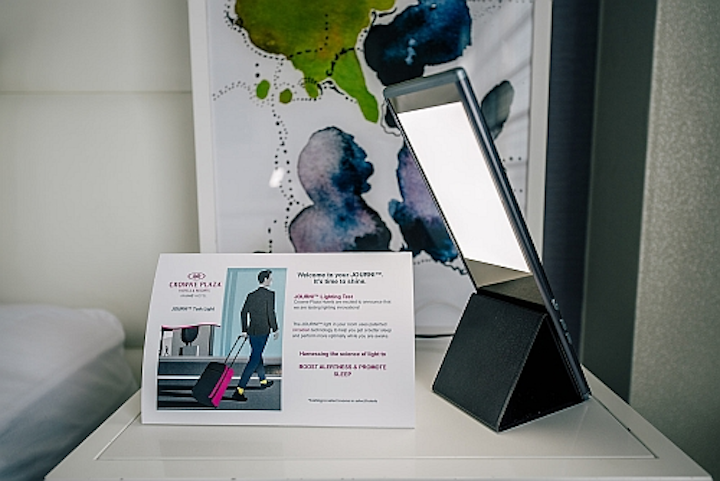 The pilot of Healthe bedside lamps could lead to other deployments across InterContintental Hotels' many properties.
Having just purchased a hotel spa chain that has pioneered circadian lighting in some of its guest rooms, InterContinental Hotels Group (IHG) will now trial the concept at the Crowne Plaza Atlanta Airport.
Circadian lighting, also known as human-centric lighting, tunes LED lights to incorporate varying levels of spectral content for different needs and occasions. It taps the fundamental principle that blue-enriched light stimulates, and reds and ambers relax.
Crowne Plaza Atlanta Airport is outfitting guest rooms with bedside luminaires from Healthe, the same company that already provides circadian lighting to several locations in the Six Senses Hotels Resorts Spas chain. Crowne Plaza owner IHG acquired Six Senses last month from Pegasus Capital, the private equity firm that is the majority owner of Healthe and of Lighting Science Group, the holding company that includes Healthe and other circadian lighting companies.
The Atlanta hotel is putting Healthe's Journi mobile task light in each room, allowing guests to dial up stimulating blue-enriched light during daytime and relaxing ambers in the evening — or whenever for either — should they wish to. The Journi can function as a task light or bedside lamp.
Such schemes are designed to help keep the traveler's circadian rhythm in sync, typically with the sunrise and sundown patterns of the time zone where they are traveling. Using the same principles, for example, Signify has been trialing a circadian lighting zone in an airline lounge for SAS premium passengers at Oslo Airport.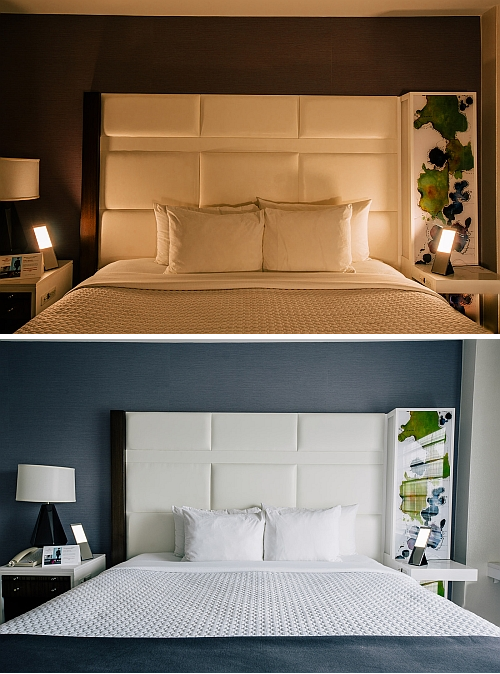 Blue if by day, amber if by night: Crowne Plaza Atlanta Airport is trialing the Healthe Journi LED task lamp for circadian entrainment during travel.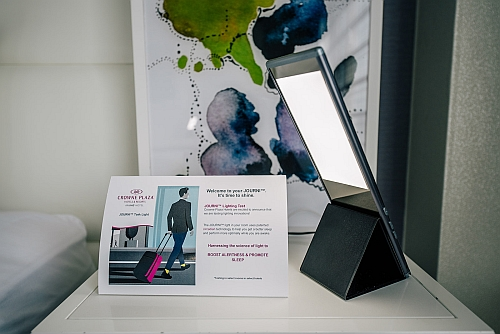 Crowne Plaza trialing circadian lighting at its Atlanta Airport hotel
Depending on results, IHG might deploy the concept across its many other properties which includes 16 brands such as Crowne Plaza, Six Senses, InterContinental, Holiday Inn, Indigo, Even, and others.
"At IHG, we want to make sure our guests are getting the best night's sleep possible across our 5600 hotels and portfolio of more than 15 brands," said Brian McGuinness, IHG's senior vice president for global guest experience shared services. "We are continually testing ways we can enhance the guest experience, loyalty, and ultimately, owner value. Our circadian lighting technology pilot is the latest example of the work we are doing to innovate the guest experience."
IHG funded a study in which 80% of travelers said they have trouble sleeping when away from home, and noting that circadian lighting can help.
"Light can ... be a stimulant, directly alerting the brain, or promote sleep before bedtime, depending on the spectrum and intensity of light exposure," said Steven W. Lockley, associate professor of medicine, Harvard Medical School, who also serves as an advisor to Healthe, and who helped announced the results of the IHG survey. "Having greater control of light exposure when traveling can help promote sleep at the right time or wake at the right time, preserving some sense of sleep normalcy when on the road."
IHG hinted that it is planning more deployments. "We're excited to be the first hotel company to pilot Healthe's Journi product and are already working on what's coming next," McGuinness said.
IHG acquired Six Senses for $300 million in February. Six Senses manages 16 hotel resorts, some of which use Healthe products. It also has about 31 spas in 21 countries.
The Six Senses property in the Seychelles has been equipping guest rooms with a Healthe nighttime LED lamp called GoodNight, and guests have been able to purchase GoodNight bulbs in the resort boutique.
On its website, Healthe lists the Journi task light that Crowne Plaza is using at $109.99. It lists a Healthe LED lamp at $17.99.
MARK HALPERis a contributing editor for LEDs Magazine, and an energy, technology, and business journalist (markhalper@aol.com).