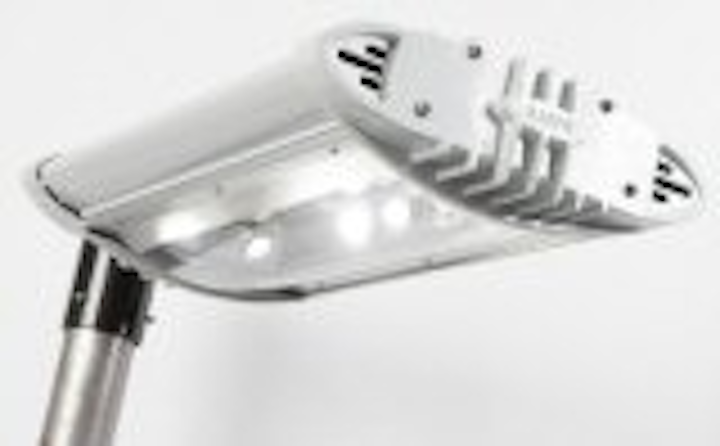 E.ON Sustainable Energy and Advanced LEDs Ltd, a UK-based LED lighting manufacturer, have today announced the launch of the Marlin LED street light. E.ON is one of the UK's leading power and gas companies.
The lights have been designed and developed in the UK by Advanced LEDs Ltd through a technology partnership with E.ON. The companies announced they were working together in October 2007 – see News.
The street lights are produced in Coventry by Remploy, the country's leading provider of specialist employment services to people with disabilities and complex barriers to work.
The LED street lights consume up to 70 percent less energy than conventional lights (footnote #1), and have the potential to reduce the UK's carbon footprint by 853,013 tonnes (footnote #2). Thanks to their long life, they have, in trials, delivered estimated whole-life cost savings of up to a third.
Michael Woodhead, Managing Director for E.ON Sustainable Energy, said: "I'm delighted that we're launching not only the first PFI-compliant street light, but also the first low-energy street light to be designed, developed and manufactured entirely in the UK.
"This is an example of the tremendous opportunities lower carbon technology represents not only for savings to the public purse, but as a chance for UK plc to lead the world in cutting edge innovation."
The Marlin street light has been successfully tested at a number of E.ON sites and accredited as S class compliant and suitable for the high standards required for the street lighting PFI market.
Gail Lyall, Marketing Director at Advanced LEDs, said: "Today's launch offers exciting possibilities for local authorities. The low energy consumption of the Marlin street light, in addition to its environmental benefits, opens up a new world of possibility for low-carbon lighting. The rapid rise in performance of high-power LED chips has enabled this technology to be used in street lighting applications.
"Advanced LEDs' philosophy has been to start the design process from scratch, designing and manufacturing a range of luminaires at the forefront of LED technology, one of the reasons we were selected by EON as a technology partner."
The Marlin street lights are produced in Coventry, UK by Remploy, and contain no harmful mercury or heavy metals, meaning that they are cost effective to dispose of at the end of their life. The LED lights will last in excess of 150,000 hours (footnote #3), backed up by a 25-year guarantee. In comparison to conventional street lights of 12,000 hours – which in long term trials has been shown to reduce whole life running costs by a third (footnote #4).
Alan Hill, Remploy's Director of Enterprise Businesses, said: "We're delighted that we have been chosen by Advanced LEDs Ltd to produce the Marlin street light in the UK, serving as proof that the UK can compete against the best in the world in manufacturing on the basis of quality and innovation."
Suitable for use by local authorities on highways, public spaces and in the private sector for car parks and business premises the bright white light provided by the Marlin street lights provides superior visibility to traditional sodium street lights for pedestrians and vehicles. In trials the superior quality of the light was shown to improve the resolution of CCTV pictures, offering benefits for public safety (footnote #5).
Footnotes
Estimated carbon savings based on installation of Marlin Lights at E.ON Headquarters in Coventry. Carbon savings are based on an emissions factor of 0.48kg/kWh. Savings are site specific and will depend on the type of lighting scheme being replaced.
Traditional street lighting uses an estimated 2% of all electricity in the UK, with 1,218,590 tonnes of C02 being emitted into the atmosphere every year. The Marlin saves up to 70% compared to traditional lights, equating to 853,013 tonnes each year.
Based on Advanced LEDs factual data and projected lifetime curves.
Based on trial installation at E.ON headquarters in Coventry. Cost savings were estimated to be £33,000, based on a burn time of 4,180 hours per lamp, per year, and a total contract period of 25 years. Total scheme energy consumption is based on 1,800W for the old scheme and 540W for the new LED scheme, and electricity costs of £0.15 per kWh.
Based on trial installations at Westwood, Rugeley Power Station and Ratcliffe Power Station when compared to traditional SON or SOX lighting.