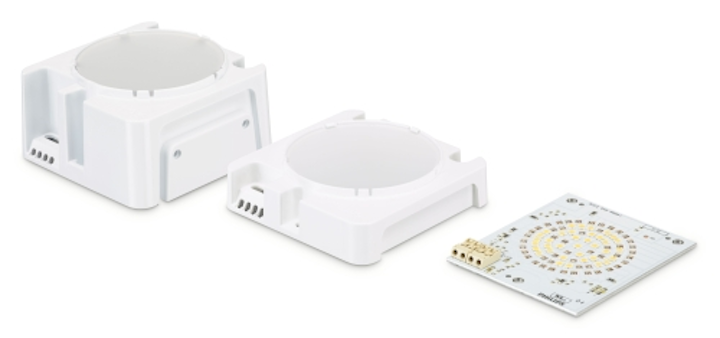 Luminaire developers can now choose from PCB light engine, low-profile module, or traditional Fortimo DLM form factor for SSL downlight designs.
Philips Lighting has released a new version of its Fortimo DLM LED downlight module that offers developers more flexibility in product development. Indeed, the DLM Flex can be ordered as a bare printed circuit board (PCB) light engine, in a new low-profile packaged module, or in the legacy Fortimo DLM form factor. Moreover, Philips has gone away from the remote-phosphor design that it previously used in the DLM family, moving to phosphor-converted LEDs as the nearby photo illustrates.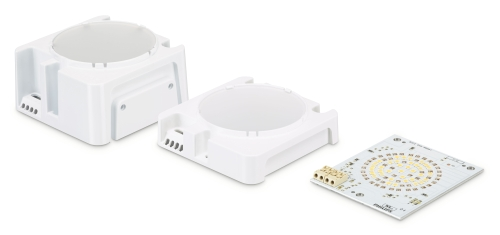 Philips Lighting adds flexibility in the Fortimo LED downlight module family
Remote phosphor implementations have in the past offered higher efficacy and more uniform color performance over time than do phosphor-converted packaged LEDs. The color advantage comes courtesy of the distance between the blue-pump LEDs and the phosphor in a remote design. The phosphor isn't impacted by the heat radiated from the LED junctions and therefore the phosphor doesn't degrade as rapidly over time.
Philips has used remote-phosphor technology in the Fortimo DLM family up through the Gen 5 family announced one year back. Likewise, the company used remote-phosphor technology in many retrofit lamps only to move toward phosphor-converted LEDs in late 2012.

In the case of retrofit lamps, the move away from remote phosphor was presumably due to consumer preference for a white lamp in the off state as opposed to the yellow or orange remote-phosphor lamps. The off-state appearance was likely less of a factor in the move to the DLM Flex. In the DLM, remote-phosphor implementations require a mixing chamber that impacts the size of the module. Philips would not have been able to deliver the new low-profile or PCB options with remote-phosphor technology.
Philips said the new design delivers 15% better energy efficiency that the prior Gen 5 LED module. The company offers the modules over the range of 1100–5814 lm. The new low-profile model is only 22 mm high, thereby enabling less bulky downlights. Meanwhile, lighting makers that have used the prior DLM modules can drop the larger module into existing designs. And the PCB offers maximum flexibility in mechanical designs.
Philips said the new modules are already available for all European markets. Expect a US version to follow down the road.
Slim fixture
In other Philips Lighting news, the company announced a new slim downlight that can be flush-mounted and is 5/8-in. high. The downlight does not appear to use the DLM LED module, however. Philips said the new product uses an edge-lit lens/light guide that delivers even illumination across the surface. Light guides and edge lighting have been used extensively by companies such as GE Lighting and Cooper Lighting.