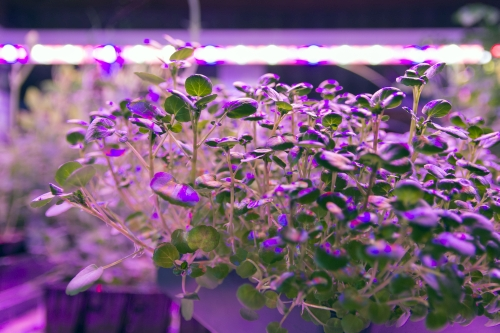 The scale of LED-based horticultural lighting projects continues to expand as growers find success in boosting yield and extending the growing cycle with crops ranging from leafy greens to tomatoes and cucumbers.
Current, powered by GE has announced a new LED-lit vertical farm project in the UK that will include 5120m2 of growing surface and that is expected to yield 420 metric tonnes (about 926,000 lb) of leafy greens annually. Signify (formerly Philips Lighting) has announced an expansion of its supplemental solid-state lighting (SSL) project for tomato growing with Agro-Inwest to 68.5 hectares. Plessey has announced that UK-based Sterling Suffolk Limited will install Hyperion 1750 luminaires covering 1.36 hectares of tomato growing space. LumiGrow has announced some details of a tomato and cucumber growing operation in Canada where Lower Shannon Farms has documented a yield advantage.
Interested in articles & announcements on horticultural lighting technology and applications?
The common themes of the projects here are the size of the operations and/or the success of LED lighting in the horticultural application.
We will again host the LEDs MagazineHorticultural Lighting Conference this October where you can learn more about the topic in an immersive setting with the latest on the science and light recipes, and the metrics and return on investment that are unique to the application.
Jones Food Company and Current
The Current project is for Jones Food Company Ltd (JFC) and is being constructed in North Lincolnshire, England; it will begin commercial growing operations this fall. Current said it will be the largest indoor farm in Europe with growing racks stretching to 11m or three stories high. Current will ultimately install 12.3 km of its linear Arize LED light bars — equivalent to 38 Eiffel Towers laid end to end.
Apparently, JFC chose to work with Current because of the massive scale of the project. "Nobody has been able to scale indoor, high-care intensive food production to an industrial level that demonstrates real commercial viability," said James Lloyd-Jones, CEO and co-founder of JFC. "We knew that lighting would be the lifeblood of the facility and we'd need a partner who could see the potential and work with us to develop the right lighting setup and spectrum to make our vision a reality."
We've covered the burgeoning trend of vertical farms a number of times with the first major story involving Green Sense Farms in the US back in 2014. Subsequently in a feature article, Green Sense president Robert Colangelo explained that it was incredibly difficult to characterize the size of a vertical farm — some writers had described it as the largest such farm in the world at the time. But however you measure it, the new JFC project is on a grand scale.
The new farm will yield leafy greens year-round with the LED spectrum also minimizing growth cycles. Current didn't disclose details of the spectrum output by the lights, but red energy was said to be boosted. And as is the case with vertical farming, the production will occur relatively near the consumer, minimizing transportation cost and environmental impact. JFC said the operation would use 90% less water than conventional farms.
Still, there is one other unique element about the JFC project. The equipment that circulates water and feeds the plants hydroponically is located in what was termed a "high-care" environment, implying a cleanroom-like setting. That fact should ensure safe food production and will enable JFC to supply cultivars to cosmetic and pharmaceutical manufacturers. The entire operation is handled by robots — meaning the plants will not be contaminated by human contact — whereas JFC said there are 13 human–plant interactions in traditional leafy-green growth cycles.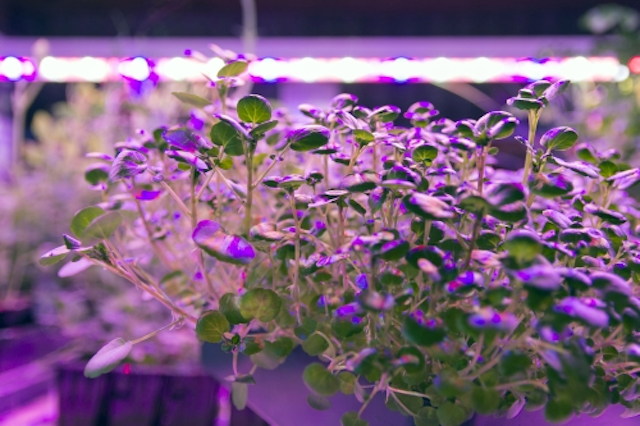 Horticultural lighting news: Current, Signify, Plessey, and LumiGrow projects
Current, powered by GE will supply linear Arize horticultural lighting fixtures to Jones Food Company based in England. The large-scale operation will cultivate leafy greens with the help of robots.
Agro-Inwest tomatoes
Moving to a supplemental horticultural lighting application in a greenhouse or controlled environment agriculture (CEA) setting, Signify and Russia-based Agro-Inwest have signed a deal to more than double what the partners had said was the largest horticultural lighting project in the world last year. About one year ago we covered the project that initially spanned 25 hectares or the size of 40 soccer pitches. Now the growing operation will expand to the size of 100 pitches. You can watch a short video below that describes the project and support that Signify has provided.
With the initial project using both Philips GreenPower LED toplighting and interlighting products, Agro-Inwest said it had cut energy usage by 50% relative to the prior HID lighting. Moreover, the grower said the SSL installation had improved growth predictability, plant appearance, and yield, leading to further investment in LED lighting.
Clearly, the first project delivered encouraging results. "We are on track to recoup our costs on that project in two to four years, a very attractive return on investment," said Irina Meshkova, deputy CEO and general director at Agro-Inwest. "In addition, Signify has been very accurate in projecting our yields, which gives us great confidence in future results. We know LED is the future and Signify has proved a reliable and knowledgeable partner."
Plessey and Sterling Suffolk
In another tomato-growing operation in Suffolk, UK, a new venture called Sterling Suffolk is building a tomato greenhouse operation in which 25% of the space will feature supplemental lighting. The growing operations will come on line later this year.
"We decided that 100% LED was the way forward for the lit section of the new greenhouse and wanted to choose an experienced and technologically-advanced partner who would provide a total LED lighting solution," said Richard Lewis, horticultural innovations and projects director at Sterling Suffolk. "Plessey's new Hyperion 1750 delivers the same amount of light as an equivalent 1000W HPS, allowing us to install just five units per trellis, which reduces shading and installation costs. These substantial product benefits, combined with a long warranty, energy efficiency, ongoing agronomy support, and competitive pricing made Plessey the right partner for us."
Lower Shannon Farms
Moving across the Atlantic to North America, Lower Shannon Farms in Saskatchewan, Canada has documented yield increases for its tomato and cucumber growing operations attributed to LumiGrow LED fixtures. After installing the LumiGrow 325e fixtures in January, the farm said Dijon cucumber yields had risen 16–17% and that tomato yields were up 18–20%.
The grower is also using LEDs to grow lettuce and reports that the plants have better color and the leaves are generally 20% larger than under the prior HID lighting. "You always fear with the rapid growth that you're going to get bolting; we didn't see any of that, said owner John Acton. "The plant put more energy into the leaves, rather than going into survival mode. We have seen great results across the board — no doubt about it."
*Updated June 13, 2018 9:55 AM to correct to metric tonnes.