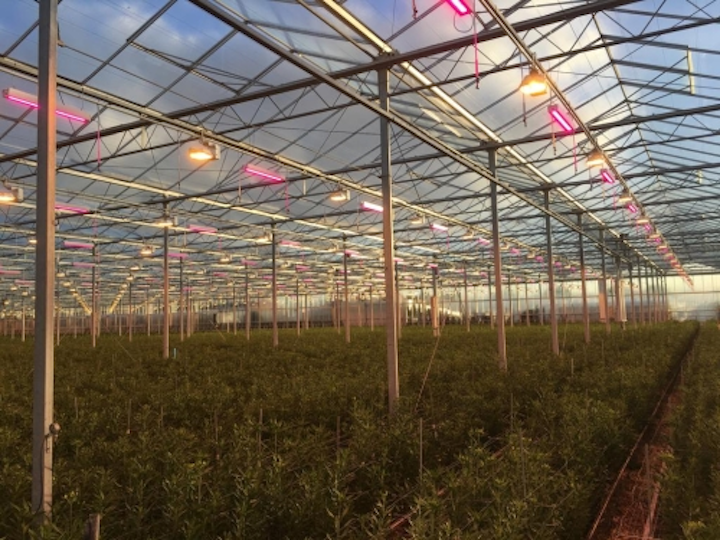 South Mountain MicroFarm has seen a 60% increase in lettuce yield using LED lighting in an aquaponic greenhouse application, while Dutch lily grower Together2Grow is using LEDs to supplement HPS lighting and boost yield.
Lumigrow has announced the details of a horticultural LED lighting project at South Mountain MicroFarm in Maryland where the move to solid-state lighting (SSL) resulted in a 60% increase in yield for lettuce and a more modest 10% increase for microgreens. The grower is using an aquaponic approach growing greens and raising tilapia fish with the circulated water nourishing the leafy green crops. Meanwhile, LED grow-light manufacturer Hortilux has announced that Dutch lily grower Together2Grow, which we covered previously in a story about an LED supplemental lighting trial, has installed SSL covering a 5000-m2 growing area.
Aquaponic farm
Aquaponics is a growing horticultural trend in which farmed fish are raised in tanks fed by the runoff of water from a hydroponic growing operation and then the water with nutrient-rich excretions from the fish is recirculated to the hydroponic system to feed the plants. South Mountain has a 7500-ft2 greenhouse where two-thirds of the space is dedicated to the hydroponic leafy greens growing operation and the rest of the space houses tilapia tanks.
We've written many times about LED lighting being used to enable year-round growing operations, but generally the challenging season is winter when temperatures are cold and there is scant sunlight. But summers were also a challenge in Maryland with temperatures reaching 100°F and humidity hitting 80%. The grower could not run its prior high-pressure sodium (HPS) lighting in such conditions because the heat would damage the plants, although the lights were needed on cloudy days when conditions remained hot.
"When it's 80% humidity and 100° outside, there's not a thing you can do. If it's a cloudy day, you still need to run your lights so that you don't lose production," said Levi Sellers, head grower at South Mountain. "If we were using HIDs [high-intensity discharge lights], we'd just be increasing our heat more. It's much harder to control. We really like that we're able to run our lights on cloudy days and not worry so much about the heat."
The energy efficiency of the LED installation is also paying off for the grower. The farm can power the lighting and the equipment for the tilapia operation on the farm's existing generators, whereas its management was facing the need to install new electrical equipment to power a full installation of HPS lighting.
South Mountain is using the LED lighting year-round to deliver the plants a precise amount of energy characterized by the DLI (daily light integral) measure. Philip Smallwood of our sister Strategies Unlimited business unit discussed the need for consistent DLI in a column late last year. The plants at South Mountain receive light for a photoperiod of 18 hours each day. Sellers said it's a combination of DLI and photoperiod that produces optimal plants.
The impact of the SSL installation is clear. Lettuce crop cycles have been reduced by 33%, allowing for more harvests each year. And Sellers said the lettuce grown under LEDs is 40–60% heavier than lettuce grown with no supplemental lighting. Likewise, the LED lighting has shaved 2–3 days off microgreen cycles and increased yield 10% per each tray of crop.
Alstroemeria growing
Moving to floriculture, Alstroemeria (also called Peruvian Lily, Lily of the Incas, and Parrot Lily) is an increasingly popular flower around the globe. Together2Grow was seeking a way to increase yield for its Poeldijk farm in South Holland. The story we linked to above had shown that LED lighting used to supplement previously-installed HPS lights could boost yield 20%.
Presumably, that trial led Together2Grow to install LED lighting throughout its greenhouse, choosing Hortiled Top fixtures from Hortilux (shown below). Again, with the lily farm, heat from the HPS lighting was an issue and limited the use of the supplemental lighting at times. The HPS system was capable of delivering photosynthetic photon flux density (PPFD) of 95 μmoles/m2/sec. See one of our feature articles on horticultural lighting for details on metrics such as PPFD that are specifically for the horticultural sector. The added LED lighting can deliver 47 μmoles/m2/sec.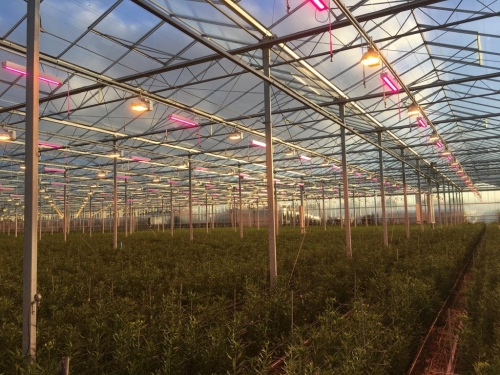 Hortiled Top fixtures from horticultural LED lighting specialist Hortilux provided supplemental grow lighting for lily grow Together2Grow.
"In this greenhouse we grow Virginia, a crop that reacts very well to extra light," said grower Bernard Zuidgeest. "I expect with the LED fixtures an increase of 10–15% in production. On top of that, we think the quality of the crop will improve in the winter months, especially with better bud setting and heavier stems. With these expectations, we hope to earn the investment back within 5–6 years."
Floriculture is one of many topics that we will learn more about at our Horticultural Lighting Conference in Portland, OR on Oct. 9. The program is packed with speakers that will discuss light recipes, infrastructure, sustainability, and more. Kathleen Baughman, head grower at Iwasaki Brothers Farms near Portland, will specifically address her experience with LEDs in floriculture.
Philip Smallwood will also provide an update on the Strategies Unlimited market research in the horticultural lighting sector. The market potential for SSL is huge. Smallwood has said there is just over 3 billion ft2 of greenhouse installed globally today, with that number projected to hit well over 3.5 billion within four years. You can buy the Strategies Unlimited horticultural market report and get all of the details.