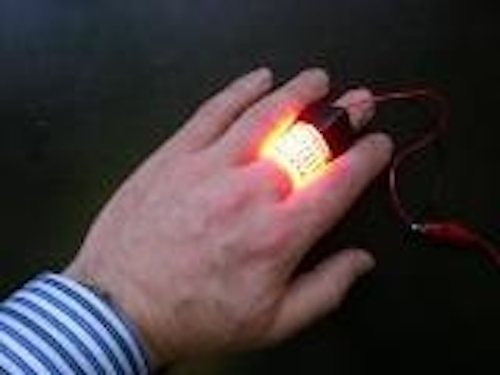 According to a recent article in the British national newspaper the
Daily Mail,
"a strip of bendy plastic" embedded with LEDs by Polymertronics "can patch up wounds and destroy skin cancer cells by zapping them with light."
Stephen Clemmet, managing director for the company, told BioOptics World that the LEDs match the absorbance spectra of aminolaevulinic acid (ALA), which is approved by the U.S. Food and Drug Administration (FDA) for treating skin carcinomas. So an ALA-based cream applied to the skin enables photodynamic therapy when the LED-encrusted patch bathes the area in red light.
While current skin-cancer treatments are big, expensive and require long stretches of inactivity, Polymertronics' light bandage is faster-acting and unobtrusive enough to allow patients to follow their normal routine. The LED bandage connects to a power pack worn on a patient's waist or tucked into a pocket.
Clemmet explained that his company has two prototype versions of the same bandage, one based on LEDs and one OLEDs. Each has specific advantages.
"We have tested both our LED solution and organic LED solutions in a controlled laboratory experiment," Clemmet told BioOptics World. "The LED killed 100% of head and neck cancer cells in less than half an hour, whilst our organic LED solution did the job in 2.5 hours. For a wearable product this is very acceptable."
Because LED technology is more established and better understood, and especially because the FDA has already approved LEDs for medical use, the LED-based version of the bandage will be the first to appear as a product. Polymertronics will begin clinical trials in the next few months and expects to receive approval in early to mid 2011. In the meantime, the company will continue to develop its OLED technology and is seeking further investment.
For more information see the Daily Mail article and Polymertronics' website.
Reported by Barbara G. Goode from BioOptics World magazine