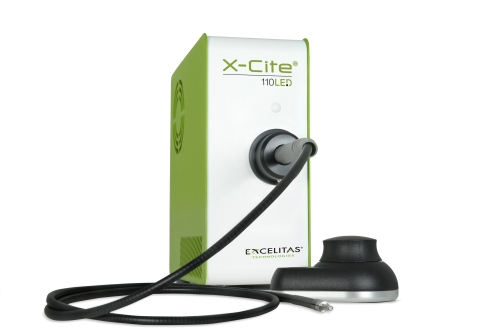 Life science applications leverage advantages of LED sources including instant on/off cycles, lower energy use, portability, and broad-spectrum light.
Excelitas Technologies has announced the X-Cite 110LED LED-based, white-light source designed for fluorescence imaging applications. The product combines an LED source and a liquid light guide to couple the light into microscopes and imaging systems targeted at life sciences.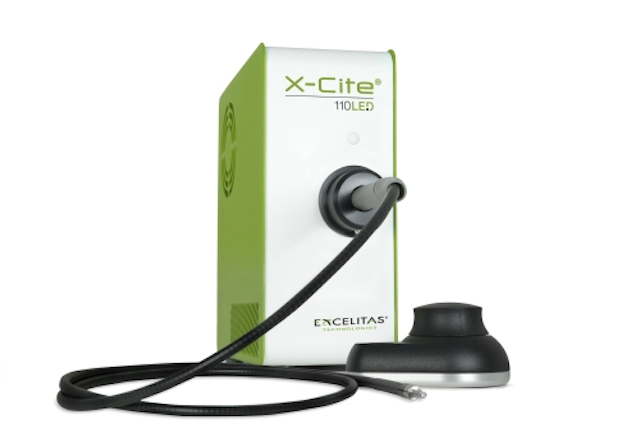 Excelitas announces LED sources for fluorescence imaging
The company says that the LED alternative for fluorescence imaging applications offers numerous benefits starting with instant on/off controls. The new LED source is rated for 25,000 hours of usage whereas xenon or mercury lamps might last only a few thousand hours. The LED source also delivers a uniform spectral power distribution and lower energy usage.
Potential customers are already testing the new source in imaging systems and reporting good results. "We tested the X-Cite 110LED on our white-light Nipkow disk confocal system and found the images to be very bright," said Dr. Tim Bromage, director of the Hard Tissue Research Unit at New York University. "Overall, the fluorescence was superior to our other light sources and the system was easy to operate."
The LED light source is designed to excite fluorophores that are commonly used in life-science imaging applications. Moreover, the solid-state lighting (SSL) system offers other advantages relative to legacy sources. For example, the system features an electronic shutter and manual or PC-based control. Legacy lamps utilize a mechanical shutter and can induce problematic vibrations into systems that perform sub-millisecond measurements.
The instant on/off capability comes into play in more ways that the expected elimination of warm-up times. For example, instantaneous switching minimizes photobleaching and phototoxicity in specimens under test.
"The X-Cite 110LED provides researchers with a powerful and cost-effective LED solution which represents Excelitas' ongoing commitment to deliver enabling technologies to the fluorescence imaging community," said Oliver Scheuss, vice president of SSL and UV/microscopy for Excelitas Technologies. "Built on the strengths of our current X-Cite light platform, we have combined superior optical performance with the added benefits of LED technology to offer the reliability and high quality that researchers require for their demanding applications."
Excelitas is applying LED technology across a broad set of curing and life-science applications. For example, the company recently announced a new UV-LED-based curing system. For more information on curing applications, see our recent feature article on the topic.

Separately, Reuters has reported that Excelitas is exploring options to sell itself for a valuation as high as $2 billion. We covered that story in more detail in a roundup story on LED business news.