Signify turns the 1000-ft+ China World Trade Center tower into a top-to-bottom ornamental light show.
You might not have known that Christmas is a big thing in China. But it is indeed catching on as a commercial activity, befitting to a country richly engaged with capitalism. It's certainly a tall thing: Take a look at the embedded video below of the 1083-ft China World Trade Center (CWTC) Tower B in Beijing.
Less than 10 seconds in, you'll notice images of trees, ornaments, angels and decorations, dangling more or less from top to bottom of the city's tallest completed building, also called Tower III. The entire CWTC facade serves as a veritable screen of white digital light provided by Signify, which recently released this video from last holiday season. LEDs Magazine fully expects a repeat performance this year.
But it's not just a Christmas event. In partnership with China's Beijing Fortune Lighting System Engineering Co. Ltd, Signify has been providing changing light scenes on the building exterior for about a year, using 400,000 white LED light points from the Philips Color Kinetics eW Flex Micro positioned in exterior cavities so as to not disturb people inside, Signify said.
(Video track contains no audio. Video credit: Signify)
The recesses — basically holes in the wall — didn't get there by accident. Signify said it worked with architects from the onset to assure the lights could be strategically angled. The lead design architect for the building, completed in 2010, was Skidmore, Owings & Merrill LLP, and the structural engineering lead was Arup.
Lighting designer Kaoru Mende and his Tokyo-based Lighting Planners Associates played a key role. The LED lighting work began in 2015, went live last year, and has been fined tuned over the ensuing months.
Up top, Signify lights the exterior in changeable, programmable colors to celebrate occasions, much like its technology does at the Empire State Building in New York City, and at Taipei 101 in Taipei, both of which are taller than CWTC. At CWTC, Signify deployed 88 sets of Philips Color Kinetics ColorReach LED floodlights, spanning about 100 vertical feet.
It's all controlled by a Philips Color Kinetics Video System Manager Controller, operated by the end user — the China World Trade Center management team — which decides what scenes to display, sometimes under request from government authorities.
Signify, formerly called Philips, still uses the Philips product brand. In China, the company itself is still legally known as Philips, where the name change takes effect early next year.
CWTC is jointly owned by two companies, China Shi Mao Investment Co., Ltd. and Hong Kong-based Kerry Industrial Co., Ltd.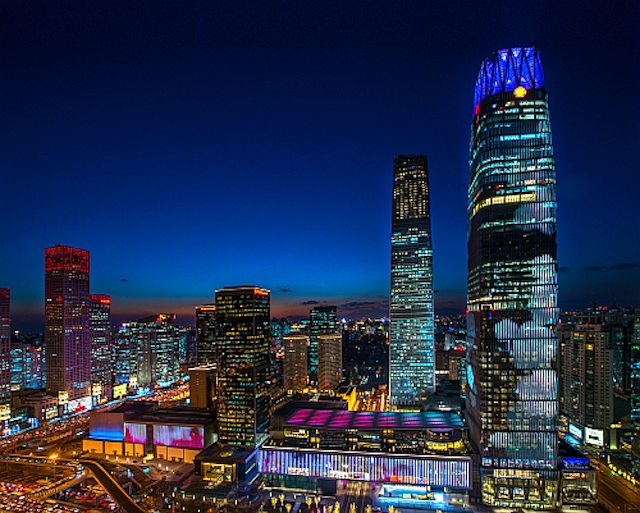 Signify turns the 1000-ft+ China World Trade Center tower into a top-to-bottom ornamental light show with LED lighting
The CWTC tower tops out in changeable colors, while white LED lights that stretch from top to bottom can be programmed to show different images, such as butterflies, bubbles, or other motifs. (Photo credit: Signify.)
Tower B currently stands as the 68th tallest in the world (at a mere 1083 ft!), and the 30th tallest in China, according to website Skyscraper Center.
Signify also lights the rooftop of the China World Mall at the bottom left. The tower in the background is Tower A, lit by another company, and it does not change colors, according to Signify.
The CWTC first opened in 1990 and has expanded in a few phases as a complex of offices, hotels, apartments, exhibition spaces, and retail shops. Towers A and B, or III, are part of the most recent expansion.
Soon, it will be Christmas at all the facilities, where people will go work like any other day, except for all the promotions. Business should benefit.
Editor's note: You can read about other Signify Color Kinetics installations in LEDs Magazine, such as at Hanoi's Nhật Tân Bridge, San Francisco's Bay Bridge, and Miami Tower.
MARK HALPERis a contributing editor for LEDs Magazine, and an energy, technology, and business journalist (markhalper@aol.com).
*Updated Nov. 5, 2018 at 9:40 AM for image information.