The lights behind the Saks snowflakes project
Permlight supplied the LED lighting modules for the snowflake display currently enlivening the outside of the Saks Fifth Avenue store in New York City.
Dec 7th, 2004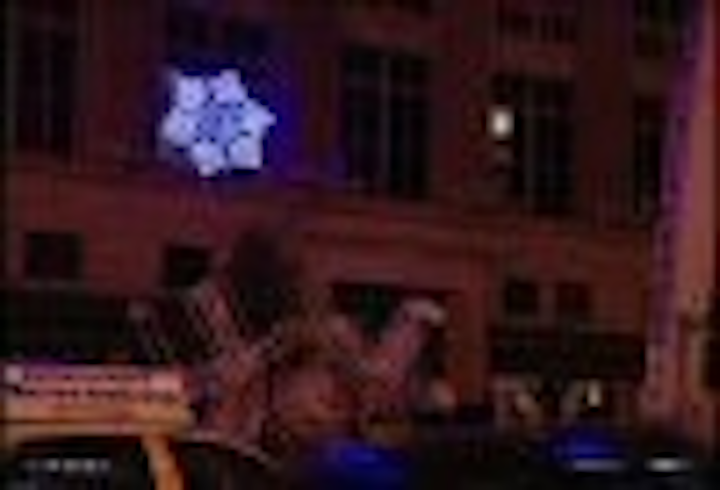 Permlight, a California company that supplies energy-efficient LED lighting products, was the company responsible for delivering to Philips Lighting the solid-state lighting products used in the giant snowflakes on the outside of the Saks flagship store (see
LED snowflakes descend on New York City
).
Permlight provided application, design and fabrication services to produce almost 5 miles of LED lighting for use in specially made giant snowflakes that are the highlight of the Saks holiday extravaganza.
The weather-proof, controllable, blue and white LED system was developed by Permlight to sit exposed on the front facade of the Saks Fifth Avenue store. Philips Lighting and Permlight first disclosed that the two companies were working together in May of 2004, and the Saks project is a result of this collaboration.
The so-called TINY system developed by Permlight for Philips utilizes a single Nichia LED per board/module. Each board measures 0.25 inches wide by 0.75 inches long, and there are 3 LED modules per foot.
The TINY system consumes under 1 watt per foot and comes pre-connected, on reels, for easy installation onto any surface or into any illuminated letter. The system is based on the products which Permlight has been providing to the theater floor lighting market since 1997.
"This development project underscores the fact that Permlight's patented sign lighting products are a cost-effective alternative to incandescent lighting," said Manuel Lynch, president and CEO of Permlight. "In under 60 days we developed a custom product to meet the need of Philips Lighting, had it listed by UL for exposed and wet applications, and shipped over 2 miles of light."
The system was conceptualized and fabricated by American Christmas Tree Decorating, while another company, Focus Lighting, was responsible for programming the system.
"On November 23rd, when the world got the first glimpse of the Saks Fifth Avenue Holiday Snowflake Display, it became clear that Philips Lighting is committed to becoming a major player in Solid State Lighting," said Lynch. "We are pleased they turned to Permlight to develop a solution for the application."