Color Kinetics installations showcase LED lighting technology
From color-changing disco floors to trade show booths to illumination of building façades, a series of recent installations by Color Kinetics has showcased the power of solid-state lighting technology.
Oct 15th, 2004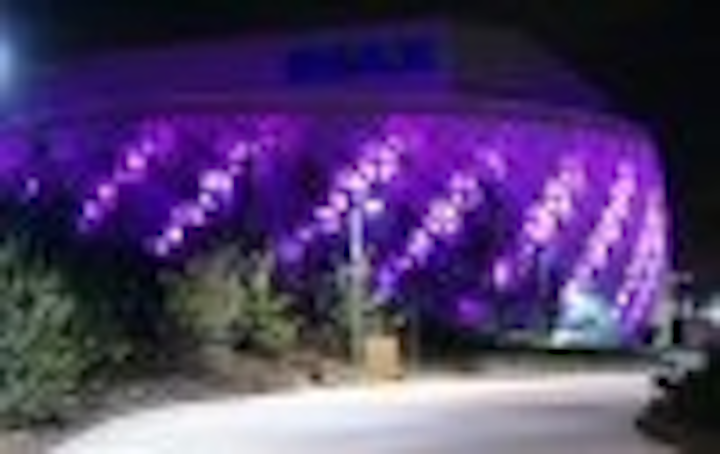 Oltremare IMAX theater
Situated on the picturesque coast of Rimini in Riccione, Italy, Oltremare (whose name means "beyond the sea") is an ocean-themed park featuring an IMAX theater whose 60-foot (18 m) high exterior façade is lit by Color Kinetics' intelligent solid-state lighting technology.
25 ColorBlast 12 systems are used to wash the façade with saturated color and dynamic effects. Featuring clear lenses to maximize throw, the compact ColorBlast systems illuminate the façade's external metal frame and white surface with a variety of customized light shows, including vibrant color sweeps, streaks and a custom rainbow comprised of Oltremare's signature white, blue and turquoise colors.
Amara Beach Resort Hotel
In the Mediterranean city of Antalya on the Turkish coastline, the Amara Beach Resort Hotel treats dancers to a disco with a twist - a mood-altering, color-changing dance floor. Each of the 55 square glass panels measures 32" (80 cm) per side, and is illuminated by four 12" (30 cm) lengths of iColor® Cove LT installed end-to-end on opposing sides of the square.
The lighting effects are designed to complement the DJ's wide-ranging musical selections, from moderate tempo to high energy. Each panel has the intelligence to be controlled individually, allowing disparate colors or unified designs that span the entire floor.
LEDs were a practical choice for this application: their compact, low-heat nature allows installation in tight, concealed spaces, and their long source life translates to minimal, if any, maintenance. Unlike conventional light sources, these solid-state lighting systems don't have fragile, mechanical parts, and are therefore rugged and vibration-resistant underfoot - even beneath a crowd-filled dance floor.
Nintendo trade show booth
Video game leader Nintendo applied cutting-edge solid-state lighting technology to its futuristic booth at the Electronic Entertainment Expo (E3). Design consortium Lightswitch used more than 480 LED lighting systems, which distinguished the space with precisely programmed color and movement in wide-ranging applications - from backlit fabric structures, to color-changing alleyways, to direct-view "neon-like" tubes overhead.
"I'd been following LED technology, like most designers, but had been waiting for a wide array of products to have the ability to make a dramatic statement both technically and artistically," says Lightswitch's Norm Schwab. "We came up with a concerted effort to use lighting as architecture, whether exposed in direct view or emitting from behind translucent or perforated surfaces."
A dramatic marquee structure welcomed visitors above a striking, central alleyway and six surrounding alleyways that led to the booth's central gathering area. A variety of Color Kinetics systems were applied to tie the distinctive architectural elements together.
"Color Kinetics' systems were required to backlight fabric structures in places where traditional light sources would've been too hot, and would've potentially required maintenance," says Schwab. "We never had to change lamps or gels in hard-to-reach, inaccessible locations." He also cites the benefits of low power consumption. "We were able to significantly reduce the number of 400 amp electrical services used in previous years which, at convention rates, saved the client many thousands of dollars."