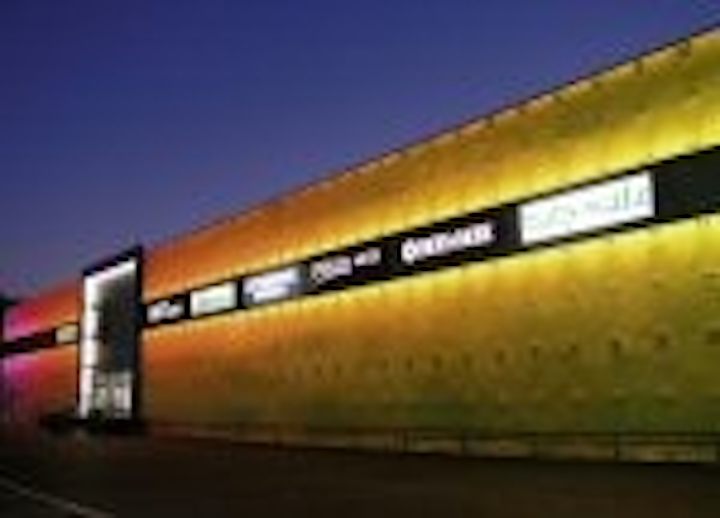 The 15-year old KÖWE shopping centre in Regensburg, Germany was recently modernized, including the addition of a glass facade with an advertising banner integrated in the upper third. Above and below the banner, a series of high-power LEDs backlight the glass panels.
A total of 816 RGB modules equipped with 2,448 high-power LEDs from Osram Opto Semiconductors red, green and blue are directed to shine up and down, parallel to the wall. A special secondary lens and an intelligent colour control system ensure that millions of color combinations can be displayed with homogeneous and dynamic colour progression.
"The long life of the LEDs and the resulting low maintenance costs were crucial factors in the decision to use light-emitting diodes in this project," explains Marco Friedrich, Manager of LI-EX, the company responsible for the lighting design and technical implementation of the facade. In colour-change mode, the 2,448 LEDs at the KÖWE facade consume a mere 1,800 W.
Tryka LEDs backlight wall of words
The Palace Exchange is a brand new retail development in the centre of Enfield, UK, and a key feature is the 120 m Enfield Word Wall, which features passages of conversation from the town past and present.
Hoare Lea specified lighting with the concept of backlighting the Wall behind the large text and simultaneously illuminating the Wall with LED projectors from across the street. Specialists Architen Landrell were drawn in to carry out the entire installation.
A total of over 100 Tryka Strip Module Optic IP67 in a variety of lengths were used on this project, and were fitted with 25° optics, to best backlight the Wall with a wash of endless hues. The LED units were powered and driven with 27 Tryka IDS-4s – the Intelligent Drive System capable of running large numbers of LED fixtures with a wealth of pre-built functions.
Architen Landrell programmed a custom-built DMX control system to run the IDS Drivers and the entire lighting installation. Project Manager Christopher Rowell said "The Tryka LED Strips are fully IP rated, a true install and forget! The IDS-4 Intelligent Drive System is such a versatile driver with many different options but with a simple user interface."