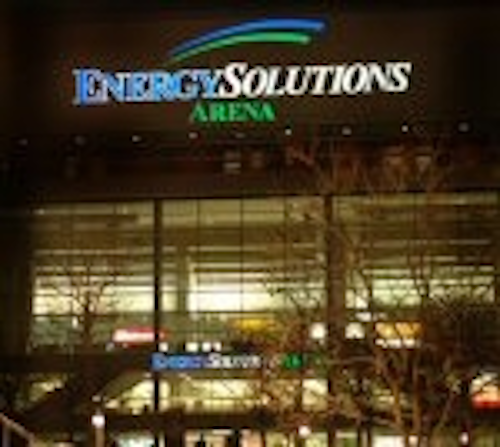 CAO Group has helped the EnergySolutions Arena in Salt Lake City, Utah, to upgrade its exterior signage and promote its new name by installing Luxembright™ Channel Letter illumination.
The EnergySolutions Arena is the home of the Utah Jazz basketball team, and the most prominent venue in Salt Lake City for indoor sports events and entertainment.
The arena's lighting engineers needed to feature the new corporate sponsorship and light up the skies for EnergySolutions, and chose the high intensity and uniform light beams of an LED light source as a low voltage upgrade from traditional neon and fluorescent lighting.
CAO Group, located nearby on West Jordan, Utah, supplied a product based on a 10-LED cluster design, with a pixel arrangement of customized LED lamps. The new system provides the Arena with long hours of operation with low power consumption, low maintenance, easy installation, high reliability, water resistance, and optimum heat management.
"It's an interesting coincidence that a company called EnergySolutions found an energy-efficient solution to putting its name in lights, and that it found [this solution] locally," says Densen Cao, the company's CEO.
The LuxemBright contains 10 LEDs per module (5 LEDs per pixel, 2 pixels per module). The standard version accommodates 3 modules per foot, ideal for large channel letters, such as those used by EnergySolutions Arena. The modules were easy to install with double-sided tape on back and screw holders on the side of the modules. The side mounting feature of the LuxemBright™ permits channel letters as thin as 2 inches deep, to illuminate letters with a stroke up to 18 inches wide.
With the CAO product, the arena's sign builder, Impact Signs, used fewer linear feet per channel letter. According to Impact's Utah-based owners, Bill Baker, Brian Baker and Kevin Anderson, this reduced the cost for parts, and let them complete the signage redo faster than would have been possible otherwise.