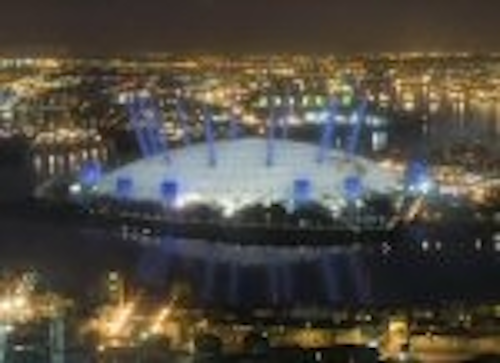 Philips Electronics is providing LED-based exterior lighting and displays for the exterior of The O
2
, the iconic building in London formerly known as the Millennium Dome. Philips has been engaged by AEG Europe, who own and operate The O
2
, in a multimillion pound deal. AEG is one of the leading sports and entertainment presenters in the world.
Philips has been charged with creating a striking visual design made up of a combination of floodlighting and LEDs. Bright blue LED rings representing the O2 bubbles surround the 12 masts emerging from the dome.
Philips will also provide over 1500m2 of video screens, including LED displays wrapped around the 12 external cylinders around the perimeter of the dome. These 7-m high displays consist of LED nodes mounted on a flexible mesh with 100 mm pitch. The power consumption is 2.1 kW for each cylinder display.
The O2 centrepiece is an indoor Arena for up to 20,000 fans that will host over 150 world-class music, entertainment and sport events in its first year of opening. There will also be a Live Music Club with a capacity of over 2,300, an exhibition space, a cinema complex, and the "Entertainment Avenue." The O2 is an official venue for the 2012 Olympics hosting both the gymnastic and basketball events.
In Peninsula Square, Philips will erect a state of the art 170m2 video screen which will act as an information board. There is also the potential to screen live shows from the Arena and Live Music Club to the public.
Inside The O2, Philips will set up video screens so that visitors can view previous live shows and previews of forthcoming events. The entertainment district surrounding the main Arena will give Philips more opportunities to demonstrate state of the art technology in lighting by making this large public area an interesting and 'must visit' attraction.
Additionally Philips will produce innovative lighting designs for the 2,200 capacity Live Music Club, so that the audience can enjoy stunning light shows adapted to suit a variety of live events.
Philips was chosen as a Preferred Supplier as leaders in LED technology and the best in the industry at lighting iconic buildings. Peter Maskell, Managing Director of Philips UK said: "We are delighted to have the opportunity to work with AEG in the re-development of the Millennium Dome as an Icon of Entertainment for the 21st Century. A structure as unique as The O2 has presented us with both challenges and opportunities but our experience in the fields of architectural and public space lighting and the construction of large scale video screens has allowed us to rise to these challenges with spectacular results. We look forward to further developing our relationship with AEG as the Greenwich site matures into an established part of the itinerary for visitors to London."